Third-level students in Limerick are staying in hotels because they cannot find suitable accommodation in the city.
In a sign that the student accommodation crisis has spread this year beyond the larger university cities such as Dublin or Cork, students studying in Limerick are paying up to €390 weekly for five nights in a hotel as part of a deal struck between Mary Immaculate College students union and three city hotels to accommodate students.
It is the first time it has had to do this for students returning after the summer break. It has reached a similar agreement with one hotel in Thurles where it has a smaller campus.
The college has acknowledged that it is "not ideal" but said there is no other option.
The college's accommodation manager, John Randles, said the accommodation shortage is far more extreme this year compared to previous years.
He said two factors are to blame - remote learning meant that many students have not rented properties over the past year-and-a-half, and in the meantime many houses that used to be available to students have been taken out of that market and rented long-term.
"Landlords couldn't wait a year-and-a-half," Mr Randles said.
There has also been a dramatic fall in the number of people offering traditional "digs" accommodation to students. This is something that is being experienced nationwide.
Mr Randles said it is largely because people are being much more cautious about letting a stranger come and live in their home because of concerns around Covid-19.
"A lot of them are older and they want to wait until after Christmas to see how things go," he added.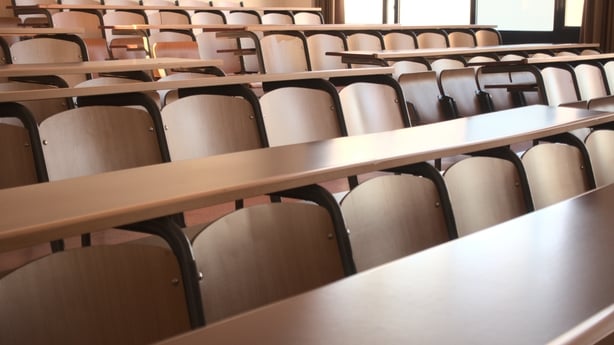 ---
College students struggling to pay living expenses, survey finds
---
"The phone is hopping with people looking for accommodation and not able to find it. Usually I would not be getting these calls at this stage because everyone would be sorted.
"I have a list of between 80-100 people who usually offer digs accommodation to our students," he added, explaining that the exact number fluctuates every year.
"I wrote to 100 of them, plus 42 others. I advertised for eight weeks over the summer, and I ended up with just 39 available properties."
The college's student union said the situation is very frustrating for students.
While it too acknowledges the unsuitability of hotel accommodation for students, SU president Roisín Burke said they were appreciative that the hotels were open to taking students.
"There just isn't enough suitable housing. There needs to be living spaces built that are suitable for students, not just for profit for landlords"
As the country's colleges reopen this week to students who have missed a year-and-a-half of college life, and to first year's embarking on this new phase of their lives, the shortage of accommodation, and the cost of it when it can be found, is placing them and their families under huge strain.
One mother who is paying €350 per week for her daughter to share a room in a Limerick hotel with one other student, who she has not yet met, told RTÉ News: "We are on all waiting lists, student accommodation, house sharing etc.
"I personally cannot sustain this on an ongoing basis. She has her dream place in college and is totally stressed with no place to live.
"Hotels can charge what they like, they know we're in trouble. It's a five-night stay - Sunday to Thursday. You have to be out of the room on Friday morning until Sunday night, so you're into college with your suitcase on Friday morning.
"Who can afford to keep their child in a hotel for the school year?"
Separately, the Teachers Union of Ireland has said it is very concerned at the lack of "strong and clear management" on Covid-19 protocols on college campuses, adding that its members are feeling unsafe in some classrooms.
Speaking on RTÉ's News at One, TUI President Martin Marjoram said there is "widespread confusion and a lack of clarity and consistency" both across and within institutions in relation to safety protocols.
He said there is a statutory responsibility on employers to provide risk assessments to staff.
TUI members do not want to return to remote learning, he said, but a "far better approach" is needed.
Mr Marjoram said the Department of Further and Higher Education needs to give clearer guidance to institutions in a centralised way, instead of allowing for autonomy across institutions, which has resulted in different approaches across different campuses.
He said other concerns include whether classrooms have been cleared out for 15 minutes in between classes, the staggering of lectures in corridors, how ventilation works and guidance on window opening.
"We want this to work... we do not want third level to become a driver or any problems for students, staff or the country as a whole."