As the dust settled on this year's Leaving Certificate results and CAO college offers, the Minister for Education on Wednesday mused about the potential long-term impact of the upheaval of the past two years.
"The time is now opportune," she said, "for a greater look at senior cycle. There is an opportunity."
There was no time to press Norma Foley on what she had in mind. All of us journalists gathered had deadlines, and the story of the day was Covid and schools, but the minister was giving voice to a view shared by many.
The pandemic prompted profound system changes that would have been unimaginable just months previously.
Almost overnight, teachers agreed to assess their own students for State certification purposes. That would have been unthinkable in ordinary circumstances. They, through their unions, had always held out strongly against any such move, but teachers quickly recognised that this was the best step now, for their students, in the midst of this crisis and so they parked their misgivings and got on with it.
Calculated grades were introduced, based on teacher assessment, and this year students were given a choice between calculated grades and more traditional exams. All this was designed to relieve pressure on young people who had gone through enough.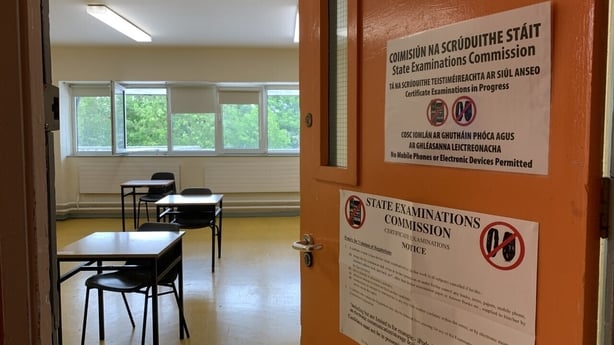 The question now on so many people's lips is: 'Are we actually going to return to the old system, the one we criticise so much, for placing too much pressure on students and too much emphasis on rote learning?'
The Minister has a report on her desk since last May from the National Council for Curriculum and Assessment. The NCCA has spent the past number of years developing a plan for reform of senior cycle education (Fifth and Sixth Year) and their report has been with the minister for her consideration for the past three months.
Everything seems to be pointing towards reform, which will include taking more of the emphasis away from a final exam. There is a widespread feeling that this is unfair on students. Ireland is following the trend internationally towards more continuous assessment. This is what the authorities want. It is what many students want, and their parents too.
Writing in the Irish Independent on Thursday, Professor Michael O'Leary of DCU's Centre for Assessment Research Policy and Practice in Education called for the "conversation" about the role of teachers in assessment for certification to continue. If it is shut down, he wrote, "the pandemic will have resulted in an educational crisis wasted".
Professor O'Leary wrote about an online survey of 700 teachers undertaken by CARPE, and he proposed a new three-pronged approach to assessment for Leaving Certificate students "involving written exams requiring less content coverage/rote learning, school-based assessments utilising a broad range of appropriate assessment methods and moderated teacher judgments".
However it is worth noting that 90% of CARPE's funding comes from Prometric, a US company described by DCU as "a global leader in test development [and] testing delivery". CARPE's mission, according to DCU "is to shape the future of assessment policy and practice across all levels of the educational system".
Over the summer, RTÉ News asked DCU for details of the extent to which Prometric funds the centre and the university told us that - in an agreement recently renewed - the Prometric funding supports "all salary and expenses costs of the Prometric Chair in Assessment, the Prometric post-doctoral researcher and a full-time PhD student. The funding also supports some of the costs associated with running CARPE and research studies focused on assessment in education and the workplace."
The testing industry, of which Prometric is part, has a vested interest in education systems adopting more assessment methods, because there is money to be made from it. Someone has to design and develop those tests.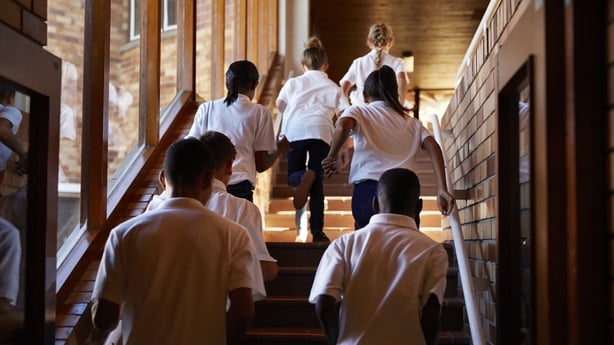 Junior Cycle
Junior Cycle education underwent reform in recent years which saw the introduction of teacher assessment (although teachers through their unions refused to do so for state certification purposes).
One rather startling outcome of that reform is that children now appear to do more tests at junior cycle than previously, not fewer.
As well as their Junior cert exams, they complete two Classroom Based Assessments in each subject over a two-year period, and there are plans for all second year students to complete a range of standardised tests in subjects such as English, Maths and Science. These new tests are described as "an integral part" of the new Junior Cycle.
Many parents and students believe that a move away from the current system towards one more heavily weighted towards continuous assessment will reduce the pressure on students, and lead to a more rounded educational experience, and also be fairer to students coming from more disadvantaged backgrounds. But none of this should be regarded as a given.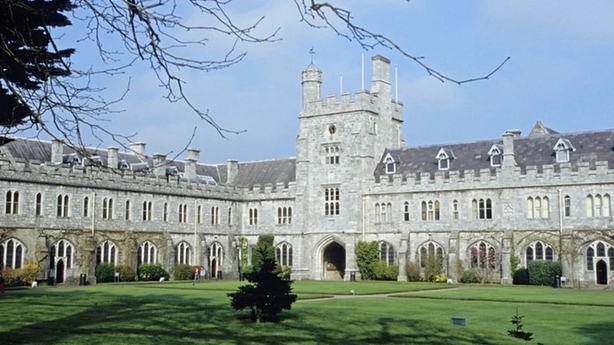 The Points System
It is ten years since a paper on third level entry and the Leaving Certificate was published. Commissioned by the Department of Education that study, by Emeritus Professor of Education at UCC, Áine Hyland, blamed the CAO points system for much of the pressure placed on school senior cycle students and for warping their learning experience.
Professor Hyland cited students choosing Leaving Certificate subjects not because they particularly liked them, but because they were perceived as easier to get a good grade in.
"The examination becomes the determinant of what is studied and how; non-examination subjects get little or no attention and, in many cases, broader co-curricular activities are ignored or minimised. Student stress levels increase as the June examination looms and for some students their final year in school is an unhappy experience which they simply want to get through as quickly as possible."
But all this, Professor Hyland pointed out, was because of the connection between the exams and college entry.
"An analysis of the current curriculum and its individual syllabi suggests that the curriculum itself is not the key problem. The various subject syllabi are written in such a way as to require students to engage critically with subject content and to apply higher order thinking skills".
The problem, she concluded, was not with the syllabus, or the exams per se, but with our college entry system.
This week, once again, people witnessed just how brutal that system can be. Students on the very highest points possible, 625, still failed to secure a place on the course of their choice.
I was contacted by the parents of a student who had received a H1 in History and received H1s and other high grades in other subjects too. But that student failed to secure a place to study history at his chosen college, Trinity.
Most certainly this year, once again, there will have been students who failed to get in to medicine courses because they could not reach the absurdly high points score required. The system may have lost some excellent potential doctors as a result. None of this makes any sense. And it is all because there are simply not enough places in parts of third level, where students want them.
I thought this week of the phrase from the Italian novel 'The Leopard' by Giuseppe di Lampedusa - 'Everything must change so that everything can stay the same'.
The pandemic has given an impetus to senior cycle reform. But it would be a shame if the system was reformed in a way that does not lead to any reduction of pressure on students, in a way that just spreads the pressure across a longer two-year period.
This week has highlighted again how it is difficult to see any reduction of pressure on school students unless there is serious reform to third level entry.