There has been a significant rise in the points requirement for most third level courses this year, with three quarters of Level 8 courses and almost two thirds of level 7/6 courses recording an increase.
However, despite the points rise, there is good news for many third level hopefuls with half of all Level 8 applicants (50%) receiving an offer of a place on the course that was their first choice.
This percentage is only slightly lower than that of last year and the year before. In 2020, 52% of applicants received a first preference offer, while in 2019 the proportion was 53%.
The CAO has this afternoon issued more than 82,000 offers to more than 55,000 applicants (some applicants will receive offers of both a Level 8 and a Level 7/6 place).
Almost 80% of Level 8 applicants have received an offer to study on one of their top three course preferences. This is again similar to the figure for the past two years.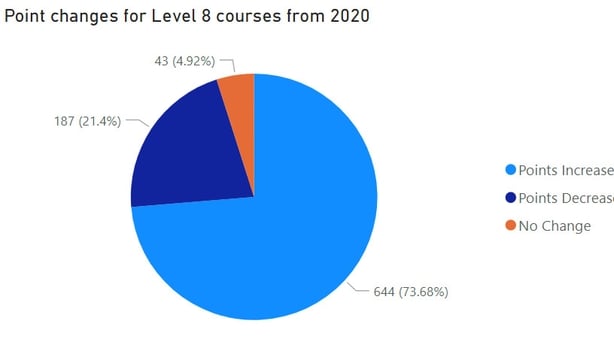 Almost 90% of applicants to level 7/6 courses have been offered a place on their first preference course, and almost all at this level have received an offer of one of their top three choices.
CAO applicants can check to see if they have received an offer by logging into their account using the 'my application' facility at CAO.ie.
Offers must be accepted by 3pm on Monday 13 September.
Some students who achieved the maximum points score of 625 will have failed to secure a place on the course of their choice as a result of random selection.
Four courses: Dentistry at UCC, Dental Science at Trinity College, TCD's Management Science and Information System Studies, and UCD's Economics and Finance course have all this year turned away students, despite the fact that those students could not have achieved any higher than they did.
---
Find the CAO points needed for your desired course here
---
More than 4,600 additional places were created this year in an attempt to absorb additional demand for college places.
There were 85,000 applications to the CAO this year compared to 78,000 in 2020. The rise is due to demographics and also increased applications from abroad, possibly due to Brexit.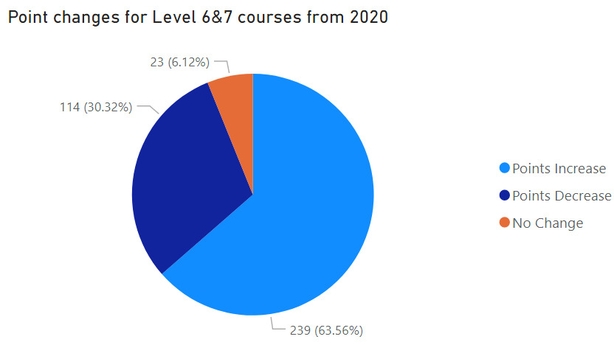 When offers made by the CAO prior to today are taken into account the CAO has made a total of 96,492 offers to date. This compares to 91,424 made at the same stage last year. The differential reflects the additional course places that have been created.
There is speculation that a significant proportion of those who have applied from abroad may not actually take up an offer to study here.
This speculation is based on patterns from previous years. If that were to be the case then it would mean that there would be more places freed up and made available to others in the CAO's second round of offers, which will be made later this month.
Points rises across the board
Arts in University College Dublin has jumped by 71 points to 381, while Humanities went up by 57 points to 397.
Arts at NUI Galway is up by 27 points to 327, and by 20 points to 338 at Maynooth University.
Arts in University College Cork is unchanged from last year however, at 300 points.
There are rises too across science degree courses with a points rise of 41 to 401 at Maynooth University and a leap of 56 points at 489 for NUIG's omnibus science course.
Points for primary teaching are also up - by 57 points to 564 at Maynooth, and by 27 to 522 at Mary Immaculate College.
The main primary teaching course at DCU is up by 30 points to 518.
Some of the most dramatic points rises have occurred at Trinity College where its History of Art and Architecture course rose by 105 points to 498.
Classics, Ancient History and Archaeology rose by 97 pints to 467.
Elsewhere, at TU Dublin, its DNA and Forensic Analysis course rose by 100 points to 500.
And Computer Science and Information Technology at NUI Galway rose by 92 points to 495.
The data indicates that the number of applicants missing out on a place on the course of their choice, even though they achieved the required points, has risen.
This year random selection to decide which students to offer places to was used on 75 courses. This compares to 43 courses last year.
74% of Level 8 courses have seen points rise, and 64% of Level 7/6 courses have seen points rise.
Points have risen across two thirds of arts courses, 90% of health related courses, and 80% of education courses.
5,000 more college offers made this year, says Harris
The Minister for Further and Higher Education Simon Harris said any student disappointed with their results should examine all of their options.
Speaking on RTÉ's Six One, he said round two offers will be made on 20 September and there are many other routes for students to get to where they want to go.
The Minister said 5,000 more college offers were made this year. More than 96,000 college offers were made through the CAO compared to 91,000 last year.
He said every year, 80% of students receive one of their top three offers and this has held up this year despite the challenges of Covid-19.
Speaking earlier today, Mr Harris said there needs to be a "fully integrated third level system" with joined up thinking on all of the options open to students.
He said as we emerge from the pandemic we need to move to a more sustainable way of planning for the transition from school.
He said talking about extra places every year is not sustainable.
Mr Harris said he is making a commitment that in November "for the first time in the history of the state", the CAO website will also give details on other options open to students.
He said while the traditional CAO options will be on the website, so too with be information on how to apply to further education and apprenticeships.
Mr Harris said "joined-up thinking is going to be key to a sustainable model" and he thinks that, in time, it will address the issue of rising points.
Meanwhile, the chair of the board of the CAO has said we need to get back to a system of pre-Covid grading for the Leaving Cert.
Speaking on RTÉ's Drivetime, Pól Ó Dochartaigh said: "Fundamentally what we need to do is to regard 2020 and 2021 as blip years.
"They were reactions, they were understandable and people did their best to try and actually make accommodations for the pupils in the middle of Covid, but fundamentally if we are to create a level playing field across the years, I think we probably need to get back to a Leaving Cert system in terms of the grading that is actually more like the pre-Covid system".
He said for years to come there will be thousands of people with pre-2020 Leaving Certs who will be looking for ways into college.
He said in the great scheme of things, despite variations in certain subjects from year to year, the Leaving Cert results were very consistent pre-Covid, which were "broadly comparable every year".
Mr Ó Dochartaigh said this has unlevelled the playing field and something needs to be done.
In relation to those who got the maximum points, but who failed to secure a place on their course because of random selection, he said this is "intensely cruel, but there is little that the third level can do about it."
'Bumper' number of applications
Career guidance expert Brian Mooney said there is a capacity issues following a "bumper" number of CAO applications this year.
He said there are so many people who did extremely well in their exams and are now effectively clustered together at the top.
This means that when a college looks at allocating the last few places on particular courses, there may be 20 students on the same mark, leading to a process of random selection.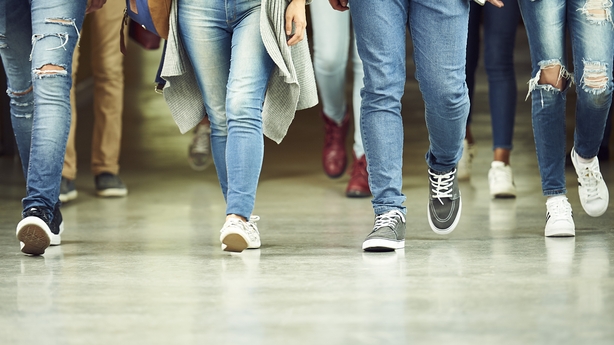 It is very painful for students to find that they have not gotten a place purely on a raffle, he said.
Speaking on RTÉ's Morning Ireland, Mr Mooney said Minister for Higher and Further Education Simon Harris has tried to create extra places, but these places need to be in areas of really high demand in order to relieve the pressure.
He said students have until 8pm tomorrow to decide if they want to view their exam scripts and they can only appeal the paperwork around assessed grades.
Niamh Dwyer, the chairperson of the Kerry Branch of Institute of Guidance Counsellors, said the number of applications has increased from 78,000 last year to 84,000 applications this year.
Speaking on RTÉ's Today with Claire Byrne, she said that while an extra 4,650 places have been allocated across high demand courses - such as nursing, pharmacy, medicine, science, law and media - some students will be disappointed, as there will be a shortfall.
---
You can find out how many points you'll need for your desired course and institution using our handy online CAO points finder on RTÉ.ie and on the RTÉ News app