The Minister for Education has defended the Government decision to change the vaccine roll-out schedule from an occupation-based one to one led by age, saying it was "not a value judgement on any given profession".
Norma Foley told delegates at the Irish National Teachers' Organisation congress that she understood the disappointment felt by teachers at the new schedule for vaccine roll-out.
However, she told delegates that the new recommendation was driven by the fact that national and international evidence now confirms that age is the "strongest predictor" of whether a person who contracts Covid-19 will be admitted to hospital or ICU or die as a result of their infection.
She reiterated statements made by Professor Karina Butler of the National Immunisation Advisory Council, who she said had confirmed that if we compare a person aged between 30 and 34 with a person aged between 60 and 64, the person aged between 60 and 64 years old is 70 times more likely to die as a result of Covid-19 than the younger person is.
Ms Foley said this was the latest medical and scientific evidence available.
"This is not a value judgement on any given profession. This is simply the science," she said.  
The Minister for Education has defended the Government decision to change the vaccine roll-out schedule from an occupation-based one to one led by age, saying it was "not a value judgement on any given profession" | https://t.co/oaTMjY5JSf pic.twitter.com/DRO6hEGVv6

— RTÉ News (@rtenews) April 6, 2021
In his response to Minister Foley, the General Secretary of the INTO said last week's decision showed a blatant disregard for teachers' safety.
John Boyle said teachers should be re-instated as a high-priority group to be vaccinated to ensure that schools can remain open safely.
He called for teachers to be vaccinated in parallel with the general population as part of a new group on the revised list which gives priority to those who work in crowded settings.
Mr Boyle criticised "needless and opportunistic" attacks that had been made on teachers, including from some politicians.
He said teachers' basic right to safety should not be questioned.
Sinn Féin's education spokesman Donnchadh Ó Laoghaire said Minister Foley had "refused to acknowledge in her speech that commitments were made to frontline staff, including education staff about vaccines".
He said: "Those commitments have been broken. That is the simple reality. Vaccination across the board has been a shambles so far." 
Deputy Ó Laoghaire his party wanted priority restored to frontline workers, "who are at higher risk than those working from home or in safer environments".
Labour education spokesman Aodhán Ó Ríordáin said that the Government needed to "re-think" its approach to Covid-19 vaccination rollout when it comes to teachers.
Commenting after Minister Foley's address today, Deputy Ó Ríordáin said on Twitter: "Schools run on goodwill. Minister has broken that goodwill by breaking her promise."
We need your consent to load this rte-player contentWe use rte-player to manage extra content that can set cookies on your device and collect data about your activity. Please review their details and accept them to load the content.Manage Preferences
Joint motion on vaccine prioritisation
The three teacher unions have agreed to a joint motion to go before delegates at their respective congresses committing the groups to work together to demand Covid-19 vaccine prioritisation for teachers.
The unions say the motion will mandate them to explore any and all options, up to and including industrial action. The wording of the motion will not be known until tomorrow.
The annual conferences of the country's three teacher trade unions are taking place online.
Debate at the INTO, Association of Secondary Teachers Ireland and Teachers' Union of Ireland congresses is set to be dominated by reaction to last week's Government decision to change the Covid-19 vaccine roll-out.
Over the weekend the unions, whose leaderships favour a united approach to the issue, were exploring whether a joint motion could be agreed.
However, there is no threat to the expected reopening of schools after the Easter break next week.
Earlier INTO president Mary Magner told delegates that it had taken a pandemic to put hot water and soap into schools.
She called for a reduction in class sizes "to give our pupils equal opportunity with their European counterparts" and said the integration of ICT in education should be accelerated to build a stronger education system.
Ms Magner said that "never again should we have to appeal to parents' associations and technological companies to provide us with the necessary laptops to do our jobs and to provide digital devices for our pupils".
Calling for additional resources for special education, Ms Magner said the pandemic had also highlighted "the appalling absence, of education psychologists, speech and language therapists, psychiatrists, occupational therapists and counsellors".
She said the "new normal must make education the bedrock of our society and fund it, on par with our European neighbours".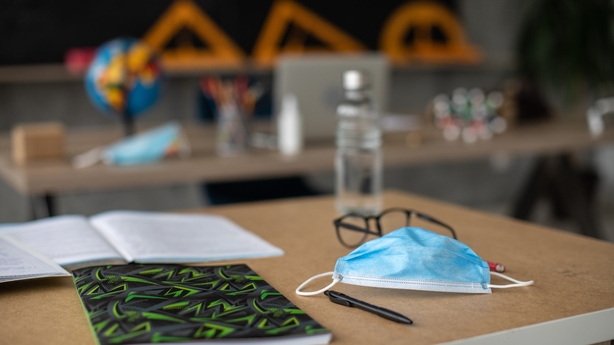 The TUI called for a U-turn on vaccination priority and described the Government decision as a "bombshell".
President Martin Marjoram told delegates that on 10 February and 23 February, correspondence from the Department of Education had given a clear indication of the place of teachers in the vaccination roll-out. 
He said the union had never sought to be advanced above those must vulnerable to infection, however, he said, the union must insist that commitments made on such sensitive issues must be honoured. 
Minister Foley will address the TUI conference tomorrow morning. 
She has not been invited to address delegates at the ASTI convention. The union said that given this year's move to an online conference a decision was taken not to invite any guests.
Chair of the ASTI Education Committee Edel Farrell said teachers witnessed a high level of disengagement during the time the schools were closed and that undoubtedly the pandemic has had a negative impact on students. 
She told the ASTI online conference that a lot of students will have regressed and will struggle to re-engage. 
Minister for Further and Higher Education Simon Harris said it would be really irresponsible not to follow public health advice on the vaccination priority list and that the Government has received very clear advice from medical experts on the order of vaccination.
Mr Harris said he hopes that this week would be an opportunity for the Government and medical experts to engage with teachers on the vaccine roll-out.
He said it is important to engage with frontline workers, teachers, gardaí and "also people who work in supermarkets and people who have been working on the frontline right throughout the pandemic".
Teachers dismayed over vaccine decision
Teachers reacted with dismay and anger to last week's vaccine decision.
They had been placed in Category 11 and had been promised that they would be in the first 30% of the adult population to be vaccinated.
INTO General Secretary John Boyle said it was very dishonourable of the Government to make the U-turn and ignore public health advice on vaccinating people who work in crowded settings.
Speaking on RTÉ's Morning Ireland, Mr Boyle asked if the written commitment to vaccinate members was only given in order to persuade them to return to the classroom at a time when infection levels were out of control in February and March. 
He said that it would be very simple to roll-out a twin-track approach and vaccinate key workers like teachers, gardaí and retail workers while also vaccinating the rest of the population.
Mr Boyle said there are only 8,000-9,000 teachers and SNAs who work in special schools and it would take just one day to vaccinate all the special educational staff.
Speaking on the same programme, ASTI General Secretary Kieran Christie said his union does not believe teachers will be vaccinated quicker under the changed rollout, which he said would be "mathematically impossible".
He asked the Government to honour a commitment made in February to prioritise teachers as frontline workers and said the ASTI has been in contact with other teacher unions and it is his "confident expectation" that a position will be finalised later on whether unions will move forward jointly or individually.
Mr Christie said the "anger and dismay is such that I wouldn't be ruling anything in or out." 
However, a spokesperson for Minister for Health Stephen Donnelly has said it is not the case that teachers were initially prioritised because of their special recognition as frontline workers.
Teachers were designated because it was hypothesised that they would be at higher risk due to the nature of their work, the spokesperson said.
They are not now prioritised because the data has shown that they are not more at risk, whereas those who are older are at higher risk, they added.
Additional reporting Ingrid Miley