Minister for Further and Higher Education Simon has told university chiefs that he is concerned Covid-19 outbreaks among students could have a negative impact for on-campus learning in the next academic year.
Last month, Mr Harris met representatives from some third level institutions, following a number of outbreaks of Covid-19 among third-level students in Galway and Limerick.
The minister met representatives from the University of Limerick, NUI Galway, GMIT, and IT Sligo, while smaller colleges also attended.
Recent outbreaks associated with college activity were discussed, as well as how each responded to it.
Minutes of that meeting on 19 February have been obtained by RTÉ's Morning Ireland under a Freedom of Information request.
The minutes were created by officials at the Department of Further and Higher Education.
In the document, the officials clearly say that it was a real risk factor that the students were back in accommodation but not back onsite, and that risk factor had to be managed to ensure it did not affect decisions regarding the reopening of the sector in the next academic year.
Mr Harris expressed his concern about the outbreaks, and in particular, explained that he was facing into a crucial period where he would have to discuss the reopening of third level colleges with other ministers in Government.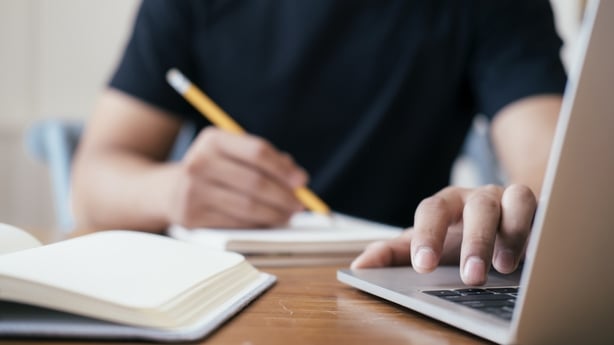 The document noted that the outbreaks among students in Galway and Limerick last month occurred through off-campus activities, and not on-site learning.
It goes on to say that Mr Harris felt that outbreaks such as this were drawing undue attention and blame to students and the wider sector.
The minutes stated the next few weeks would be crucial, as the minister would be making the case to the Government regarding the opening-up of the sector in the next academic year.
Mr Harris said that he wanted to see a significant increase in on-site activity in the next academic year, but he believed there should be a cautious approach for the remainder of this academic year to avoid outbreaks, and the difficulty they could bring for the sector in arguing for more on-site provision in 2021/2022.
He said it was important that students were taking ownership of their health and safety and understood how this is linked to greater reopening.
The minister said the outbreaks of recent weeks posed a very real risk, not just to the reopening of onsite learning for the rest of this academic year, but also threatened support he might generate at government level, for onsite learning in the next academic year.
---
Read more:
Latest coronavirus stories
---
The Union of Students in Ireland is part of the steering group that meets with Mr Harris on a regular basis. Speaking to Morning Ireland, USI President Lorna Fitzpatrick said that, to date, plans for the next academic year have not been discussed.
"We haven't had any engagement with the minister or the department in relation to planning for the next semester and I think that is something that needs to happen very quickly," she said.
She added: "It's important that all stakeholders are around the table when we are discussing these plans so we can identify any challenges and work together to find solutions to those to ensure students can get back on campus in a meaningful way in the next academic year.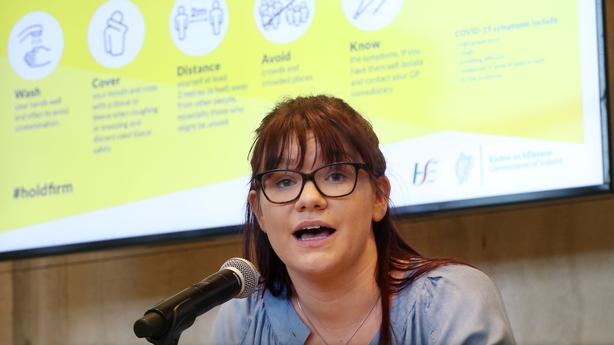 "We are calling on the minister and the department to engage directly with USI on those plans for the next academic year to ensure that everyone's voices are heard in those discussions."
The minister is due to meet that steering group later this morning.
It meets every Friday and consists of university representatives, further education providers and the USI. 
A spokesperson for Mr Harris said that plans for the next academic year which are already under way will be discussed at that meeting this morning, but a revised plan will not be finalised until May. 
The spokesperson also said that there is a shared objective for greater levels of on-site activity consistent with the framework under which the TES (Tertiary Education System) has operated this academic year but the ultimate approach will depend on public health guidance and the prevailing public health environment for returning in September. 
Meanwhile, Director General of the Irish Universities Association Jim Miley, who was at the 19 February meeting, said that while he is confident students will be able to return safely to on-campus learning next September. 
He is appealing to students to stick to the public health guidelines.  
"We share the ambition of the minister to get as many students and staff back on campus as soon as possible and certainly for next autumn.
"We know that a sizable proportion of the adult population will have been vaccinated by autumn so we are confident we can bring students back on to campus safely.
"The overwhelming majority of students are playing by the rules and they are keeping themselves, their friends and their families safe but unfortunately there is a very small minority who have behaved recklessly and we would appeal to all students to please stay with the programme for just another while.
"There is now light at the end of the tunnel, but we can only get there if everyone works to make this happen and this is about individual responsibility.
"One of the things the students learn in college is about taking on responsibility and this is a case where we would appeal to students to please do that because it's in everyone's interest that we do so."