Figures from the Department of Education show 15% of teachers have recorded a Covid-19 related absence from school since schools reopened in September.
The vast majority of these absences have been for fewer than 14 working days.
Payroll data released to RTÉ News shows that 9,223 teachers recorded some form of Covid-19 related absence, out of a total number of 60,912.
The data does not include teachers working in Education and Training Board (ETB) schools as they are paid through a different mechanism.
The absences would be for a variety of reasons and include teachers who are restricting their movements while a household member awaits a test or because they have been identified as a close contact; teachers who are self-isolating while awaiting a test; teachers who have been categorised as very high risk and cannot attend the workplace; as well as teachers who have themselves been diagnosed with Covid-19.
The Department of Education has said that, in line with the advice from the public health authorities, teachers have been asked to support the safety of the school community by staying at home for a number of Covid-19 related reasons.
It says that the number of days absent ranges from one or two days while a teacher is awaiting the result of a test, to where the teacher cannot attend the workplace at all because they are very high risk.
Across all sectors, there are 500 teachers in this situation.
The department said that many teachers will have continued to work remotely during their period of absence.
It said it has put in place very significant funding to ensure appropriate substitute cover where required, so that schools can continue to operate during the pandemic.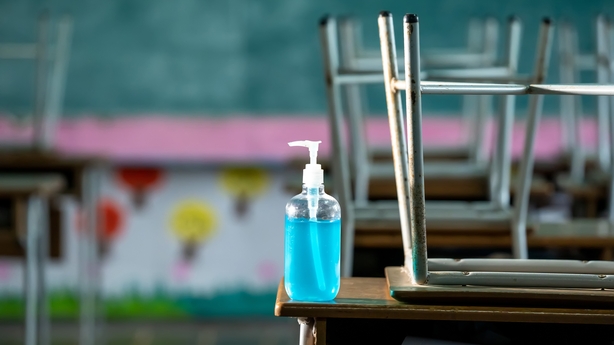 However, some schools have been obliged to send students home for periods of time because of the high level of teacher absence.
The vast majority, 97%, of absences recorded have been from one to 14 working days, while just over 2% relate to absences of more than 28 working days.
The figures show 6,373 primary school teachers have recorded absences, with the remainder teachers working in non-ETB second-level schools.
According to the department, the total number of full school days missed as a result of the absences was 37,671.
While this looks like a large figure it represents just 1.7% of the overall total number of days worked by teachers so far this year.
The data includes teachers who are working part-time or who are job-sharing.
Commenting on the figures the Department of Education said it showed that teachers were taking public health guidelines seriously and were adhering to the recommendation not to attend the workplace in circumstances where they may put the wider school community at risk.
It said: "The very low rates of transmission in schools, which is allowing them to sustain school provision during the pandemic, is also a reflection of the very commendable adherence to public health advice of all those in the school community."
---
Read the latest coronavirus stories
---
Meanwhile, the General Secretary of the Teachers Union of Ireland said there should be an immediate testing turnaround time for teachers who need a Covid-19 test, as it is a big call for teachers to be out for 14 days when they are in short supply.
Micheal Gillespie was speaking on RTÉ's News At One regarding a new network of dedicated public health teams for schools, which will roll out next week as part of the effort to stem any spread of Covid-19 in schools when they reopen.
Mr Gillespie said the TUI has been given a series of commitments from the Government ahead of schools reopening, and that they will be holding the Government to them.
He said that TUI teachers will be back in front of their classes from Monday, but they will continuously be raising their concerns over teacher safety in classrooms amid Covid-19.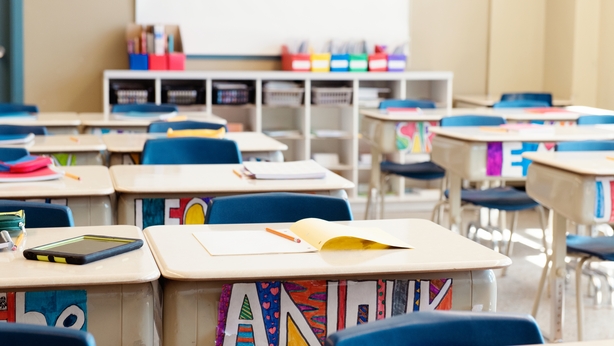 Elsewhere, staff working in schools for children with special educational needs are more likely to contract Covid-19 compared to those working in mainstream schools, according to figures received by RTÉ News.
The data, which breaks down incidences of the virus recorded in a school setting according to age, shows that almost half of cases, 46%, diagnosed in special schools are among staff.
The percentage is much lower in mainstream primary schools, with 12.5% of cases occurring in staff.
Out of 252 cases diagnosed in a primary school setting, 224 were among under 18-year-olds and 28 among those over 18, in other words school staff.
Out of 28 cases recorded by the HSE in special schools, 15 were among pupils and 13 among staff.
Staff in special schools, such as Special Needs Assistants and teachers, would of necessity be working physically closer to many of their pupils. Some children with special educational needs are also unable to wear masks.
Since the data breaks cases down by age only, the picture in relation to the distribution of recorded cases of the virus between students and staff at second level is not as clear. This is because a very small proportion of second-level students are 18.
Out of 97 cases at post-primary, just over 13% occurred in those aged 18 or older.
There were 84 cases among under 18s, and 13 in the older age-group, which would comprise mostly teachers and other school staff but could also include some students.
Earlier, Taoiseach Micheál Martin confirmed that schools will definitely reopen on Monday after the mid-term break.
Mr Martin said there was a "genuine desire" to keep schools open and that there is a good working relationship between all sides.
He said children at school was essential for their mental wellbeing and socialisation and he said it was an important "national objective" for the country.
Mr Martin said the Government would do everything it can to support teachers and SNAs and to keep the school environment safe.
He also said there would be additional supports allocated to schools towards the end of the year.