Queen's University in Belfast has said it may have to offer courses to up to 1,000 extra students whose A-level grades will improve after changes to the way results are calculated.
The Stormont Executive contributes around £4,000 to the annual fee for each local undergraduate in Northern Ireland, so an additional £4m would be required to cover the cost of those extra places.
Thousands of students received their A-level results, the equivalent of the Leaving Cert, last week.
A system that used a computer algorithm to standardise results led to around a third of students receiving grades lower than those predicted by their teachers.
Hundreds were then told by Queen's and Ulster University that their applications for courses had been rejected because they had not secured the grades needed.
That resulted in a huge outcry from pupils, parents, teachers and many politicians.
Having initially robustly resisted calls for change, Northern Ireland's Education Minister Peter Weir yesterday performed a u-turn on the process for calculating grades.
The results will now be revised, with students awarded the highest of the grades predicted by their teacher or the one awarded last week.
The move has been welcomed by schools and pupils.
Jackie Bartley, principal of St Genevieve's High School in west Belfast, said around 25% of its A-level students had been given lower than predicted grades.
"We are so relieved that our pupils have now been given the grades that they were entitled," she said.
"We've always said that teacher predictions, centre assessed grading, was the closest thing to what the child would have got if they had sat the exam.
"Pupils, parents and our teachers are all very happy."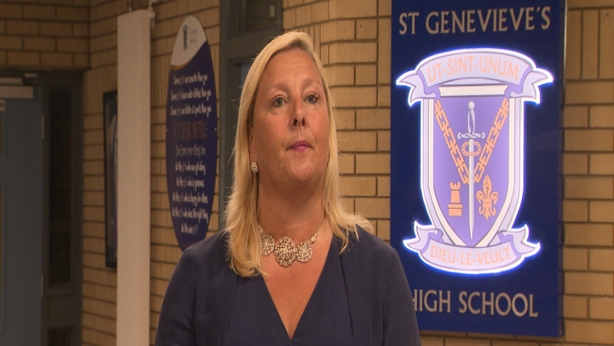 But the u-turn has caused a potentially huge problem for Queen's and Ulster University.
Offers already made to students based on last week's results have to be honoured, and places will also now have to be made available to those who achieve the target grades for their courses.
Queen's says a number of its most popular and competitive courses, such as medicine and computer sciences, are already over-subscribed.
Ulster University says it still has capacity and places available.
The change is not expected to impact students from the Republic of Ireland who have applied for courses at Queen's or Ulster University.
Conditional offers are expected to be honoured if the stipulated Leaving Cert points are achieved.
But, as it contributes around 50% of the annual fees of students from Northern Ireland attending the two universities, the Stormont Executive controls the number of undergraduate places for local students.
Each institution is able to offer places to around 3,000-3,500 locally based students each year.
The universities say that cap will have to be lifted if they are to meet the additional demand for places created by the change in how grades will be calculated.
In a statement, Queen's said it "needs clarity as a matter of urgency" as the new academic year begins on 21 September.
It also warned that the University has capacity restrictions in terms of teaching space, teaching staff and accommodation.
"These issues are particularly complex this year due to the need to preserve social distancing and keep our staff and students safe," the statement.
"It is therefore imperative that the University receives clarity on the provision of revised results and the support that will be provided by government as soon as possible."
A spokesperson for Ulster University said it will be as flexible as possible to accommodate the maximum number of students.
"We are actively preparing for the anticipated additional demand by building in additional places for some of our most popular courses including Computer Sciences, Artificial Intelligence, Engineering, Law, Accounting and Personalised Medicine," they added.