"Their levels of anxiety and stress are off the scale at the moment," says one school principal. She is referring to her Leaving Certificate students.
It's a sentiment shared possibly by every second-level school principal in the country; certainly by every principal who has spoken to RTÉ News of late.
The Taoiseach's comments, on Thursday, that the state exams would take place "by hook or by crook" have drawn a mixed response, at best.
The principal of a Dublin DEIS (disadvantaged) school is dismayed.
"He is actually saying that to the detriment of young people," she says. It is this principal who has described her students' stress levels as "off the scale".
"Going ahead with the exams is not a solution," she says. "My students started out not on a level playing field, and now it has become even more unequal."
She goes on to run through a litany of problems that her students are dealing with. They are problems that several other principals cite too, with great concern.
They don't describe them as hurdles, they are barriers. The divide that already existed between the classes has now, they say, become a chasm.
Many students have been obliged to take on onerous childminding and other household duties while their parents go out to work.
Many students do not have access to computers, especially during the day when a parent may need the household's only computer for their own work.
For those who have to rely on their phones for remote school learning the cost of credit is a huge problem. Many students simply cannot afford to download the material that they need.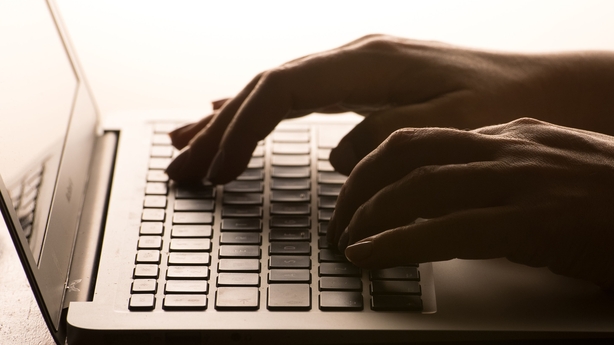 "That sharing of facilities is a huge problem", says a second school principal, summing up some of those difficulties, "Say the parents are out working, they are under pressure to cook, to mind siblings, they are parenting".
This principal moves on to deeper issues: "They are worried about their parents. What if they get sick? Parents are also losing their jobs. There are mental health issues."
Anxiety is a huge issue. Many schools are working flat out to support students, and this work can be distressing.
The principal of a large urban non-DEIS school has said teachers have been getting distressing messages from students in the middle of the night. The principal says: "That's the reality. And we wouldn't be the only school."
In the midst of this unimaginable crisis, what should be done about the state exams? That is the question I asked a number of school principals yesterday. Not 'what will be done', because no one has that answer as yet.
Beyond the Taoiseach's stated commitment to proceeding with the Leaving and Junior Certificate exams, no one knows what shape those exams might take and contingency plans the Department of Education and the State Examinations Commission might be considering seem a closely guarded secret.
Most of the principals I speak with are involved with national bodies representing school managers in the various second-level sectors, so they are in touch with other school principals too.
One DEIS school principal says: "We now have a one-tier health system. That would have been unimaginable before. And my frustration lies in why the Department of Education isn't being more imaginative.
"If the exams go ahead we will be asking vulnerable young people to comply with a system that is going to affect their mental health and I would ask 'why'?"
This principal wants a "reimagining" of college entry routes this year. Stress is causing her Leaving Cert students to disengage.
Speaking of students who don't have parents with the wherewithal to offer academic support, she says: "As time goes on I think fewer and fewer are going to present for the Leaving Cert."
"Maybe it shouldn't be a 'one size fits all this year'," muses another, referring to calls from the Irish Second-Level Students' Union for predicted grades to be given in lieu of exams this year.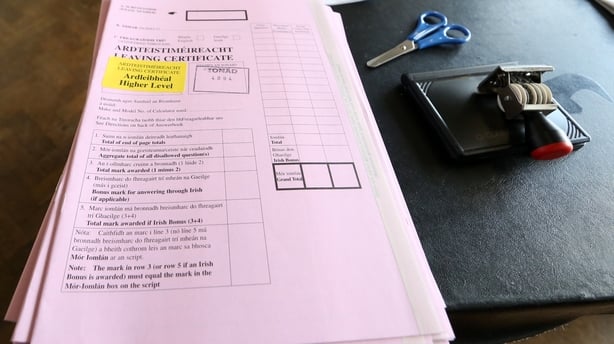 A very large online survey they carried out has found that 49% of Leaving Cert students favour this option. (But the survey was not scientific. It was self-selecting, and it can be read the other way round, with 51% not in favour of predicted grades.)
"The rulebook has been scrapped so maybe we should give students predicted results. Maybe students should be given the option then of sitting the exams if they want to."
"But the exams should not be after June," she adds, "their stress levels are so high".
When it comes to how to figure out college entry routes, this principal echoes others when she calls for "blue sky thinking", with student welfare at its heart.
Among her suggestions is a return to the old 'matric' system, where third-level applicants sat exams set by the colleges for entry purposes.
No principal who spoke to RTÉ News supports the idea of postponing the Leaving Certificate exams beyond June. None of them believe that the exams, if held in June, can be 'fair', and fairness is a huge concern.
"How do we ensure that the results of the class of 2020 is fair to them, and reflective of their ability?" asks one.
Among other suggestions from these principals - if the exams are to go ahead - are:
Offering students far more choice when it comes to the questions they must answer
Offering much shorter papers and only one paper in each subject
Limiting exams to English and Maths papers only, as is done in some other countries
Scrapping or postponing the Junior Cert exams to allow for greater resourcing for Leaving Cert students.
The principal of a large mixed school tells RTÉ News that 30% of his students are not engaging in remote learning. He puts this down to a combination of factors; a lack of access to technology, household responsibilities, and a lack of willingness among them.
He has another suggestion. "What if we just bring back our Leaving Cert students only in May, re-divide the classes among more teachers to comply with social distancing. My biggest worry is the kids who need learning support. They are finding it very frustrating and very difficult."
All of these school principals feel strongly that Leaving Certificate students must get back to school for at least a few weeks before they sit any exams, if indeed they are to sit exams. "We have got to get our hands on them first," says one.
Many of them are calling for clarity, and some kind of certainty, as soon as possible. They feel this is very important for their students' well-being. 
These school principals, and their staff, have been working hard. They are gathering and distributing laptops for students who need them. They are tracking down students who have fallen off the remote-learning radar. They are worried about the mental health of their students.
They miss them too. "We miss their smiley faces," says one.
Another tells me that her students know where she lives and some have taken to sauntering past her house. "I know it's because they want to see me", she says.
She goes into the garden and chats to them, from a distance. "It cheers them up, and it cheers me up too."