One of four-year-old Luke's personal targets for this month, which have been set by his teacher, was to be able to remain seated for one minute during 'circle time'.
For Luke, who has autism and ADHD, this would have been a big challenge, and something his teacher and SNA would have been working carefully towards all month.
Starting at preschool was hard for Luke initially, but his teacher tells RTÉ News that by last month he was "flourishing".
That's gone now though.
Last Wednesday and Thursday, Luke's teacher phoned the parents of all of her little pupils. His mother told his teacher that every morning he goes looking for his schoolbag. Routine is important for all children, but it is especially important for children with autism.
Until last Thursday week, Luke was attending an early intervention class for preschool children with autism that is attached to his local primary school.
When the schools closed on 12 March, Luke's school sent every child from Junior Infants upwards home with workbooks and exercises to last them two weeks.
This week, teachers at that school, and schools across the country, will be working on developing educational programmes and activities to see their pupils through another few weeks.
No one thinks that school will be reopening any time soon.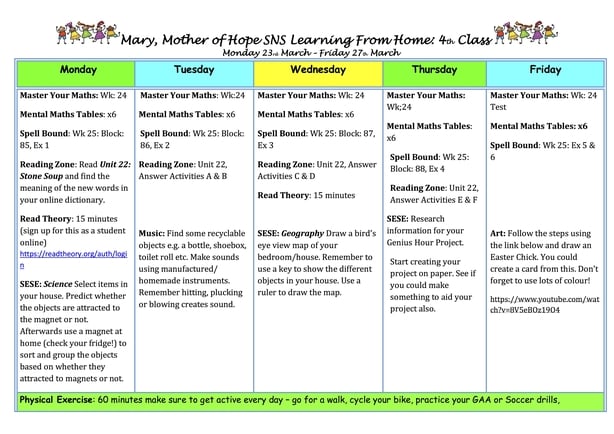 At Carlow Educate Together, primary school teachers will spend the coming week training remotely in how to use technology to teach. Principal Simon Lewis believes this will be time well spent.
"My advice to teachers for this week would be to try to use the time to get trained up," he said.
When I spoke to Simon on Saturday, he was busy pulling together material to help teachers who are 'non-techie' to be able to use basic technology that will help them and their pupils.
As a school principal who is very at home with the use of technology, his advice is valuable.
Simon is also moderating a page he has set up on which teachers can share ideas and resources.
He is one of a number of primary school principals and teachers who have been telling RTÉ News of how they are planning for coming weeks. Managing a two-week gap in school attendance is one thing, looking ahead to a longer break is quite another.
"This coming week is about trying to find a different approach," one school principal tells me.
They are all hugely conscious of the strain that parents are under. They are all very conscious too of the fact that any laptops or computers or phones that a home may have may well be needed by parents working remotely or by older siblings.
Schools say the last thing they want is for parents to feel under even more pressure. They want to support parents as best they can. They stress that they are sending home suggested menus of activities. But they are only "suggestions".
Schools are trying to focus on tasks that do not require access a computer.
Simon Lewis is also looking at tasks that children can do independently, conscious of the fact that parents will have a lot on their plate.
For primary school children, home activities might include writing a letter to a grandparent, or drawing a picture, or reading.
Schools say developing a routine is important, but a school day at home does not need to be about book learning. There are many ways of learning and children have many things to learn.
Two school principals I spoke to said this might be a good time for families to help children, especially small children, develop life skills.
"Maybe you can use this time to learn how to tie your shoe laces", says Siobhán Weekes of Scoil Chaitríona on Dublin's Baggot Street, "or how to dress yourself - by yourself - from head to toe".
"How to boil an egg for instance, if you like it soft, how long does that take? Or how to unload a dishwasher, or weigh out flour.
"Some parents are looking on Instagram at all these perfect home class set ups, but we need to support them in a human way."
Schools know that many parents do not have the time, the patience, or perhaps the confidence or skill to teach their children academic work.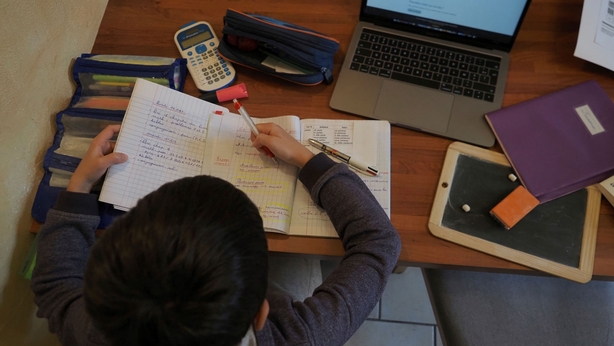 Carol White is principal of Boher National School, a small two-teacher school in Co Westmeath.
"Technology isn't really a runner where we are because the internet here is very, very poor, so we had to think in another direction", she says.
Boher NS is basing its approach on the use of photocopied worksheets and tasks.
"We are in constant contact with our families," says Carol. "We are available to them from 9.30am to 4.30pm.
"If there is something they are having a problem with, we are saying 'take a picture of it and send it to us'."
This week, Boher National School's two teachers will be preparing packs for coming weeks. Parents will be invited to pick up the packs.
Teachers and schools are using social media to collaborate and brainstorm to try to figure out the approaches that might work best.
For most subjects and age groups there is what one principal describes as a "bewildering" array of materials available online. Others use the word "chaotic". It can be hard to sift through to what is good.
One primary school I spoke to has opted in recent days to use the free Seesaw app to communicate with their pupils.
In terms of content, others mention Twinkl, a commercial content provider, which has made its material free to all for the coming weeks. Educational book companies have done likewise.
Scoilnet.ie, the State's repository for educational content, is recognised as a valuable source of quality and trustworthy material.
Several schools complain, however, that there is a serious dearth of resources online when it comes to Irish. This is causing problems for them.
The principal of a large disadvantaged school in a midlands town tells me that some children at the school cried when they heard news of the sudden closure.
For a lot of their pupils, she says, school is what gives them "an escape from the reality of their lives".
The school has managed to get email addresses for just three quarters of their parents. That means they can't send work or suggested activities to the rest. This principal knows that some parents do not have an internet connection.
I ask if the school considered posting out material, but this principal says that "being realistic", for many of these kids "educational activities just won't happen, in the same way that homework doesn't happen".
"Their home lives are not conducive to education", she adds. "They are not going to have access to education for the next few weeks."
Schools worry most about the impact a prolonged closure will have on the most needy children. These include children from disadvantaged backgrounds, and also children with special needs. The attainment gap between these and other children will widen the longer schools remain closed.
Luke's teacher said: "But the most important thing, first and foremost, is that everyone is well, and that families are not too stressed."
For teachers this coming week "it's a matter of trying to find something meaningful and long-term," says one principal. "We don't know how long this is going to last."