Irish teenagers remain among the most proficient internationally when it comes to their reading ability, and significantly above average when it comes to Science and Maths, according to new data from the OECD.
Tests carried on more than 500,000 15 and 16-year-olds across 79 countries, under the organisation's latest PISA (Programme for International Student Assessment) study, placed Ireland third among EU countries, and fourth across the OECD when it comes to reading ability.
In an outcome hailed by researchers as "incredibly strong" only students in Estonia, Finland, Canada, Singapore, and some regions of China, have outperformed Irish teens.
The OECD said 5,577 students at 157 schools in Ireland sat the test, which consisted of a two-hour exam and a 55-minute questionnaire, last year.
The results are similar to those of the last PISA programme, which was carried three years earlier, with reading literacy the focus of the latest study.
As well as an overall strong performance, it found that when it comes to literacy, Ireland has significantly fewer low-performing students compared to the OECD average, and significantly more high performers.
It found 13% of disadvantaged students scored in the top quarter of reading performance within Ireland, compared to 11% of disadvantaged students across the OECD.
Immigrant students are faring better too, with 22% scoring in the top quarter in reading, compared to 17% internationally.
In Maths, students in Ireland are ranked 16th among 37 OECD countries, and 11th out of 28 EU countries.
The OECD found 84% of Irish students were competent or high performing in the subject, compared to an OECD average of 76%.
In Science, Ireland is ranked 17th among 37 EU countries, and 11th out of 28 EU countries, while 83% of Irish students are deemed competent or higher compared to the OECD average of 78%.
However, researchers say there has been a significant decline in science performance when these results are compared with results of six years ago.
This decline coincides with the introduction of computer-based testing.
There is also just an average proportion of high-achieving students in Science.
In Maths, there is a significantly lower proportion of high-performing students in Ireland compared to the OECD average.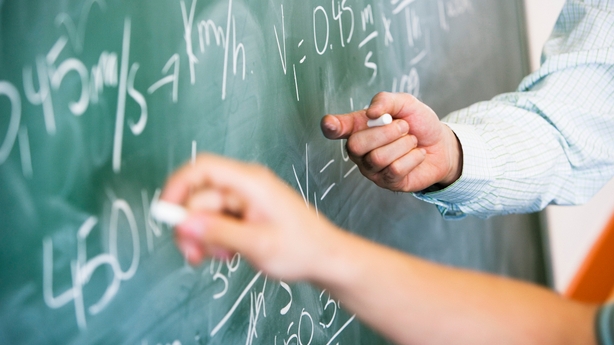 This is likely to raise concerns that the more mathematically talented students are not being given the opportunity to stretch themselves in the subject.
The study also found that Ireland has a more equitable education system compared to many other countries, with a smaller variant of scores between different schools.
The PISA study also explored the use of digital technology for subject learning both within and outside the classroom.
It has found that Irish teens are significantly and substantially less likely to use computers or tablets in class compared to the OECD average.
Their use of digital devices for schoolwork outside of the classroom has also been found to be significantly below the OECD average.
Students were also asked a range of questions about their lifestyles, their attitudes and their behaviour.
Irish students appear to be significantly less satisfied with their lives compared to the overall average across OECD countries.
Just 61% of Irish teenagers questioned said they were satisfied with their lives, compared to an OECD average of 67%.
Irish male students are more likely to be satisfied than females, with 67% of male teens saying they were satisfied, compared to just 55.5% of females.
The study also found that Irish students are significantly more likely to skip school.
It found that 30% of Irish teens reported having skipped a day in the two weeks prior to the test, compared to an OECD average of just 21%.