Budget 2020 has seen a cut in funding for new school buildings and other educational facilities for the first time in seven years.
At a time when all levels within education are facing pressure from an unprecedented growth in student numbers, the capital budget for education has been reduced by €19m, or 2%.
Acknowledging this year's cut, Minister for Education Joe McHugh said that an "understanding" had been reached with the Department of Public Expenditure to shift funding from capital to current spending in order to protect "frontline services".
This included pressures caused by demographics, and to ensure that 1,300 new places for students with special needs were protected.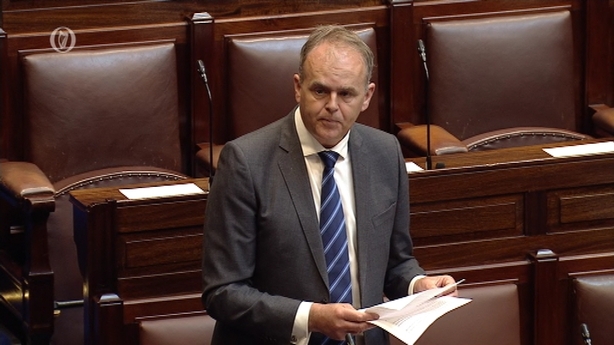 There have been hikes in funding for this area every year since 2013, as the system attempts to meet demand for additional school and college places.
Last year's Budget saw capital funding for education increased by 26%, the year before that by 7%, and by 16% the year before that again.
The Minister said this year's reduction would not in any way affect school building plans for next year.
He said his department still intends to create 30,000 student places, and that new buildings would continue to come on stream.
The department says that €670m of the overall capital allocation will be spent on school buildings next year, compared to €672m last year.
However, funding to build new school buildings and extend others will be further reduced, because an unknown proportion of this €670m will be spent fixing structural defects discovered in more than 40 school buildings built by Western Building Systems.
Mr McHugh declined to tell RTÉ News how much of this year's capital allocation would be spent on this remediation work.
The minister said he was not in a position to reference any figure because of pending legal action between his department and the Tyrone-based company.
---
Read more:
Additional teaching posts a case of 'running to stand still'
Funding for 1,000 new SNAs for schools in Budget 2020
---
According to the Department of Education, fire safety and structural defects were discovered in more than 40 WBS school buildings.
Significant sums of money have and will be spent to remedy the flaws.
Court documents in relation to one school building alone say the cost of remediation there could run to €3 million. This is the same amount that it cost to construct that one building originally.
Unprecedented demographic growth across all levels of education is placing great pressure on the education system, with every sector in need of additional staff, including teachers and Special Needs Assistants, and additional classrooms and buildings.
Enrolment numbers are not set to peak at second level until 2024.
According to the Department of Education's website, 369 schools are currently waiting for a new school building or equivalent major renovation or extension works.