Next month Minister for Education Joe McHugh will travel to the United Arab Emirates.
He wants to meet Irish teachers working in the region, in order to understand, he says, what needs to be done to encourage them to come home.
There's an acute teacher shortage here and enticing Irish teachers home is one way of alleviating it.
So what are those teachers likely to tell the Minister when he meets them at 'town hall' meetings across the Gulf States? And how do they feel about the Minister's visit?
When you speak to Irish teachers who've left the country to work abroad they give one reason for their decision; it's financial they say.
"For the first month here all I felt was relief. I didn't have to be stressed about accommodation and finances. You can actually save."
But there are two main strands to that one word; low pay, and the cost of housing. For many teachers, especially those working in Dublin, it's the combination of these two financial factors that has driven them abroad.
Primary school teacher Elaine has been working in Dubai for the past three years. She tells RTÉ News that her reasons for leaving are "completely financial".
"I just couldn't handle renting in Dublin anymore", she says. "I had to move five times in four years, and every time it was to somewhere more expensive and further away."
Elaine loved the job she left in Ireland but she feels that she had little choice.
"In my tenth year of teaching I had less disposable income than I had in my first. It was very demoralising. Even though I am on the older pay scale (i.e. not a lower paid teacher) I was lucky if I was saving €50 a month. It was too stressful. I got a career break and came here."
Teacher Joshua Howe and his wife, who is a nurse, decided to move to Qatar two years ago. Joshua says they found it impossible to make ends meet in the capital once their daughter came along.
Unable to find a full-time job Joshua was combining teaching hours with retail work.
Living with his in-laws and trying to save for a mortgage, eventually he says he and his wife realised that there was no way they would be able to afford to live in Dublin where they both worked - either to buy or rent.
"We left Ireland in May of 2017," Joshua says. "Life is great here. Our standard of living is far greater than it would be even if I was teaching full-time in Ireland. The only thing that we find difficult is the lack of a family support network."
Elaine agrees: "For the first month here all I felt was relief. I didn't have to be stressed about accommodation and finances. You can actually save. My salary is a couple of grand less than it was in Ireland but I'm not paying tax, and my apartment and medical insurance is paid for. Most months I am managing to save between €2,500 and €3000."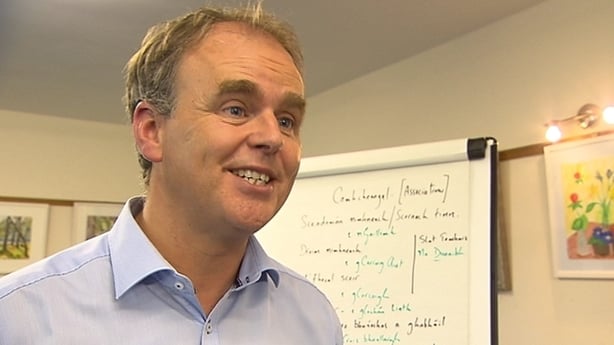 The views expressed by Elaine and Joshua are repeated again and again by other Irish teachers working in the UAE and neighbouring states who've spoken to RTÉ News.
They're shared too by teachers who have returned home. Of the teachers I spoke to who have come back, most did so because of pressing family reasons such as the illness of an elderly parent.
Those who return face a plethora of problems. There's the mountain of bureaucracy, mostly related to the requirement that they register with the Teaching Council here. But that's the least of their worries.
The thing that rankles most strongly with this group is the fact that despite years of valuable experience as a teacher abroad, the majority of them are placed at the very bottom of the teacher salary scale, at entry level, point 1, when they start work here.
It's not clear why this would be the case. The problem seems most prevalent with second-level teachers.
A Department of Education circular allows for teaching experience abroad, including in non-EU countries, to be reckonable for increment purposes.
But it is the most common complaint among returned teachers who've spoken to RTÉ News.
"I don't particularly want to go. My friends and my family are in Ireland, but I feel I am out of options."
Mary Dunphy* worked as a teacher in Qatar for 20 years. She was head of department at her school, with 13 teachers working under her. She had to come home for family reasons.
She has found a job working as a teacher but to her dismay has been placed at the bottom of the salary scale.
When perks like free accommodation and health insurance while abroad are taken into account, she says her return to Ireland has meant an 80% drop in salary.
"I have 20 years of teaching experience but none of that is recognised here," she says.
Her frustration is understandable. A full-time teacher starting out at point 1 of the salary scale earns €36,000 a year. That compares to a salary of €49,000 at point 10, or €61,000 at point 20.
The issue of increments has repercussions too when it comes to securing a mortgage. Many teachers have gone abroad so that they can save money for a deposit on a home. But when it comes to securing a mortgage it's salary that counts.
As one teacher puts it: "Teachers who have moved overseas to save for a mortgage/deposit will not move home because the banks are making mortgage decisions based on their salaries - not their deposits".
Teacher Kathryn Lonergan has set her sights on Abu Dhabi. In her mid-30s, Kathryn has secured a job there and in three months' time will leave a full-time permanent job in a secondary school here to take it up.
The Dublin school she is now working in will have to begin the search for a new Spanish teacher to replace her. That will not be easy. Modern languages is one of several subject areas where the current teacher shortage is acute.
"I feel bad for the kids", says Kathryn, "but I just have to bite the bullet".
"Everybody is laughing about the Minister for Education going out there to persuade people to come back. Come back to what?"
Once again Kathryn's reasons for leaving are "purely financial". Kathryn qualified as a teacher in 2011 so she is on a lower pay scale compared to most other teachers. Low pay and the housing crisis, are the driving forces behind her decision to leave.
"I'm 35 years of age and I'm still renting. I live in a house with three other teachers. That's ok in your 20s but you get to your mid 30s and you want a place of your own. But that seems completely out of reach."
Kathryn does not relish the idea of leaving.
"I like my life. I like my Irish culture", she says. But she will have her accommodation, utility bills, flights and health insurance paid for her. Her salary will be tax free. She reckons she will be able to save between €1,500-€2000 per month.
Asked how much she manages to save here per month she says "maybe €200". "If nothing happens to my car", she adds.
"I don't particularly want to go", she says, "my friends and my family are in Ireland, but I feel I am out of options".
"We are all in our late thirties," she says, referring to herself and two friends who are also leaving, "but there is nothing to keep us here".
Marie Clarke is another teacher in her mid-30s who will leave for the UAE states this August. And it's not for the first time.
Marie spent more than five years working in Dubai and Abu Dhabi but returned home two years ago.
She tried working in her home town in the west, but after six months subbing she moved to work in Dublin.
She had no choice, she explained: "A lot of teachers are trying to get home, out of Dublin", she says, and competition for more permanent work was too strong.
Marie says "it's the rent and the cost of living" that's driving her abroad once again. "Half my salary goes on my rent. I feel let down to be honest. I'm 34. I saved up money for a deposit while I was abroad, but I can't get a mortgage because I don't have a permanent job".
While low pay and the high cost of housing are the two main strands to teachers' financial reasons for moving abroad, one other strand features too. That's student debt.
Dubai-based primary school teacher Rebecca says her main objective in moving abroad was to pay off her student loans.
So how do these teachers feel about the Minister's plans to visit?
Speaking from the Middle East, Rebecca tells me of teachers' "disbelief and disdain".
"Teachers find it insulting that taxpayers' money is funding this trip, pre-elections, to ask questions that teachers and their unions have already been exhaustedly clear on giving answers to," she says.
Another teacher, who has returned home from the UAE, says that the Minister will be "wasting his time".
He dismisses the minister's visit as "optics and spin". "Why would they return to a housing crisis, long commutes and the Universal Social Charge.
"If it was not for a sick relative who needed me here, I would never have returned to this country and I would not recommend anyone else to even think about doing so," he adds.
Mary Dunphy is equally blunt. "Everybody is laughing about the Minister for Education going out there to persuade people to come back. Come back to what?" she says.
School receives just one application for three Irish teaching jobs
Irish embassy survey
In advance of his trip the minister has asked the Irish embassy in Abu Dhabi to survey Irish teachers working in the UAE and neighbouring states to try to establish their reasons for leaving and what might encourage them to return.
That survey asks teachers why they left Ireland, whether they plan to return, and if so when.
It also asks them to list the top three barriers they see to them returning to work in Ireland, and it asks them to suggest incentives that might encourage teachers to come back.
Two years ago teacher Michaela Lane carried out a similar survey as part of a Masters in Education she completed at the University of Bath. Her methodology was rigorous and her findings should be of interest to the Minister.
Almost 130 teachers working abroad completed the survey, two thirds of whom were working in either the Middle East or Australia.
Higher salaries/financial benefits was the top reason they cited for having left Ireland.
More than 80% said they wanted to come home, most within the next one to three years. Asked what factors would motivate their return, their top three responses were; a permanent full-time teaching post; improved salaries; and the financial ability to secure a mortgage.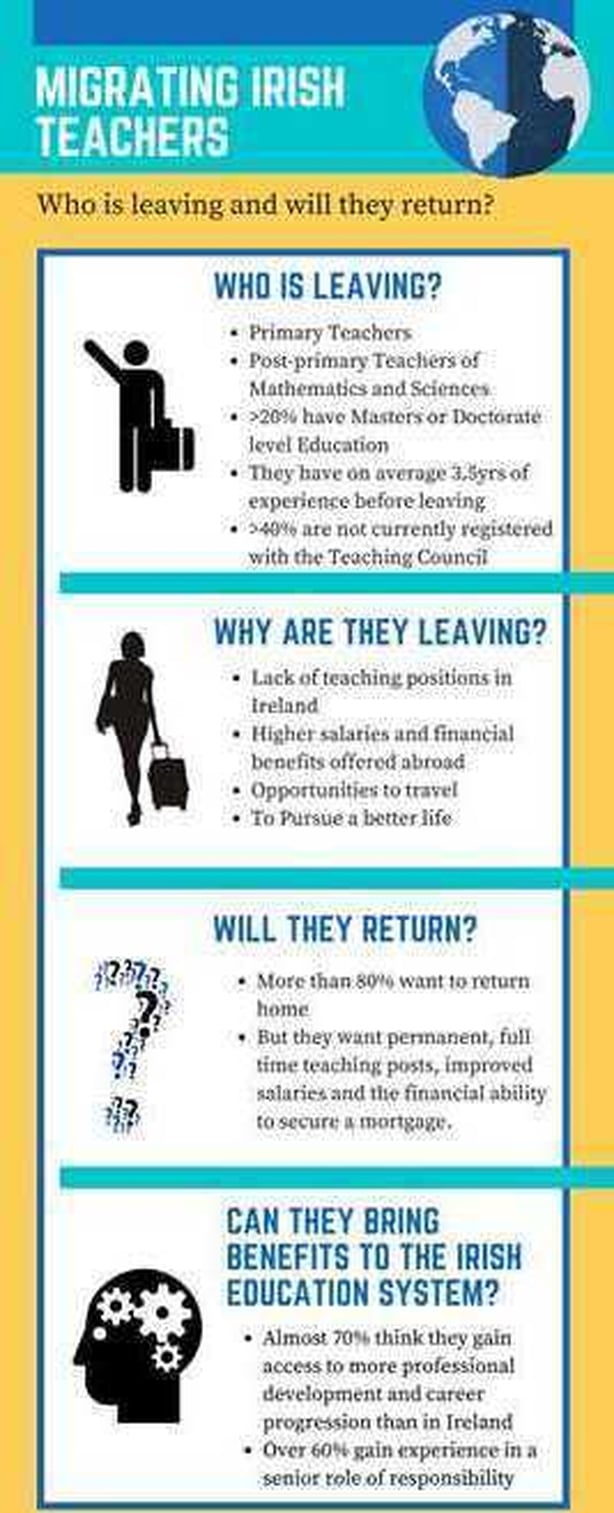 Michaela Lane's survey touches too on one other important aspect of this story. Ninety per cent of respondents had taken part in further professional upskilling while working abroad. That's incredibly high. Teachers explain that in the UAE countries they are paid to upskill.
Not only are these Irish teachers working abroad highly qualified, they are also gaining experience that would be invaluable in the 21st century Irish classroom.
Because they are teaching the International Baccalaureate curriculum they are familiar with modern teaching methods that are only just being introduced here. They also know how to teach in a culturally and linguistically rich environment.
But their valuable skills are being lost to Ireland, and there's no "quick fix" that will bring them home.
*Not real name