Computing courses have the highest level of student drop-out, with close to half of all students in this area failing to complete their programme, according to new data on student completion rates published by the Higher Education Authority.
In a comprehensive study that tracked students who entered the third level system in 2007, the HEA found particular problems among students choosing computing and engineering courses in Institutes of Technology, with a 45% drop-out rate among computing students.
The bulk of these students would have left after their first year of study.
The Institute of Technology with the highest overall drop-out rate is the former Tallaght IT which is now part of the country's newest university, TU Dublin.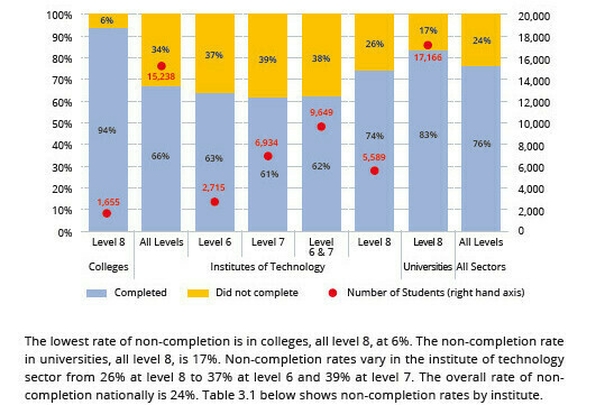 The study found a direct link between Leaving Certificate performance and academic success.
Drop-out rates are far higher among students with lower Leaving Certificate points. Compared to the universities and other colleges, the Institutes of Technology have a larger cohort of students entering on lower points.
At the former Tallaght IT for instance, 96% of students had less than 400 points. By contrast, the college with the highest completion rate St Patrick's Teacher Training college had no entrants with less than 400 points.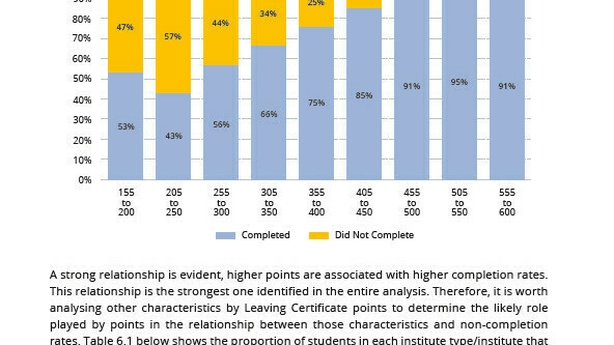 This is the first comprehensive analysis of completion rates since 2001.
It found that overall completion rates here compare favourably with the international picture.
Across the entire sector 75% of students complete a course. The figure rises to 83% for university students, and 94% for students attending colleges such as teacher training institutions. It drops to 66% for students attending Institutes of Technology.
Looking at fields of study, drop-out rates are highest among computing students – at 45%.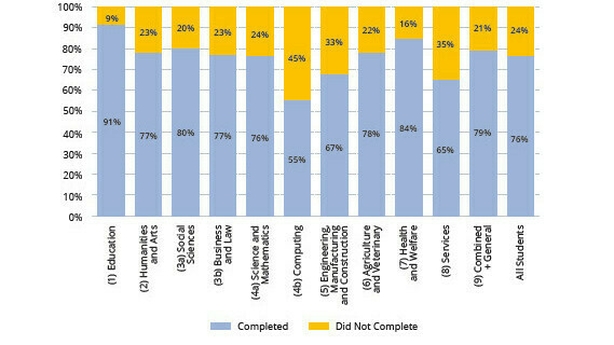 Areas such as hospitality and tourism, and engineering manufacturing and construction, also experience high non-completion rates, at 35% and 33% respectively.
Students studying in the field of education are most likely to stay on, with 91% completing their courses.
Female students are 10% more likely to complete their courses compared to males. This may be related to the fact that females tend to get better Leaving Certificate results too.