Residents of Tathony House in Dublin 8 were joined by supporters outside the apartment building this afternoon for a demonstration on the day set for their eviction.
A Residential Tenancies Board (RTB) hearing into their case is due to resume next Tuesday, after it was adjourned last month.
Residents of 34 apartments in Tathony House in Kilmainham were issued with notices to quit on 2 October 2022 as the landlord intended to sell.
Around ten households are still living in Tathony House.
They were ordered to move out by 2 June but say they will remain there until their case with the RTB has concluded.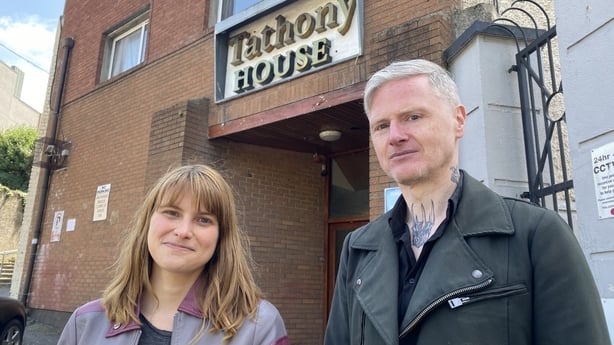 "First of all the RTB has to make a determination on whether our notices are valid, we believe that they are not valid and we will make that argument in the RTB and ultimately it is for the RTB to determine," Tathony House tenant and People Before Profit Councillor Madeleine Johansson said.
"We also have to realise that the situation at the moment is dire, in terms of availability of rental homes so that's why tenants are still here because we cannot find alternative accommodation, it is not possible."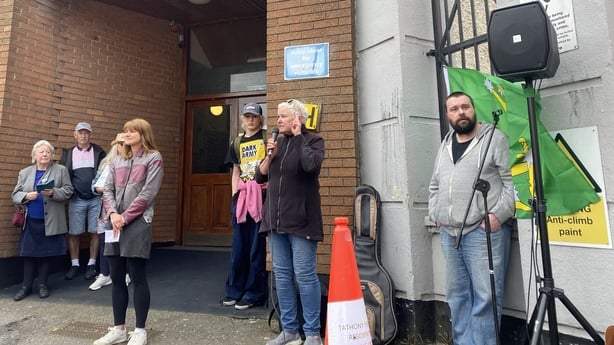 She and fellow tenants argue that their eviction violates the "Tyrrelstown Amendment" to the Residential Tenancies Act of 2016.
It provides that where a landlord proposes to sell ten or more apartments within a single development within six months, tenants living there for six months or more must be able to remain in situ.
There are two exceptions. The first is where selling the property with tenants in situ would reduce the market value by 20% compared with what you would get for vacant possession, and the second is where applying the rule is considered unduly onerous or would cause hardship to the landlord.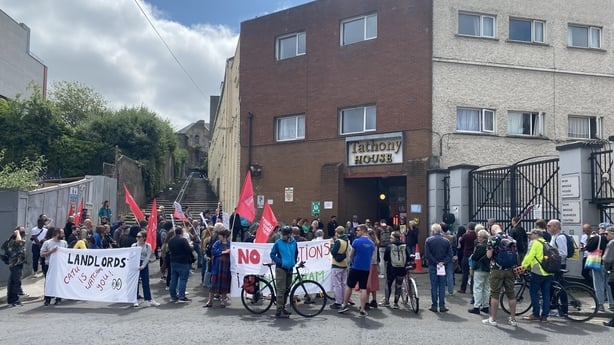 Ms Johansson said that tenants have also called on Dublin City Council to intervene so they could avail of tenant in situ schemes and that DCC has informed them that it has made a number of efforts to contact the landlord.
In a statement to RTÉ News, a spokesperson confirmed that "Dublin City Council continues to try and contact the landlord of Tathony House and their representatives".
RTÉ news has requested a comment from the landlord but, at the time of publication, received no response.
---
Read more: Calls for extension to eviction ban amid housing crisis
---
During the protest outside the Kilmainham apartment block a small group, that had been looking on from steps nearby, were told to leave.
Ms Johansson said that "people who spread racism and hate are not welcome here".
The crowd was asked to vote on whether the group was welcome, and after a show of hands, Ms Johansson addressed the individuals in question saying: "there you go, you are not welcome here".
The group left soon afterwards.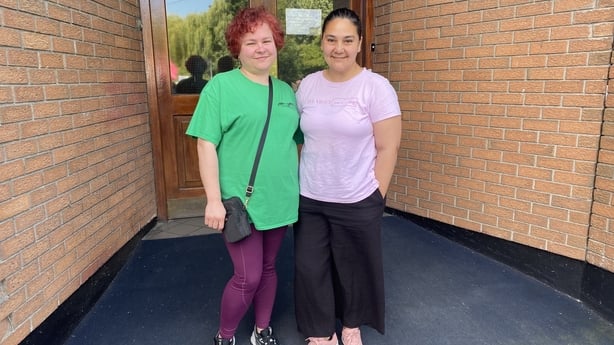 Danielle Martinez, who lives at Tathony House, told this afternoon's demonstration that "six months ago we got the eviction notice and we thought we were alone, we didn't know if we had some rights or not and we realised that our neighbours were going through the same situation... we don't want to cause any hardship but we don't want to be homeless."
Tathony House tenant Anna-Maria Andrea said: "I am looking for a new home but the prices are too big and very few available to rent, so I didn't find anything."
Ms Johansson said that among those who have left are "construction workers who have moved back to Romania, people that we need in this country to build houses... a couple went back to Brazil, others have had to leave Dublin, so (they've moved) to Dundalk, to Meath, to Portlaoise" despite continuing to work in Dublin city.
"It's dawned on most of the tenants that are left in the block that we are heading for emergency accommodation," James O'Toole, Ms Johansson's husband said.
Representatives from People Before Profit, Sinn Féin and the Socialist Party as well as CATU (Community Action Tenants Union) Ireland attended the protest.