A national rally for housing took place in Dublin City yesterday, with organisers urging Government action on the housing crisis.
The rally was organised by the Raise the Roof housing campaign group.
The group includes trade unions, housing and homeless agencies, women's groups, political parties, representatives of older people, children's advocacy groups, community organisations, student unions, traveller groups and academics.
It called for a new housing deal, which includes affordable homes and rents that allow households a decent standard of living, as well as protection from eviction, security for tenants and high-quality public housing.
Crossing O Connell bridge now #parnellsquare #HousingCrisis pic.twitter.com/rFJcTYapWN

— Joan O'Sullivan (@JoanStories) November 26, 2022
The rally came a day after homeless figures reached a record high, with more than 11,000 people living in emergency accommodation last month.
The rally started in Parnell Square, before then marching to Merrion Square near Government Buildings, where speeches from union leaders and other campaign groups took place.
Protesters gathering here in Parnell square in Dublin preparing to march through the city to demand Government action on housing pic.twitter.com/JpELsuFSKw

— Joan O'Sullivan (@JoanStories) November 26, 2022
Phil Ní Sheaghdha of the INMO said that directors of nursing and midwifery around the country are saying that they cannot recruit.
She said they are losing staff because they "simply cannot afford to live where they are working", particularly those in large urban centres of Dublin, Cork, Galway, Liimerick and midlands towns.
Ms Ní Sheaghdha said "it's a simple enough equation".
"We know that right around the world, nurses and midwives are being recruited, but the employer is providing subsidised accommodation, because they need them, and because they are essential workers and they're also very scarce worldwide. So most employers and most countries are providing subsidised accommodation for them," she said.
John Boyle of the Irish National Teachers Organisation said that young members are leaving the country in their thousands.
He said the Government has to act decisively. He said he was at a graduation ceremony today, where many did not turn up because they have left. He said this was down to "failures of Government, who haven't provided houses for them".
"There is going to be a crisis in education. There are already thousands of jobs unfilled in primary and post primary," he said.
Mr Boyle called on the Government to "step up" and make this their number one priority.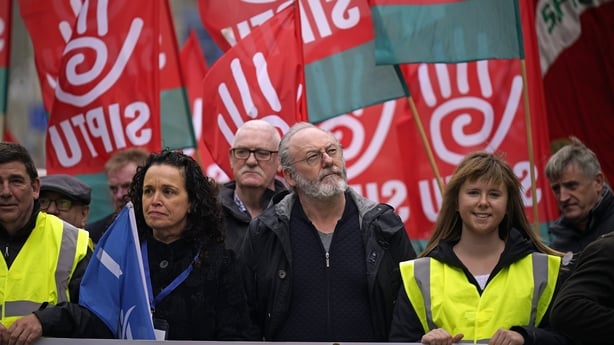 ICTU Campaigns Officer Macdara Doyle said: 'We need secure, affordable homes for all who live and work here. Bad policy choices have led us ever deeper into a full-blown emergency. We need a housing system that prioritises public good over private profit."
Brendan Carr, an industrial organiser with SIPTU said that it is clear the Government's housing plan is not working when the latest homelessness figures are taken into account.
"Many of those people are working, and can't afford a place to rent", he said, adding that the Government needs to take "drastic action" and start building public houses on public land.
"There is something seriously broken in society today where two adults are working and trying to look after their family, and they have to be put into emergency accommodation to keep those kids out of the streets," he said.
Sinn Féin leader Mary Lou McDonald joined party members at the rally. She said that the message for Government today is that people are living in a housing emergency.
"Government needs to acknowledge that, and respond speedily, efficiently and in an appropriate way," she said.
Ms McDonald said Sinn Féin would "deploy the entire apparatus of the State to build the houses people need", and that it would "give security and relief to renters and ensure that people can't be evicted from their homes".
She accused the Government of being "in a state of denial" over the issue.
"You have a Government in denial. You have young people being told that the grass isn't greener on the other side, and a complete lack of appreciation of how bad this has gotten for some people and how chronic this emergency is," she said.
Richard Boyd-Barrett of People Before Profit called on Government to "immediately ramp up delivery of public and affordable housing" and to "stop allowing evictions".
Mr Boyd-Barrett said that measures were needed to control rents, the cost of rental accommodation at the moment is "off the charts" and "unaffordable".
"We need them to have a policy that is about housing for people and not corporate landlords", he said.
Green Party TD Steven Matthews said that "large-scale peaceful protests" generate action, but he also defended how the Government is tackling the housing crisis.
Speaking on RTÉ's Saturday with Katie Hannon, Mr Matthews, who is also the Chair of the Committee on Housing, said measures such as rent control, introduced in line with inflation, and a temporary ban on evictions are already in place.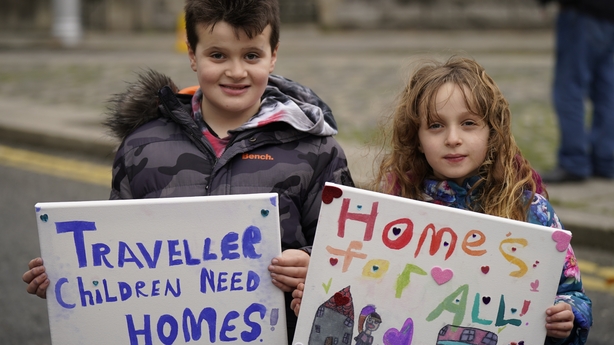 He said he understands the "frustration and anger" being voiced by people attending protests.
Speaking on the same programme, Sinn Féin TD Martin Kenny said the cap on increases in rent pressure zones has not worked.
"The Government keeps missing their targets and yet keep coming out telling us that their plan is working," Mr Kenny said.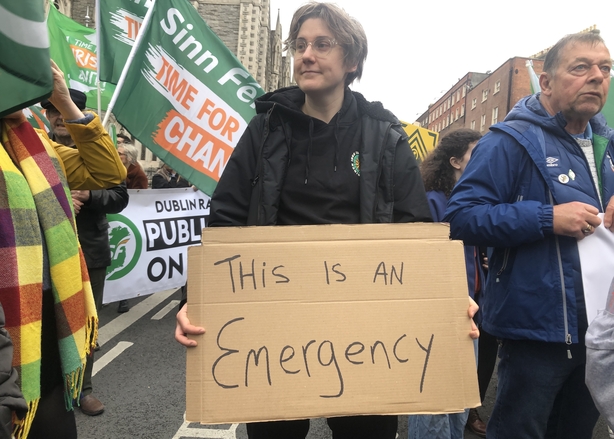 "Their plan is not working and people would not be on the streets today if they felt the plan was working."
People Before Profit TD for Dublin South Central Bríd Smith said more people in their 30s and 40s are living with their parents because they cannot afford either to buy or rent.
The monthly homeless report found that 7,917 adults and 1,601 families were accessing emergency accommodation last month, including 3,480 children.
Minister for Housing Darragh O'Brien said yesterday's figures were of "grave concern" and that Government needed to "redouble its efforts" to increase social housing supply.
He said the figures were from October, before emergency measures to ban winter evictions were brought in and that he hopes that more can be done in the next few months to generate more social homes.
Earlier this week, Tánaiste Leo Varadkar said he thinks the Government is making progress on housing.
Mr Varadkar said more homes will be built this year than in any year over the last decade but said some areas are going backwards.
The impact of the eviction ban will not be seen for another month or so, he added.
---
'It's absolutely scandalous'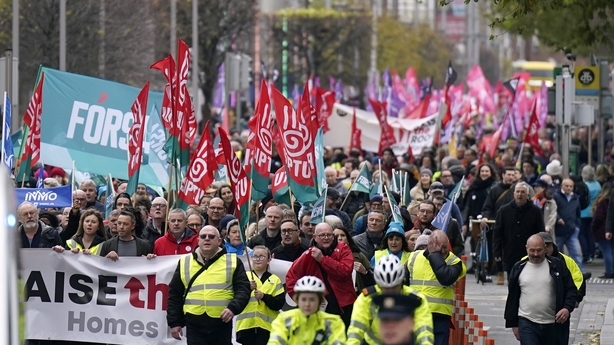 Among those gathered at today's rally was Eileen Currans, an SNA who said she was marching for her children and grandchildren.
"After educating my daughters, they emigrated to get jobs. We were told by Fine Gael and Fianna Fáil to bring them back. To what? No housing. Currently I have a daughter living with me and her fiancé, and they are saving for a house - not in Dublin because the prices are too high. They're moving to Portlaoise."
Kate Rallahan, a teacher in Blanchardstown, said the situation is getting worse and worse.
"We have a situation now in Ireland in 2022 where we have homeless teachers. Teachers living in sheds... We have to now look at nearly 3,000 homeless children that we are forced to teach in our classes."
Mairin Shiels Fanning, a retiree from Co Meath, said she was very concerned for young people in Ireland and felt the Government had not done enough. "I can't wait for a general election to put that shower out of power because they can't see the big picture. Our young people are crying out, all our people ... thousands of people homeless.
"I was a primary school teacher - my whole focus was on young people... young people living without homes without dreams ... it's absolutely scandalous."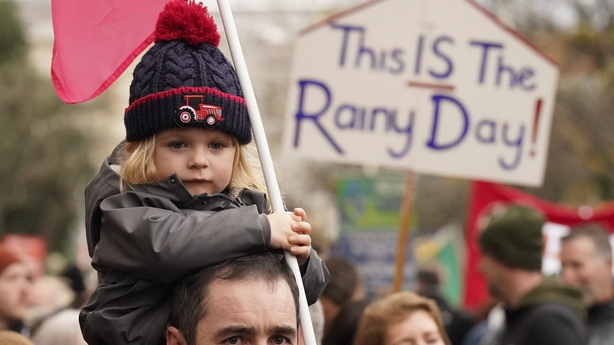 One protester holding a sign saying 'This is the Rainy Day' had travelled up from West Cork for today's protest.
"I came up from Schull. Like most of my generation, I've had problems renting - been dumped out of accommodation twice over the last two years," Mark Murphy said.
"I work a good job, my wife works a good job. We can't afford the most basic kind of house in our area. We've delayed having a family... waiting, waiting waiting. I'm just fed up."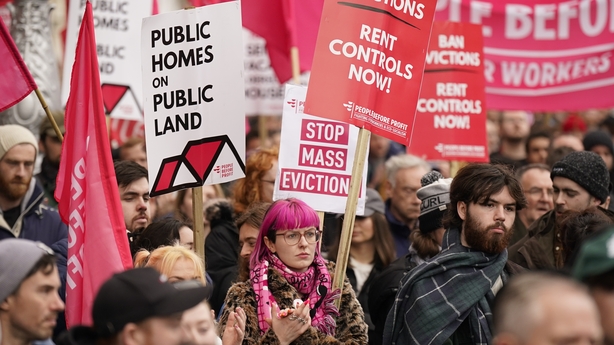 Andrew Kelly said he had waited ten years to get social housing. "Eleven years ago I was homeless. I changed my life around, had two kids ... and I don't want them growing up having the fear of being homeless. Housing should be a right. That's why I'm here today."
Aisling, a UCD student from Tipperary, said that a lot of students cannot get accommodation.
"A lot of people are in digs and getting caught in scams so it's important that everyone, especially students, can get access to housing and especially at an affordable price as well because some of them are paying enormous amounts of money for things that aren't even standard student accommodation."