Fr Vasyl Kornitsky has found himself leading an ever-increasing Ukrainian congregation in Ireland since the war started.
Based in Our Lady of Consolation in Donnycarney, Dublin, which hosts the only Ukrainian mass in the country, Fr Vasyl says his congregation has "quadrupled" in recent weeks.
Palm Sunday in the Ukrainian Easter calendar is an important feast attracting a crowd maybe ten times the size of a regular Sunday mass.
"We are praying for peace in Ukraine. For our brothers and sisters who need so much healing and support," he said.
"We are praying for those people who at this very moment, as we sit here in our beautiful Ireland, peaceful Ireland, are hiding from bombs, hiding in bomb shelters."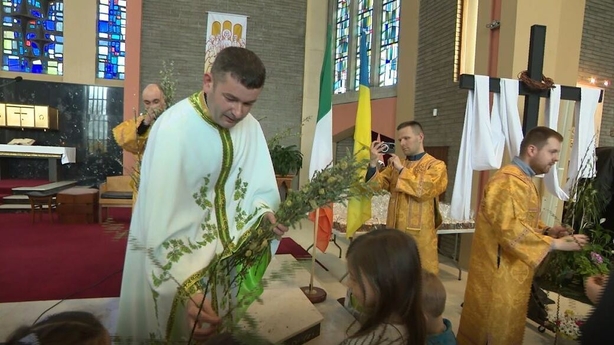 Hundreds of Ukrainian people joined in these prayers today.
Many of them have recently arrived in Ireland, fleeing the war and seeking refuge here; many of them women, with young children.
Holding her baby, Solomiia Lutsko said, "we pray only for peace" and for "people to understand that death is not the way to good".
"My heart is crumbling. I want to be at home. I can't imagine I would be here in Ireland on a Palm Sunday," she said, adding that being among the crowd "for a little bit, it felt like home".
Fr Vasyl said the gathering was important for the people who have arrived here, to talk to one another in their own language.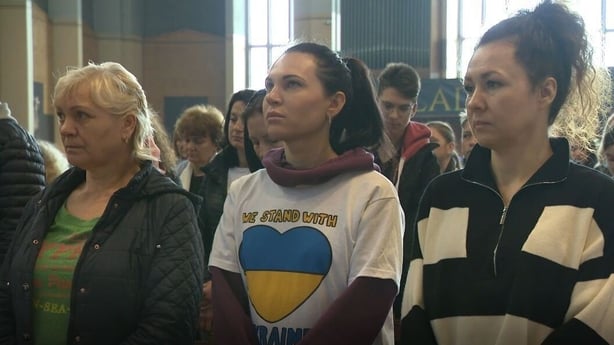 Tetyana Maryshko has lived in Dublin for 20 years.
Her mother, brother and his family are still in Ukraine, and her brother is now in the armed forces.
She said she worries about them every day.
"They're against coming here," she said, because they want to be close to her brother.
"I feel the pain they live. I have held back tears at every moment today," she said.
We need your consent to load this rte-player contentWe use rte-player to manage extra content that can set cookies on your device and collect data about your activity. Please review their details and accept them to load the content.Manage Preferences