The operator of Dublin Airport has apologised to passengers impacted by long delays at security there in recent days.
In a statement, the daa said: "Unfortunately, some passengers are experiencing delays at Dublin Airport.
"We apologise to passengers impacted."
The operator said it "empathised completely with any passengers who have missed a flight this weekend as a result of the delays at airport security".
The daa said many had "thankfully been able to be accommodated on later flights or have re-booked".
It blamed the delays on a "log jam" caused by the recruitment and training of new staff following the collapse of international travel over the past two years due to the Covid-19 pandemic.
"The recruitment, training and background security checks for all staff working at an international airport takes a number of weeks. This is happening against a backdrop of growing passenger numbers at Dublin Airport.
"This is having an impact on the length of time it is taking passengers to get through security, particularly at busy times," said the daa.
It expected the 100 new security staff hired since the start of the year to begin working on the frontline in the coming weeks.
"Anyone travelling through Dublin Airport in the coming days and weeks should be prepared for things to take longer than they might expect," the daa warned.
"We would also encourage all passengers to be at the airport a minimum of 2 hours before boarding a short-haul flight and three hours prior to boarding a long-haul flight.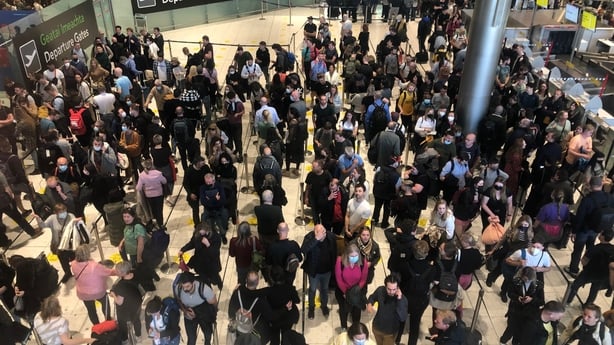 Dublin Airport said its customer service team can answer questions that impacted passengers may have regarding their rights.
They can be contacted on 01 9444717 or via email: customerexperience@dublinairport.com
The President of the Irish Travel Agents Association has said that he has spoken to the daa about delays experienced by passengers at Dublin Airport.
Paul Hackett, who is also CEO of ClickandGo, said the daa is concerned about the situation which has been caused by a staffing shortage.
Mr Hackett said he went through Dublin Airport last Thursday and there were significant queues.
"They were moving but there were significant queues. What we did as a business was advise every passenger who's travelling to give extra time and that is what consumers should do."
Speaking on RTÉ's Morning Ireland, Mr Hackett said that he did not believe the situation would be ongoing throughout the summer because it is a staffing issue that is being addressed.
In addition, more flights are now operating because the summer schedule has begun, he added.
United resumes Shannon-Newark route
United Airlines has today resumed its daily non-stop seasonal service between Shannon and New York/ Newark.
The flight's departure from Shannon Airport marks the first scheduled flight with the airline from Shannon since the end of October 2019.
The service is set to operate until 29 October 2022 and departs daily at 12.30pm.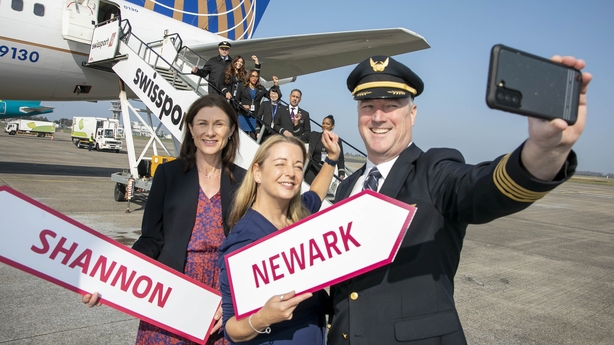 Mary Considine, CEO of Shannon Group said: "With its hub status and onward connections, the Newark service is extremely important for our business passengers and is a key component of our transatlantic connectivity for our region and the broader west of Ireland."
Martina Coogan, United's Sales Manager Ireland commented: "Our customers in the west of Ireland can now take advantage of a direct connection to the US as well as an unrivalled route network from United's hub at New York/Newark, offering convenient nonstop connections to over 90 destinations across the Americas."
Shannon was the first US immigration pre-inspection facility in Europe established in 1986.
The airport recently introduced a new screening system which halves time spent in security lines and eliminates the 100ml only rule.
Shannon is the only state airport in Ireland to operate this cutting-edge technology.