Bohemian FC has announced it has secured the rights to use an image of Bob Marley on its 2022 away kit, after initially being forced to abandon the design for copyright reasons in 2018.
The Dublin club garnered international attention when it originally announced it would sell a jersey featuring Marley, who played his final outdoor gig at its home stadium Dalymount Park in 1980.
Speaking to RTÉ's Morning Ireland, the club's chief operating officer Daniel Lambert said: "That was a pre-sale, and on the first day we sold more shirts than we ever sold. I was having a brilliant day."
But after what appeared to be a successful launch, the club was infamously forced to scrap the design over a mix-up involving image rights.
"We went through channels that we thought were correct, reputable channels. But it transpired we didn't have the correct image rights usage," he said.
We need your consent to load this rte-player contentWe use rte-player to manage extra content that can set cookies on your device and collect data about your activity. Please review their details and accept them to load the content.Manage Preferences
"It felt like winning the lotto and losing the ticket," Mr Lambert added.
Refunds were offered and the shirt was redesigned with a raised clenched fist replacing the image of the iconic singer.
The club said 10% of the profits from that jersey would go towards a fan-funded programme to bring people living in Direct Provision to games at Dalymount Park.
Through extensive negotiations, the club worked with Universal Music and its licensing body Bravado to finally secure the image rights for its 2022 away jersey.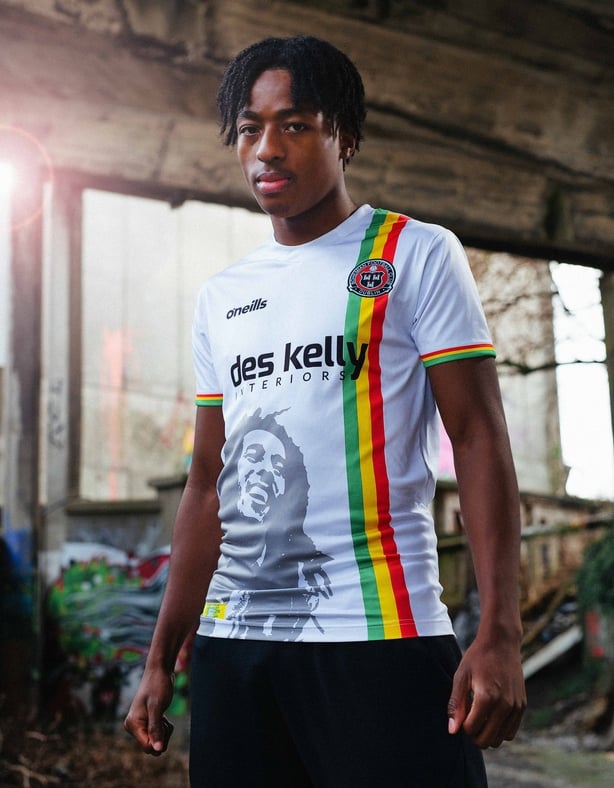 The 2022 shirt, announced this morning, is almost identical to the original design, although the sponsor has changed and it now features a recreation of the ticket to the Dalymount gig embroidered into the hem.
The white jersey also has green, yellow, and red stripes running through the club's crest, colours traditionally associated with rastafarianism.
Bohs player Annmarie Byrne said it was "great to have" the piece of history on the jersey.
"It is unusual and not something you see every day. I can't wait to wear it to be honest, I think everyone just thinks it's cool," she said.
Ten percent of the sales of this shirt will also go towards projects for asylum seekers.
We need your consent to load this rte-player contentWe use rte-player to manage extra content that can set cookies on your device and collect data about your activity. Please review their details and accept them to load the content.Manage Preferences
Bohemian FC will work with the Movement for Asylum Seekers in Ireland (MASI) to provide sports and music equipment to people in Direct Provision.
Lucky Khambule, a spokesperson for MASI, said it was "delighted" to be part of the project.
"People in the Asylum system face many difficulties and being able to enjoy sport and music can truly brighten up days for adults and children alike," Mr Khambule said.
The original 2018 announcement was met with some criticism and parody, with Sligo Rovers tweeting a mock-up of their kit emblazoned with members of Westlife.
Others said the connection the club had to Marley was somewhat tenuous.
Speaking in front of pitchside murals of Bob Marley and Phil Lynott at Dalymount Park, Mr Lambert said the reggae star played football at the grounds with the Wailers.
"People talk about it in the area that Pelé has played here, Zidane played here, but a lot of people talk about when Marley played here," he said.
"He's just such a big name, such a global star. It was such an important gig, this was the last chance he had to play an outdoor gig. That Uprising tour was the last tour and it was the only Irish gig," he added.
"He played [football] on the pitch here and he played under the floodlights above us which are to come down this year as well, so there's really great tangible history that links this place to him," Mr Lambert said.
"Bob Marley was a huge football fan. He came up with the term 'football is freedom' and I think that football and music do bring people together. It is important to us that we use the club as a force for good, the work we do on integration, homelessness and other areas - it's a nice story, and it uses a real piece of history," Mr Lambert said.
An Afternoon in the Park
The Dalymount gig was organised by veteran Irish music promoter Pat Egan.
"I had been doing a lot of big gigs at that time and the market was starting to open up for bands coming to Ireland and I had done Queen the year previously in 1979," he said.
"I heard Bob Marley was coming to Europe, so I went to London and I chased his agent and his manager and the UK promoter and I made an offer for him to come to Ireland," he added.
He said he initially had some difficulty with a venue that did not wish to have Marley appear there.
"It was all a very right and proper in those days," Mr Egan said.
So, he went back to England and raised the possibility of doing an outdoor venue and the idea of playing at a football stadium was accepted.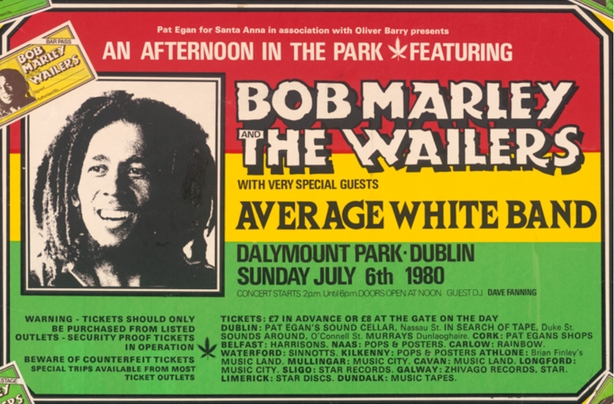 Mr Egan wanted to charge £10 per ticket, but Marley said that this was too much in 1980.
Correspondence from the time states that Marley was "very concerned over the ticket prices for the shows on the European tour, in that he does not want them to be too high".
Ticket prices were set at £7, although Mr Egan added that Marley received a $60,000 fee for the gig.
Mr Egan named the gig on 6 July, 1980 'An Afternoon in the Park' in an attempt to pick up "slight older punters" and, because children were allowed in for free, a lot of parents too.
The singer arrived on Saturday, the day before the gig.
There was an issue with the support act and the Average White Band were replaced by Ronnie Lane's Slim Chance.
"People were there to see Bob Marley so it didn't matter too much that they didn't show up," he added.
Mr Egan said more than 23,000 people officially attended the gig but he suspects there were also a large amount of counterfeit tickets.
"The atmosphere there was very good. It was very dry and bright and sunny in the evening," he said.
"It was a very successful gig and it has become one of the most legendary gigs probably because he was the first real international star to come," Mr Egan said.
"I can still see him on stage as if it was yesterday and the crowd were really into it, it was a great day and it went off a treat." he added.
"When you look back at all the great gigs that have taken place in Ireland, whether it be Springsteen, Garth Brooks or whoever. The Marley one is right up there with the best of them," he added.
"He spread that music across the world and he had a wonderful inage as well. You bought into it because he looked so cool," he said.
Mr Egan said Marley was a "very modest, quiet man".
"I said goodbye to Bob at the airport the next day and it struck me that he didn't look all that healthy. Nobody knew of course," he said.
Bob Marley died in May 1981.
"All those people that were in Dalymount didn't realise how privileged they were, because within a year he was dead - which was a terrible shame," Mr Egan added.
"But the music has certainly lived on," he said.