A section of Dún Laoghaire town centre in Dublin is reopening to traffic today following a three-month pedestrianisation pilot project.
Lower George's Street had been traffic-free since 5 July as part of Dún Laoghaire-Rathdown County Council's "Summer Streets" initiative, which was aimed at facilitating outdoor dining and socialising.
The road has reverted to its original traffic layout, although the council said several other changes are to remain, including the retention of trees and public seating installed at St Michael's Square.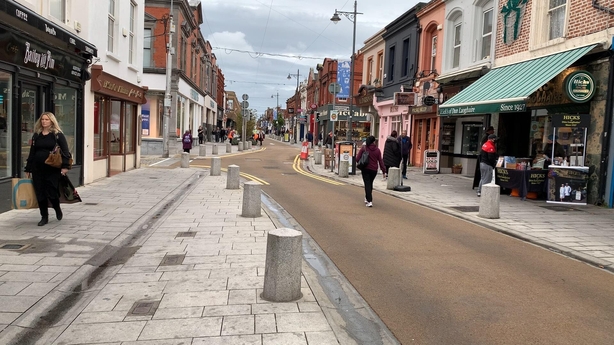 Yesterday, several shoppers and residents told RTÉ News that they had welcomed project.
Callum Wells said: "I think it's made a difference to businesses. I think it's very positive and it's safer to walk down here. If you look at other countries, when they have brought in these measures, they have been successful."
Jessica Cole said: "I think it got a lot more people to Dún Laoghaire. It has been nice to see people out and eating outside and having a bit of fun, especially after the year we've had."
Traffic has returned to parts of Dún Laoghaire town centre after a pedestrianisation project came to an end last night. George's Street had been traffic-free since early July. Read more: https://t.co/mgbCp72MUY pic.twitter.com/Z8RIuJekgv

— RTÉ News (@rtenews) October 1, 2021
However, not everybody agreed that the project had been a success.
Michael Hughes said: "It shouldn't have happened. It's a pure waste of money. Spend the money on housing or health."
The council said extensive monitoring of the scheme, including stakeholder engagement and surveys, had been carried out to gauge feedback and would continue now that it has ended.