Concern over safety and drug use in Dublin city centre has prompted the Lord Mayor to take over an inter-agency group dealing with the problems.
Lord Mayor Alison Gilliland is taking over as chair of the High Level Streets Issues Group, which includes the Ana Liffey Drug Project (ALDP), An Garda Síochána, Health Service Executive, Dublin Region Homeless Executive and Dublin City Council, to give new impetus and new leadership on street safety, street drinking and street substance misuse.
She said she has received a lot of communications from citizens and visitors expressing concern about problems they have witnessed.
She said the DRHE is looking at spreading out its homeless day care services to prevent concentration in the centre but says that as long as we have poverty, homelessness and substance misuse we will have these issues on the streets.
She also believes in integrating drug treatment with early intervention particularly mental health intervention in primary healthcare centres.
The ALDP has also started up a mobile service as part of their harm reduction strategy.
The ALDP has been operating for nearly 40 years and has been mainly distributing clean needles but now hands out crack pipes as well.
CEO Tony Duffin explains that the van can provide crack pipes fitted with filters that prevent lung scarring and the transmission of Hepatitis C. It also hands out clean syringes and has anti overdose drug available.
The policy is to keep drugs users healthy while engaging with them. He believes that things would be worse without their service because of the numbers they get off the streets and into addiction treatment.
Dublin as a capital city will always attract drug users who come in get money by begging and to meet others, he said.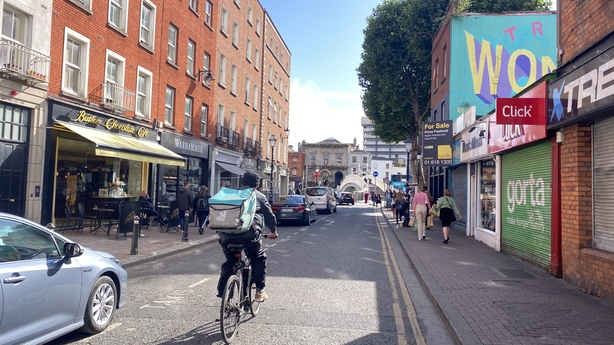 Gerard, a homeless service user, said he does not believe that people are afraid to come into the city and points out that the city is "packed" every weekend with people who come in to party. However, residents in many part of the city complain about the numbers of teenagers who continue to socialise outdoors.
CCTV images show one particular mass gathering in the city on a street where there are no pubs or restaurants.
Alan Cooke of John J Cooke Silversmith in Temple Bar says there have been a number of serious incidents resulting from young people fighting each other while "out of their heads".
He says the only thing that will help it is more gardaí on the streets.
Martin Harte of the Temple Bar Company has long complained about the concentration of homeless and drug treatment centres in the city centre which he says creates a "honey pot" effect in attracting drug users and dealers into the city.
He says the main issue is that there are very few votes in the city - there is only 10% turnout in some parts - and he believes that nothing will improve until there is a TD depending on city centre residents to get elected.