Hundreds of abortion rights demonstrators attended a rally outside Leinster House this afternoon, ahead of an upcoming review of current abortion legislation.
The demonstration was organised by the Abortion Rights Campaign (ARC) and speakers called for the full decriminalisation of abortion and for services to become more widely available.
ARC spokesperson JoAnne Neary said that despite the repeal of the 8th Amendment following the 2018 referendum "there were far too many gaps in abortion provision in Ireland," and there was "a lack of understanding of just how difficult it can be to access abortion in Ireland today".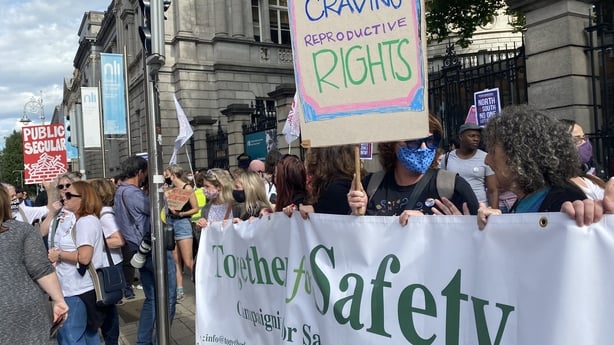 Ms Neary said that with only half of maternity hospitals and a small percentage of GPs providing abortion services, there are large parts of the country where such services were not being provided, especially in rural areas.
Ms Neary was also critical of the 12-week limit on abortions; the mandatory three-day wait before a woman is permitted to undergo the procedure; and that doctors can refuse to carry out terminations.
Among those who addressed the crowd was Yvie Murphy from Together for Safety, which is campaigning for Safe Access Zones around healthcare facilities providing abortion services.
Ms Murphy described the introduction of such legislation as "incredibly urgent", and said that they have received reports from around the country of women experiencing "harassment and intimidation... outside of GPs, healthcare facilities and maternity hospitals".
In a statement, the Department of Health said that the Minister was "committed to ensuring safe access to termination of pregnancy services, and the area remains an ongoing priority".
It said that Stephen Donnelly was "aware of reports of some protests which have caused distress to those accessing and providing services" and "plans to have proposals for safe access zones on the legislative programme for spring 2022".
However anti-abortion campaigner Cora Sherlock said that "people had a right to freedom of expression".
Of the upcoming review of abortion legislation, Ms Sherlock said that it needed to "ensure that doctors who have an ethical disagreement with abortion...are allowed to say no".
The Department of Health has confirmed that the Minister intends to appoint an independent expert in the coming weeks, to lead the review of the Health (Regulation of Termination of Pregnancy) Act 2018.
It said that the "review will comprise a three-part approach to appraise the operation of the Act, with strands focusing on service users, service providers and a public consultation".
It also said that "all interested groups, organisations and members of the public" will be invited to provide their views to inform the review.