An on-street parking charge of up to €7 an hour is among a number of measures Dublin city councillors have been asked to consider as part of future transport plans for the capital.
The Transport Committee heard a number of ideas for a more sustainable city which would be up to councillors to decide and that could include the hourly on-street rate doubling to €7 by 2025.
Other parking measures could include linking residential parking permits to the parking zones they live in or according to the emissions of the vehicle.
The ideas were in a presentation from the council's Head of Technical Services Brendan O'Brien who pointed out that the introduction of clamping and on-street parking charges in 1998 led to a 15% reduction in traffic volumes - more than that achieved by the congestion charge in London.
In a separate debate, councillors agreed to forward the latest proposed increases for on-street parking to a full council meeting which would mean the cash parking rate in the Yellow Zone going up to €3.50, Red €2.90 and Green €1.70, with 10c less for Parking Tag customers.
The new charges - the second in a year - are likely to come into force next July.
The committee agreed to forward the latest extension of 30km/h speed zones to the January full council meeting for final approval.
It would mean the limit would apply to all residential streets in the city council area by next September.
---
Read more:
Plans for increased Dublin city parking charges set for public consultation
DCC plans to introduce coach parking charges halted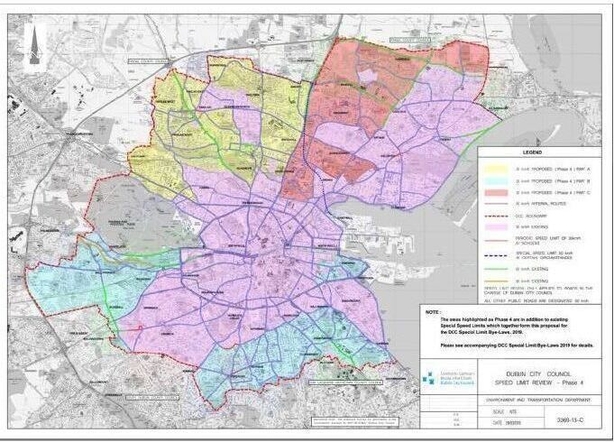 The 30km/h limit currently applies to roughly half the Dublin City Council area and if agreed at the full council meeting it would be extended to Finglas and Ballymun by March, to Ringsend, Ballyfermot and from Terenure to Donnybrook by June, and to Drumcondra, Donnycarney, Beaumont and Darndale by September.
The committee heard that there were 889 submissions during the public consultation for the new bye-laws with only 207 opposed.
A number of councillors queried why certain roads are classified as arterial routes which have a speed limit of 50km/h, and Mr O'Brien said by the end of next year lower limits would be examined on some of those routes as well.
Senior Executive Engineer with the council Helen Smirnova said complaints about lack of enforcement of the speed limits have been passed onto gardaí who are providing as much resources as they can.