St Patrick's Cathedral in Dublin says it is facing its biggest renovation challenge for more than 150 years.
An €8.5m project to replace the building's roof is expected to start later this year.
The work involves removing the existing slates and reinstating a new slated roof finish.
"All of the slates need to be removed. All the fixings are made of iron and have corroded. They need to be replaced," said Education Officer, Andrew Smith.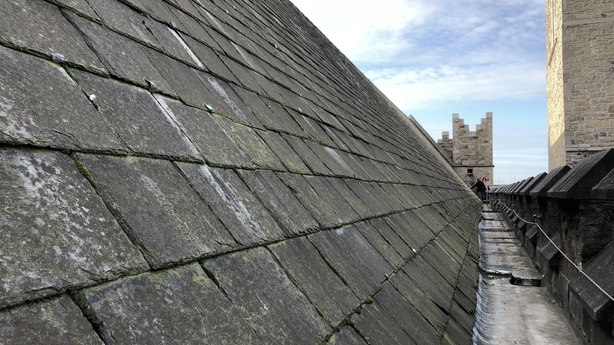 The 800-year-old cathedral will not have seen restoration and repair on this scale since the 1860s.
It was in a dire state of disrepair when Benjamin Lee Guinness, a member of the congregation and grandson of Arthur Guinness, spent approximately £150,000 on a full-scale restoration of the building.
However, with no benefactor this time, the cathedral is appealing for donations to fund what it describes as "a challenging and exciting next chapter".

The Cathedral Administrator Gavan Woods said: "This is really something beyond the norm, so we are under a little pressure to ensure that we can afford to do this work. The difficulty is that it's the very opposite of a vanity project in that if we don't have a sound roof, the cathedral can't continue to function".
Last month the Department of Culture, Heritage, and the Gaeltacht announced that the cathedral will receive €200,000 towards the roof project, via the Built Heritage Investment Scheme.