Two statues of musician and activist Luke Kelly have been unveiled on either side of Dublin city to mark the 35th anniversary of his death.
One is on South King Street, donated by the late Gerry Hunt and sculpted by John Coll. The other is on Sheriff Street, where Kelly was born, and designed by the portrait artist Vera Klute.
January 30, 2019
In 2014, then Lord Mayor Cllr Christy Burke commissioned a statue of Kelly.
Artist Vera Klute was unanimously chosen by a selection committee. Her sculpture is a marble portrait head of Kelly, which is over two metres high.
It was unveiled this afternoon on the Royal Canal at Guild Street/Sheriff Street.
The carving of the stone head was completed in Italy and the 'hair' is made from 4mm patinated metal.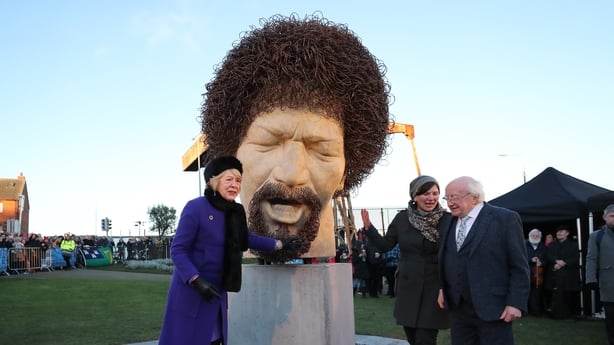 The city's second sculpture was created by one of Ireland's most prominent figurative sculptors, John Coll, who also created a statue of Patrick Kavanagh, who wrote On Raglan Road.
This life-size bronze featuring Kelly singing and playing banjo is on South King Street.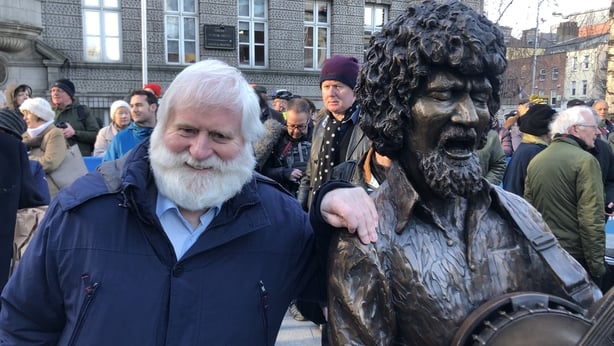 "You'd know when he came into the room without having to look"- Dubliners John Sheahan pays tribute to Luke Kelly as two statues to the singer are set to be unveiled today...https://t.co/LxOnP62du9

— RTÉ News at One (@RTENewsAtOne) January 30, 2019
Des Geraghty, biographer and friend of the late musician said he was a fantastic entertainer and singer and "the hair would stand up on your head when Luke was in full flight".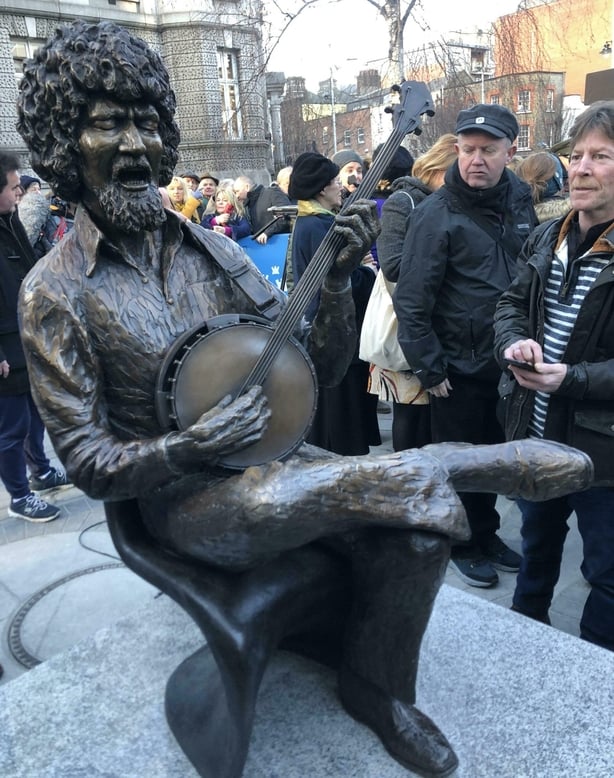 Speaking on RTÉ's Morning Ireland, Mr Geraghty said his friend was much more than just an entertainer though.
"He was also a social reformer, he was part of the change in Dublin from a very depressed city, unemployment, poverty and emigration in the '50s," he said.
"Luke was part of that wake-up call almost where equality and women's rights, civil rights, all of the issues of the 60s, Luke was in the middle of them all.
"He was communicating right across the north and south, in Britain and right across Europe into Germany.
"When you think of Brexit and building walls, Luke and the Dubliners were breaking down barriers and they brought the culture of Ireland to a much wider audience."
Mr Geraghty said during the Troubles in Northern Ireland, Kelly and the Dubliners were very popular in Belfast and people came together to hear them.
"I think we have milestones in our history and what came afterwards and all the changes," he said.
---
From RTÉ Archives:
Luke Kelly on The Dubliners
Luke Kelly in photos
Luke Kelly sings On Raglan Road
---
Kelly's niece Paula McCann said as a family they are "thrilled and honoured" by the statues.
"The Dubliners and Luke, they were iconic in those early days and when he came back from England having trained with Ewan MacColl and other singer/song writers in the UK, I suppose what they did was completely different to what was happening in the Irish music scene.
"The Dubliners had a very unique sound and I suppose Luke embodied that."