The Government has announced a further €3.5m in funding for regeneration in Dublin's north inner city.
The Dublin North East Inner City project was started following the outbreak of gang violence in the area.
The main infrastructure projects announced today were:
The new primary care centre to be opened at Summerhill in mid 2018 said to be one of the largest centres in the country
The refurbishment of Fitzgibbon Street Garda Station
The development of a new community hub at Rutland is currently at design stage
Taoiseach Leo Varadkar said today that the city council is also continuing its programme of social housing provision for the area, including major projects under way at Mary's Mansions, Croke Villas and Poplar Row.
Speaking at the launch of the progress report Mr Varadkar acknowledged that , like many parts of the country, north east inner city Dublin has "some deep problems ... particularly linked to organised crime".
He said that it is vitally important to take on and tackle the root causes of crime, which are very often related to disadvantage.
"While the community has faced serious challenges in recent years, there is a real determination to move forward. The Government is determined to back this through targeted investment and expertise."
Since 2016, €7.5m has been invested in the area, improving and providing new sprout and community facilities as week as enhanced security measures.
Among the new projects highlighted today were:
Three new all weather pitches and new boxing facility for Ballybough Boxing Club
GAA and FAI coaching programmes and new dedicated sports development officer for the area.
An outreach project with Ana Liffey Drug Project targeting street dealing
Dublin City Council and garda working together on installation of CCTV at 13 key locations
New dedicated employment officer appointed for the area and new non-school career guidance service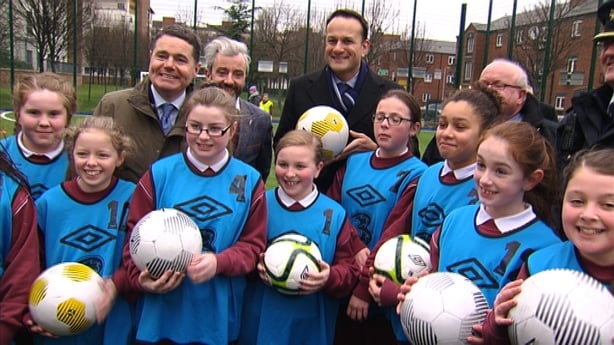 North East Inner City Programme Implementation Board Chairperson has said that a number of initiatives have got underway over the last year, saying progress is being made.
Speaking on RTÉ's News At One, Michael Stone said the board will focus on education and training over the next 12 months.
He said that policing in the North Inner City has become more visible, saying a strong garda presence is needed to reassure residents they are safe, adding that the gardaí have done a great job.