A commemoration ceremony has been held to mark the 150th anniversary of the birth of Constance Markievicz, the first woman elected to the British parliament and the first woman minister in Dáil Eireann.
A small crowd, including politicians and trade unionists, gathered at her grave in Glasnevin Cemetery to hear tributes from a series of speakers.
Sinn Féin president-elect Mary Lou McDonald said that Ms Markievicz "is one of the very few women who looms large in the telling of the Irish revolutionary period. She's left a huge legacy, and she's left a huge challenge for us as well, because there's a lot to measure up to. We haven't completed Markievicz's journey until we have proper representation of women in politics and public life".
Born on this day in 1868 in London, Ms Markievicz fought in the Easter Rising, and was sentenced to death by the British, later commuted to life in prison due to her gender.
We need your consent to load this rte-player contentWe use rte-player to manage extra content that can set cookies on your device and collect data about your activity. Please review their details and accept them to load the content.Manage Preferences
She was released from prison in 1917, and a year later became the first woman to be elected to the British parliament in London, representing the constituency of Dublin St Patrick's.
However, in line with Sinn Féin's abstentionist policy, she did not take her seat in the House of Commons, and instead sat in the first Dáil. Ms Markievicz was later made Minister for Labour, becoming Ireland's first female government minister.
Today, speakers urged her legacy to be furthered by encouraging more women to become elected representatives.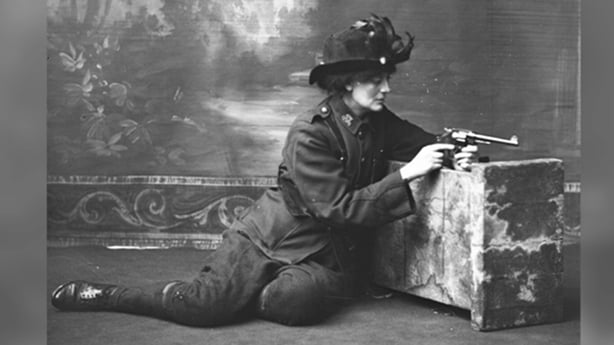 Minister for Children Katherine Zappone said she was "celebrating her [Markievicz's] extraordinary courage, vision and her willingness to implement that.
"As an independent woman and minister, I'm particularly delighted to be her to celebrate her being the first minister of our Government."
When asked how Ms Markievicz would feel about the level of female representation in the current Dáil (22%), Minister Zappone replied: "She'd be very upset, and we have to redouble our efforts to get more women into the political arena."
That view was echoed by Labour senator Ivana Bacik, who said: "I think Markievicz would on one level delighted by how far we've come, but she would also - as an impatient woman - be frustrated at the slow rate of change."