€8.2 million was handed over to the State last year following successful organised crime prosecutions.
In 2021, 16 people were convicted in the courts following cash seizures by the Garda National Drugs and Organised Crime Bureau (GNDOCB)
Assistant Commissioner of Special Crime Operations with An Garda Síochána John O'Driscoll said over €24 million has been recovered by the bureau since it was established in 2015, with a total of €11m forfeited to the State.
Since the murder of David Byrne at the Regency Hotel six years ago, which escalated the ongoing Hutch-Kinahan feud, the bureau has seized over €24.5 million in cash.
Assistant Commissioner O'Driscoll said this was the equivalent of the money paid in garda overtime for the specialist units dealing with drugs, murder, immigration offences and organised crime.
He also said the bureau had seized over €270 million worth of drugs and intervened in 77 cases where lives were in imminent danger.
Speaking on RTÉ's News at One, Assistant Commissioner O'Driscoll said this was "significant" especially given the expense of the work of the bureau in staff overtime, surveillance and other costs.
"I have previously spoken about the huge expense involved in organised crime involving surveillance, and court appearances. The total overtime bill for all the bureaus under my command economic crime, cybercrime, immigration crime, intellectual property crime, environment, crime, human trafficking, the total bill comes to about that much, about €8m.
"So, it's a significant amount to be lodged to the Exchequer, while at the same time depriving criminal organisations of that money."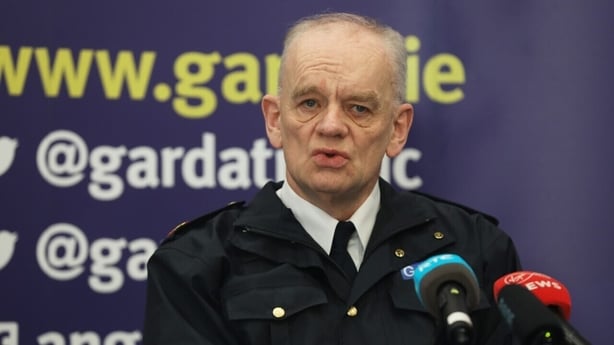 He said 2021 also saw convictions in relation to human trafficking associated with money laundering-related offences, as well as another group of people convicted in relation to money laundering associated with organised prostitution.
€8.2 million was handed over to the State last year following successful organised crime prosecutions, Assistant Garda Commissioner John O'Driscoll has said | Read more: https://t.co/TeqV3MaSPO pic.twitter.com/g6nJ1ANriV

— RTÉ News (@rtenews) January 12, 2022
77 occasions where there 'has been a real threat to life'
Tackling "threat to life" incidents associated with organised crime remain the "number one priority" of the bureau, Mr O'Driscoll said.
"We have intervened in 77 occasions where there has been a real threat to life and death was imminent, which involves seizing the firearms associated with organised crime."
Provisional figures show there were 22 murders and one manslaughter linked to organised crime, Mr O'Driscoll said, compared to 41 murders and six manslaughter cases in 2018.
He said the total value of drugs seized since 2015, when the GNDOCB was established, is about €217 million, but this figure could be significantly higher.
"That doesn't take account of what we call "coal-caine", which is cocaine that was seized during 2021 concealed in coal products, which we haven't yet extracted, and so therefore, potentially, there's another €30 million worth of drugs seized in that particular case."
Additional reporting Paul Reynolds