Five men have been arrested as part of a garda investigation into the alleged laundering of over €1.5m.
The investigation by the Garda National Economic Crime Bureau is focused on a criminal gang which set up bogus companies and laundered the money through bank accounts in false names.
Gardaí say the gang comprises mostly of Romanian nationals and is also involved in cyber crime and organised prostitution.
Romanian-speaking gardaí and gardaí seconded to the Department of Social Protection were also involved in this morning's operation.
Gardaí say they have identified over 70 bank accounts in false names and in the names of so-called "money mules".
The gangs ran at least eight bogus companies linked to garages and the motor trade.
One individual had 18 bank accounts.
Eight searches were carried out in Dublin this morning.
Over €30,000 in cash, mobile phones, false identities and documents relating to bogus companies and accounts were seized.
A quantity of expensive alcohol including whiskey and champagne was also recovered.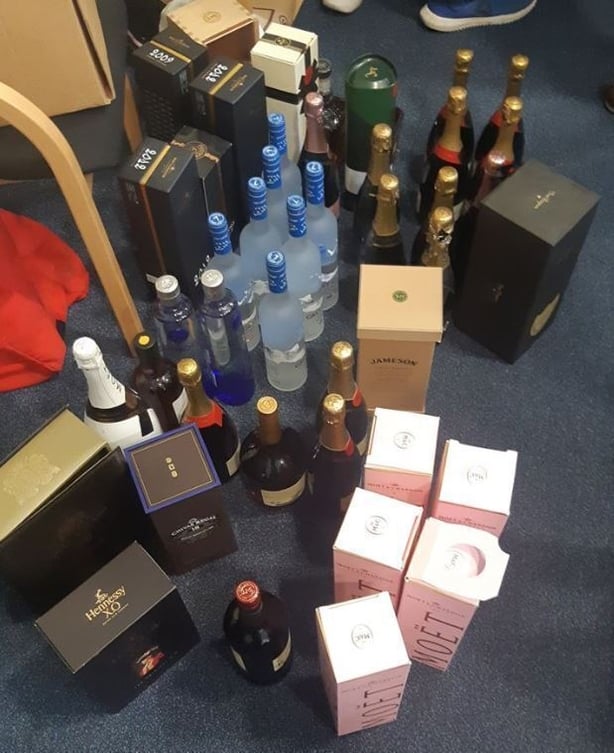 The five men arrested are aged in their late 20s and early 30s.
Two of the men in custody are being detained under anti-gang legislation, the others for money laundering and obstruction.
They are being detained in various Dublin garda stations.
Gardaí also identified at least 14 people suspected to be involved in making fraudulent Covid-19 payment claims of up to €50,000 and have frozen another €40,000.