There has been a significant increase in fraud offences, according to the latest crime figures.
Fraud and related offences increased by more than 18% in the last quarter of last year when compared to the same period in 2017.
There have also been increases in violent burglaries and sexual offences, which are up more than 11% and 10% respectively.
However, overall burglaries and criminal damage are down and the reported crime figures also show a 10% drop in all homicides offences including murder.
Today's figures continue to be published 'under reservation', indicating the CSO still has concerns about the completeness and accuracy of data on the garda PULSE computer system.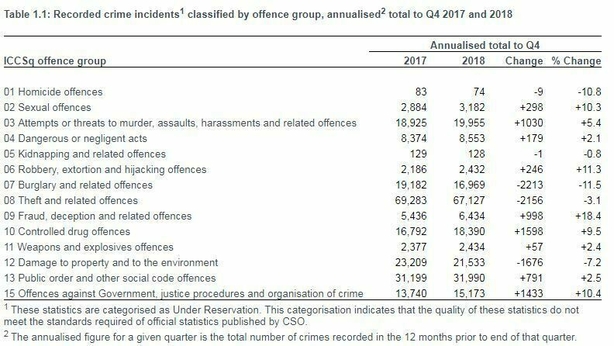 Statistician Sam Scriven said: "The publication of the latest recorded crime statistics provides the best available measure of crime reported in Ireland while informing users of concerns regarding the quality of the underlying data.
"The statistics show increases in the reporting of fraud and sexual offences. The numbers of burglaries and theft incidents both fell although there was a rise in the numbers of reported robberies."