A man who tied up and raped a woman in a hotel meeting room during a gaming convention in Dublin two years ago has been sentenced to 12 years in prison.
Keith Hearne, 28, from Allenton Drive, Tallaght in Dublin, threatened to use a knife on his victim, 25-year-old Dominique Meehan, and also told her he could break her neck as he subjected her to an "extremely violent" series of sexual attacks.
Mr Justice Patrick McCarthy said the case was of the utmost seriousness.
He said it had a very serious series of adverse impacts on Ms Meehan and had impinged on her daily life in an enormously significant manner.
The judge said the only mitigating factor he could take into account was Hearne's plea of guilty.
However he said he would only give a modest reduction to the sentence as Hearne had been caught, committing the offences.
The sentence hearing heard Hearne bound Ms Meehan's hands with his tie and raped her in a room that was being used as part of a gaming convention at the Crowne Plaza Hotel in Blanchardstown in Dublin on 4 July 2015.
She was volunteering at the convention and was preparing a presentation in a meeting room.
Hearne entered the room, locked the door and rugby tackled her to the ground before tying her hands behind her back and raping her.
The attack stopped when another conference worker heard her screams and entered the room with a key card.
Hearne was arrested and his backpack, containing a knife, handcuffs, condoms, a mask and other "sadomasochistic" items, was found at the scene.
The court heard Hearne had mental health issues.
But Mr Justice McCarthy said he was of sound mind at the time of the attack and his culpability for the offences was not diminished by his mental health difficulties.
The judge said Hearne had been described as being at "high risk" of re-offending. His use of medication for his psychiatric conditions had been "variable" both before and after the offence.
The judge said the appropriate sentence was 15 years - but he reduced it to 12 to take into account Hearne's guilty plea. He also ordered him to have five years post release supervision.
There was applause from Ms Meehan's family and friends after the sentence was imposed.
Speaking afterwards, Ms said the reason she was waiving her anonymity was not for popularity.
She said it was for the people who need to know that coming forward to say you have been raped is a good thing and you can do it.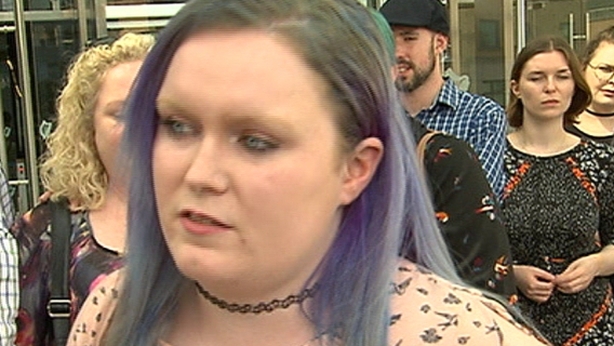 She said there was no doubt it was tough, but the more people who reported their rapes, the more people who would be able to see that "you can't rape, it doesn't work".
Ms Meehan said she was ecstatic at the fact that Hearne was jailed and could not have hoped for more adding that this is what she wanted and the convention community needed - to prove that this man was as evil as he is.
She said 12 years was a bit of a light sentence in her opinion.
But he had got a sentence and she could show everyone today that he got what he deserved, and what she deserved.