Simeon Burke has been granted two weeks to plead to a public order offence or accept a date for a hearing of his case.
The 24-year-old from Cloonsunna, Castlebar, Co Mayo, has been charged with threatening and abusive behaviour following disturbances last week at the Court of Appeal.
The brother of teacher Enoch Burke, he was first remanded in custody last week after he refused to sign a bail bond and was told today by Judge Cephas Power that he has bail should he wish to take it up.
His mother and father, Martina and Sean, and his sister and brother Ammi and Isaac were in court for the hearing.
Simeon Burke told the court that he was representing himself and his sister Ammi said she was his legal adviser.
We need your consent to load this rte-player contentWe use rte-player to manage extra content that can set cookies on your device and collect data about your activity. Please review their details and accept them to load the content.Manage Preferences
He was handed a copy of disclosure documents, but told the judge he had an application to make.
He said his "arrest was unlawful", that he was "being incarcerated" because "the person must be informed they are being arrested and the reasons and the power under which they're being arrested".
"In ordinary language," he said, he was not told why he had been arrested or given reasons and said therefore the arrest was "not valid".
He claimed he was "attacked by gardaí" in the Court of Appeal.
The judge tried to tell Simeon Burke several times that these were matters for the hearing before announcing that "Mr Burke is not going to listen to me".
He remanded him to appear again at Clover Hill District Court on 28 March for a plea or a hearing date.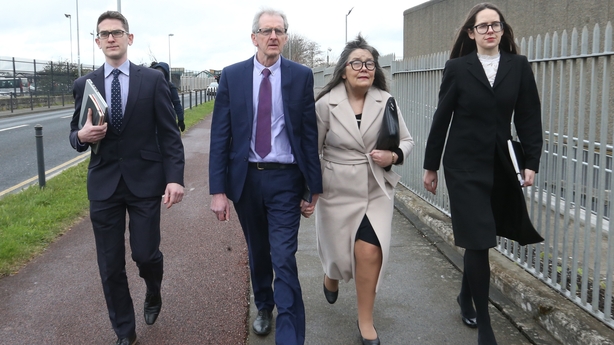 Simeon Burke continued to say that he was being "deprived of liberty on [the] basis of unlawful arrest".
"I have my barrister-at-law degree exams and I'm not being allowed to take them," he said.
The judge replied he had bail should he wish to take it up.
Ammi Burke also addressed the court telling the judge he should be allowed "make the application".
Simeon Burke was led away by gardaí.