A Central Criminal Court judge has said there "plainly needs to be legislation" governing the sentencing of children for very serious crimes.
Mr Justice Tony Hunt made his comments after being told by lawyers for the Director of Public Prosecutions that there is no clear statutory basis for imposing a sentence on a child to be reviewed after a number of years, even though such sentences have been upheld previously on appeal.
The judge also expressed concern that there was no legislation allowing for any portion of a sentence imposed on a child to be suspended.
The issues were highlighted during submissions by prosecuting counsel Sean Guerin in a sentencing hearing for a 16-year-old boy convicted of the murder of a woman on her way home from work in Dublin's north inner city two years ago.
The boy was convicted of the murder of Urantsetseg Tserendorj, who died nine days after being stabbed in the neck by him on 20 January 2021.
The boy, who was 14 at the time, had admitted killing Ms Tserendorj but said he did not mean to kill her.
The jury at his first trial last year failed to agree on a verdict. The second jury found him guilty of murder.
Because he is a child, the mandatory sentence of life in prison for murder does not apply.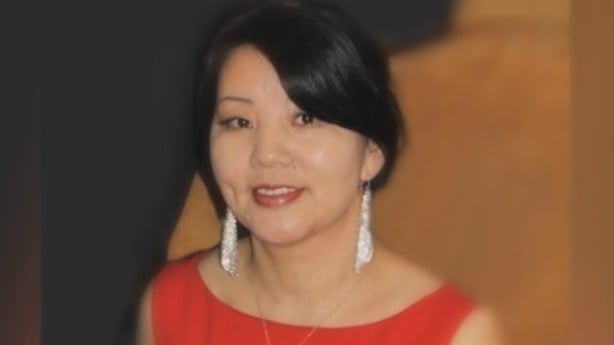 This morning, Mr Guerin, on behalf of the DPP, outlined the law in relation to the sentencing of children in such cases to the court.
He said the court had a number of options – it could impose a life sentence or a lesser, determinate sentence.
However, Mr Guerin said there was a degree of uncertainty over the court's power to allow a sentence imposed on a child to be reviewed after a certain number of years.
He agreed with Mr Justice Hunt that there was "some doubt" over the power, even though its appropriateness in cases involving child offenders was "self-evident" and had been traditionally acknowledged.
Sentences with reviews built in after a certain number of years have been imposed on children in several high-profile cases over the last 20 years.
Some have been appealed and have been upheld on appeal.
In relation to the case of a 15-year-old boy who was convicted in 2004 of the murder of a 14-year-old boy, the Court of Criminal Appeal ruled that there was a "special onus" on the courts to have regard on the rehabilitation and welfare of child offenders in the future.
The reviewing of sentences was also endorsed in a recent decision by the Court of Appeal's decision to increase the amount of time before the sentence of a 15-year-old boy for the attempted murder of a young woman in Dún Laoghaire in 2017 would be reviewed, from five years to seven. The court ruled that it saw "merit" in such a review mechanism.
However, Mr Guerin also pointed out to the judge that there was no legislation allowing for such reviews to take place.
The origin of such reviews, he said, appeared to go back to a Supreme Court judge's interpretation of a section of legislation from 1908, which has since been repealed.
He said the DPP agreed that there should be a special onus on courts when sentencing a child to have regard to future rehabilitation.
Defence counsel Michael O'Higgins, acting for the boy in this case, said this was a matter "crying out for legislation", but in the meantime the boy had to be sentenced under the law as it currently stood.
Mr O'Higgins said they were dealing with a person who committed an offence when he was 14 and he was asking the court to do his best for his client within the limits allowed.
He said his preferred option for the boy would be a determinate sentence, which would avoid the difficulties that had been outlined as there would be no need for a review.
The boy will be sentenced on 13 February.