A neighbour of a woman on trial for murder has told the Central Criminal Court that she was "rambling" and "appeared psychotic" days before she stabbed a man.
Christina Anderson also sent text messages telling a neighbour to "run, your lives are in danger" and "go to a safe place".
The 41-year-old from Brownsbarn Wood, Kingswood, Dublin 24, is charged with murdering Gareth Kelly, aged 39, who died from stab wounds following an incident at the estate on the morning of 25 February, 2020.
She has pleaded not guilty by reason of insanity.
On the second day of the trial, Caroline Howell told the court she had lived next door to Ms Anderson for almost four years. Four days before the stabbing, which she had also witnessed, Ms Anderson had repeatedly banged on her front door at 8am. When she opened it, she was "cornered" in her porch by the accused woman, who said she had something very important to talk to her about.
Ms Howell said Ms Anderson appeared anxious and distressed and was rambling about neighbours wanting to push her out of the estate.
She spoke about living among criminals and said some of the residents were in prison. She also spoke about management fees being used by some to get new kitchens.
During cross examination, she agreed that she told gardaí that Ms Anderson seemed "psychotic".
Ms Howell confirmed she was a nurse and had occasionally seen psychotic people in the course of her work.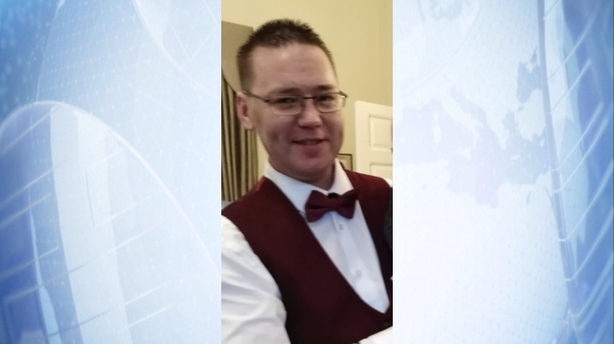 On the day of the stabbing, she said she was looking out through her bedroom window and saw Ms Anderson force a kitchen knife into the upper part of a man's body and "it felt like at least two or three times".
She told gardaí she had never seen the man before and was in complete shock after the incident.
She said Ms Anderson appeared frantic and panicked and ran back into the house and appeared to have a large kitchen knife, which she had wiped with a cloth. She agreed with defence counsel Michael O'Higgins that at no stage had Ms Anderson tried to cover her face.
Ms Howell's husband Joe told the court he knew Ms Anderson but not very well. Out of the blue, on the 23 February - two days before the stabbing - he received a number of WhatsApp messages from her.
They read: "Run, your lives are in danger, your secret is safe with me. I will never tell Caroline about the other woman. They set you up, it is a trap and not your fault, you are a victim of crime like me. Send me your email address and I'll prove it but it's a long read. Take Caroline and (the couple's daughter) and go to a safe place."
Another message said it was "a trap set up by the neighbours" while another repeated that she would never tell about "the other woman".
Mr Howell said he had not given his number to Ms Anderson and presumed she got it from the estate's WhatsApp group. He knew her but not particularly well and was unnerved by the messages as he had no idea what she was getting at.
Mr Howell said he immediately showed the messages to his wife and also contacted a neighbour who was a garda for advice.
His wife agreed with defence counsel Mr O'Higgins that the text messages were similar to the way Ms Anderson had spoken to her, in that they were rambling. She also agreed that there was no other woman and it was a figment of Ms Anderson's imagination.
We need your consent to load this rte-player contentWe use rte-player to manage extra content that can set cookies on your device and collect data about your activity. Please review their details and accept them to load the content.Manage Preferences
Joe Howell told the court that on the morning of the stabbing, he was alerted to the incident outside the house by his wife, who told him she had seen Ms Anderson run towards the man. He saw the man fall down and believed he was having a fit.
As he took out his phone and opened the camera, the woman made a stabbing motion four or five times and he captured the very end of the incident on his phone, which he later gave to gardaí.
He rang 999 and asked for an ambulance and while on the phone he saw Ms Anderson run out of her house and pick up a sharp object, which she wiped down with something white.
At the opening of the trial last Friday, prosecuting counsel Patrick McGrath told the jury there is no disputing that Ms Anderson killed Mr Kelly. The issue will be her state of mind at the time.
He said Ms Anderson had raised the issue of insanity and therefore the jury will hear evidence from two psychiatrists who disagree about Ms Anderson's state of mind at the time of the stabbing and whether she was labouring under legal insanity.
Another neighbour, David McDonnell, described how two weeks before the stabbing, Ms Anderson had asked to speak to him and his partner.
This had never happened before, so they went to her house where she spoke about problems with neighbours and told them there would be a court case they would hear about on the news.
The court heard there had been an exchange in a WhatsApp group with a neighbour leading to Ms Anderson taking defamation proceedings.
Mr McDonnell told the court that Ms Anderson was "ranting" and had said she was on medication because of the neighbours.
She also spoke about some being involved in criminal activity and that she did not know where they got the money, because they did not work and had a particular type of car.
He said he was totally bewildered by what she was saying and believed it was fiction and was not grounded in reality.
His partner Yvonne told the court on the morning of the 25 February 2020, she had seen a car parked in Ms Anderson's space.
This was unusual because no one ever parked in that space and Ms Anderson would often park in the middle of the two spaces allocated to her house.
Neighbour Shane Moore said there had been exchanges in the residents' WhatsApp group and Ms Anderson had posted some comments about people parking in her space.
There had been heated exchanges until one group member asked that the group not be used for that purpose.
It was pointed out to him by defence counsel Mr O'Higgins that there were three messages in 2019 from Ms Anderson about parking, but the heated exchange was in relation to a message about a child throwing a bottle over her wall.
Garda Barry O'Shea told the court he arrived at the scene on 25 February 2020 and, after talking to neighbours, he called to Ms Anderson's house.
He was invited in by her husband Mark and said everything seemed normal at first and Ms Anderson was chopping some fruit for a small child.
Mr Anderson had not been outside and seemed unaware of what had happened. Ms Anderson also said she had not been outside that morning.
However, she became more agitated as the conversation progressed and, after she was cautioned, she said: "I did it for you Mark."
Her husband then asked "did you hurt somebody?" to which she replied: "I did it for us, I did it for love, one of us is insane, Mark."
Her husband then said to her "tell them what you did" before telling gardaí that the alarm had been torn off the wall upstairs and he thought Christina had done it.
He told gardaí: "Last night she thought she was a goddess and a politician, that is why our daughters are away."
He then asked his wife if she knew why the alarm went off and she said: "I can't say."
When Garda O'Shea asked her what happened that morning she replied: "The alarm went off, I got up to turn it off, it wouldn't go off and I tore it off the wall."
The garda agreed with defence counsel that Ms Anderson had, as is usual in murder cases, been remanded in custody from the district court, but within a short period, was transferred to the Central Mental Hospital, where she had remained since.
The State Pathologist Dr Linda Mulligan told the court the cause of Gareth Kelly's death was stab wounds to the chest.
She detailed five wounds, some of which she said were potentially fatal. She said some of the wounds were consistent with having been stabbed while sitting in the car, while others were consistent with having been stabbed when he collapsed on the ground.
A witness, Deirdre Kelleher, who had been friends with Ms Anderson told defence counsel that she had known the accused for more than 25 years.
She described Ms Anderson as a creative, intelligent person who was good at learning new things. She said she was "doing an amazing job" of home-schooling her children.
She knew that Ms Anderson had a diagnosis of bipolar disorder. Five days before the stabbing she found her to be "a little high, lots of energy and chatty". But she seemed happy and there was "nothing out of the ordinary" until Ms Anderson began speaking about disputes she was having with others in the housing estate. She said she was taking legal action or a defamation case against one neighbour.
Ms Kelleher said at that point it became a little harder to follow. "There was a lot about criminal activity with neighbours, cover up of people not paying fees, stuff like that, small-scale stuff."
Ms Anderson told her she was putting together evidence about a "nest of criminals". Ms Kelleher said that the things she was saying may have happened but Ms Anderson's interpretation "wasn't rooted in reality".
She said Ms Anderson believed she was "under threat from her neighbours" and that there were criminals in the estate trying to drive out non-criminals. After that, she said the conversation went back to normal.
The witness also agreed that Ms Anderson was focused on exposing those responsible and bringing them to justice through legal means. She was "not speaking in violent terms, there was nothing like that," she said.