Mixed martial arts fighter Conor McGregor has appeared in court in Dublin again in connection with a number of road traffic offences.
The 34-year-old is facing seven charges, including two counts of dangerous driving and two for allegedly driving with no licence or insurance.
He is also charged with two offences of failing to produce either a licence or insurance, as well as careless driving.
The offences are alleged to have occurred on 22 March at the N4/M50 interchange in west Dublin and relate to him driving a 19D-registered Bentley Continental.
Today is the fourth time the UFC fighter has been before Blanchardstown District Court in connection with the case.
Mr McGregor, who was driven to the court in a dark grey Range Rover for his appearance this morning, said "hello, good morning" to members of the media as he arrived.
The court was previously told that the Director of Public Prosecution directed summary disposal, which means the case will be dealt with at district court level.
It had been expected that Mr McGregor would enter a plea today.
Defence barrister David Staunton told Judge David McHugh that a proposal has been made to the prosecution in relation to the case and he asked for the matter to be adjourned until January.
He told the court he has spoken to the prosecuting Garda Denis Lordan, of Lucan Garda Station, who he said will require direction from the DPP.
Mr Justice McHugh said the matter has been on the court's list for some time and he said he was informed at the last hearing that matters were progressing.
He told the defence that the case could not continue "to be put into the list and then put back for another date".
In response, Mr Staunton said he was reluctant to occupy a hearing date for the case as he did not think it will be required.
He said he believes the matter can be disposed of at the next court appearance, with the case being dealt with in 15 to 20 minutes.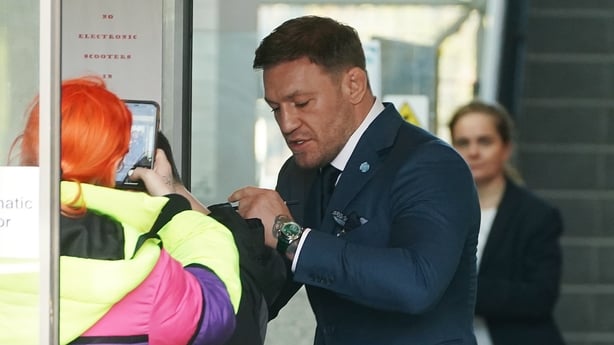 Mr McGregor, who made no comment in court during his brief appearance, posed for a picture with a fan as he was leaving the building.
Asked how he was feeling, he replied: "All good, lovely day, great to be back."
He was remanded on continuing bail to appear at Blanchardstown District Court again on 11 January next year.