A 21-year-old man has been found not guilty of the murder but guilty of the manslaughter of Jack Power in Co Waterford four years ago.
Dean Kerrie from St Brigid's Square, Portarlington, Co Laois had pleaded not guilty to the murder of the 25- year-old at Dunmore East on 26 July 2018. He was 17-years-old at the time.
Local fisherman Jack Power died after he was stabbed in the chest during an altercation at the home of Dean Kerrie.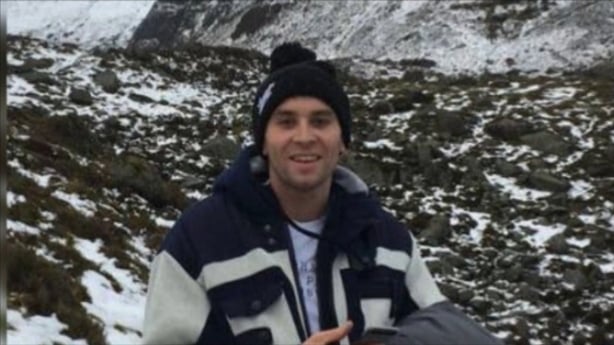 The jury was told Mr Power had left a local pub in Dunmore East at 3am and drove his car while quite intoxicated, crashing into a pole and damaging its bumper.
Friends said he was agitated about the damage to the wing mirror and believed Kerrie had deliberately caused that damage earlier.
The court heard he picked up a rock and went to Kerrie's house at Shanakiel. His friends heard the sound of breaking glass and then saw Mr Power entering the hallway where an altercation took place and he was stabbed. He left the house and collapsed outside. A post-mortem examination showed he died from a 13cm stab wound.
Defence lawyers said Kerrie was acting in self defence after Mr Power had forcibly entered his home having already thrown a rock through the window.
However, the prosecution said the jury could conclude that if a person stabbed another in the chest with a large kitchen knife, they intended to kill or cause serious harm.
The jury heard a 999 call made by Kerrie at 3.44am on 26 July, in which the teenager said that Mr Power had come "in the front door at him" and tried to hit him. He said he had stabbed Mr Power in the chest with a kitchen knife but that he did not mean to.
Eye witness Christopher Lee, however, had denied that his best friend, Mr Power, forcibly pushed in the front door of the Kerrie house that night and said these were "lies" Kerrie had to make up "to get away with it". Mr Lee told the trial that Kerrie "deliberately killed" Mr Power.
Addressing the jury before it began deliberating yesterday, Mr Justice Paul McDermott said there were three verdicts available to them. He said they must first consider whether Dean Kerrie honestly believed that Mr Power had entered his home as a trespasser intending to commit a criminal act.
Secondly, they must consider whether Kerrie's use of force was necessary to protect himself or others from Mr Power or to prevent a criminal act.
The judge added: "If you find that in the circumstances faced by him, that he applied such force as was objectively reasonable in the circumstances, then he has acted in a lawful manner and is entitled to an acquittal."
If he used excessive force but had an honest belief that the force he used was necessary then he is not guilty of murder but guilty of manslaughter, the judge said. He added: "If you find that the accused knew the force used was excessive, then you must find him guilty of murder."
After deliberating for just under six hours since yesterday, the jury found him not guilty of murder but guilty of manslaughter.
Mr Power's mother broke down in tears after the unanimous verdict was delivered.
Kerrie has been remanded in custody and will be sentenced on 19 October when the court will hear victim impact evidence.