A 31-year-old man has been convicted of the murder of Jordan Davis in Dublin three years ago.
Mr Davis, 22, was shot dead while wheeling his four-month-old son in a buggy.
Wayne Cooney, from Glenshane Drive in Tallaght, had pleaded not guilty to the murder at a laneway in Darndale in north Dublin on 22 May 2019.
He was also convicted of possessing a semi-automatic pistol and of possessing ammunition.
The jury had been deliberating for three hours and 13 minutes. Cooney will be sentenced on Friday.
Mr Justice Tony Hunt thanked the jury for its service and said it was an "unspeakable crime" when one saw the astonishing recklessness with which the shooting was carried out near a young child.
The killing was described in court as a particularly callous and violent murder carried out in broad daylight close to a community centre and a school.
The prosecution said Cooney approached Mr Davis on a bike and fired eight shots, hitting the victim three times.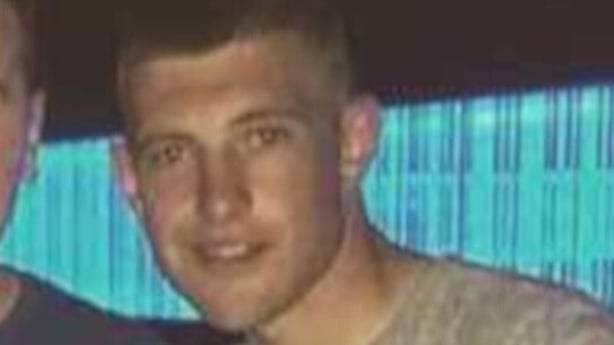 The jury was shown CCTV footage of the killing. The footage also showed a man on a bike circling the area in the days and hours leading up to the shooting.
The prosecution said Cooney was identified by a garda as the man in some of the CCTV footage. Witnesses also said the man on the bike had noticeable tattoos.
The jury heard evidence that DNA matching that of Cooney was found on a glove near the scene. The gloves also had firearm residue on them.
We need your consent to load this rte-player contentWe use rte-player to manage extra content that can set cookies on your device and collect data about your activity. Please review their details and accept them to load the content.Manage Preferences
Prosecuting counsel Bernard Condon said Cooney was connected to a local drug dealer who had threatened to kill Mr Davis over a €70,000 debt.
Text messages sent to the victim from a number linked to the drug dealer read: "I'm on your case mate, it won't be long," and "Soon, very soon, bang bang".
Mr Condon said the victim had been involved in selling drugs, but he was as entitled to his life as anyone else and no one had the right to shoot him.
In closing arguments, Mr Condon told the jury the case was largely based on circumstantial evidence, but there was no alternative view that was rational, sensible other than that Cooney was the killer.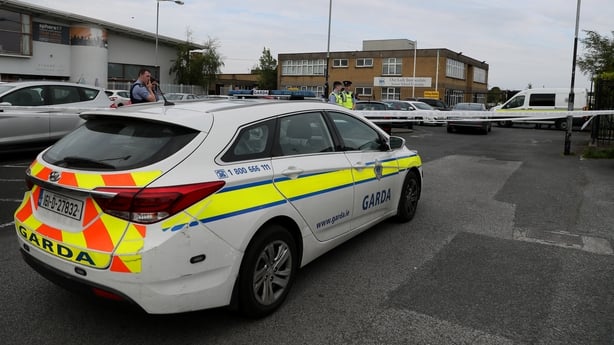 He said the catalogue of coincidences and strange events in this case meant that either Cooney was responsible or he was the most unlucky person ever.
Defence counsel Giollaíosa Ó Lidheadha said it was an extreme experience for the jurors to see on CCTV a human being gunned down with a baby being pushed along.
But he said just because this was a horrifically callous and horrible murder, it would be another tragedy if the emotional outrage and revulsion overtook and supplanted a careful consideration of the evidence.
He said the prosecution's case contained large holes and did not amount to proof beyond a reasonable doubt.
Mr Ó Lidheadha said it would have been impossible to identify his client on the CCTV footage as claimed by the prosecution.
He also said they should not find Cooney guilty because he was associated with a person who had previously threatened Mr Davis.
Mr Ó Lidheadha said it was a dangerous logic to find someone guilty because of their association with someone else. He said they should decide the case on the evidence.
Mr Justice Hunt said there was no doubt the man on the bike was guilty of murder, but he told the jury it must decide if that man was Cooney.
He said the jury must be satisfied that there was no other reasonable explanation before it could convict Cooney of murder.
Phone evidence permitted in trial
The prosecution relied on mobile phone evidence that showed Cooney's phone was calling the drug dealer at moments when the person identified on CCTV as the gunman could be seen holding a phone to his ear.
This was the first trial in which the use of mobile phone evidence was contested following a ruling by the Court of Justice of the European Union, which found that Ireland's system of retaining and accessing mobile phone data was a breach of privacy rights.
Mr Justice Hunt allowed the mobile phone evidence.
He said that the "weighty public interest and common good associated with the need to properly investigate this murder comprehensively outweighed any limited privacy rights attaching to the data".