The High Court has approved an interim settlement of €3 million in the case of an 18-month-old girl who suffered severe brain damage when she was allegedly discharged from hospital without antibiotics after surgery.
Chloe Flaherty from Knocknacarra in Co Galway, who is now aged 14, suffered seizures just days after she was discharged from hospital in 2009 following cranial surgery.
Her lawyers told the court that she had been on antibiotics and was suffering from high temperatures in the days leading up to her discharge from Children's University Hospital Temple Street in April 2009, but was discharged without antibiotics or a prescription.
Senior Counsel Des O'Neill said her parents twice contacted the hospital in the days after her discharge looking for advice and were told to continue giving Calpol and received assurances that her recovery was going as expected.
We need your consent to load this rte-player contentWe use rte-player to manage extra content that can set cookies on your device and collect data about your activity. Please review their details and accept them to load the content.Manage Preferences
A week later she was found during a seizure and continued to have seizures for an hour, causing catastrophic brain injury.
Before the surgery, she had been a cheerful, happy young girl who had met all her milestones, Mr O'Neill said.
Chloe spent the following two years in hospital and her parents fought to have her discharged into their care, the court was told. Since then they have single-handedly cared for her around the clock, Mr O'Neill said.
Today's settlement was reached without admission of liability and is an interim settlement of €3m for the next four years.
The case returns to court in four years and will be assessed again to cater for 100% of her needs, Mr O'Neil said.
Solicitor Ciaran Tansey said they estimated the settlement will be one of largest approved by the Irish courts as it will cover 100% of the girl's needs for the rest of her life when it returns to court in four years' time.
Mr Justice Paul Coffey approved the settlement and offered his good wishes to the family.
Outside court, Mr Tansey spoke on behalf of Chloe's parents, Patrick and Samantha, and said today marked the end of a ten-year legal battle, which was settled "at the 11th hour".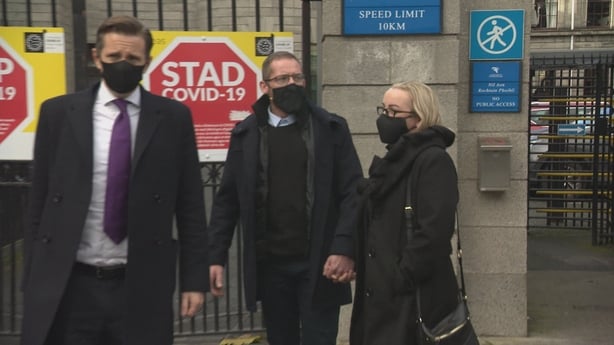 He said the settlement "will never offer adequate recompense for what has happened to Chloe or Samantha and Patrick", adding that while she will be looked after financially, what was more important was the love she received from her parents.
Chloe was born in October 2007 at Galway University Hospital. She was referred to Temple Street and in March 2008 she was diagnosed with unicoronal synostosis and surgery was recommended.
In her High Court action, it was claimed her parents were advised it was a straightforward procedure and hundreds had been carried out without complication.
In April 2009, surgery took place performed by a plastic surgeon and a paediatric neurosurgeon.
Chloe suffered significant blood loss during the surgery and in the days afterwards was given antibiotics.
In her High Court action it was claimed there was a failure to fully inform her parents of the risk of infection and brain damage and that the defendants were negligent in discharging her without antibiotics.
The claims were denied and the court was told that if the case had gone to a full hearing, the defence would argue that the seizures could have been caused by a genetic condition.