A man has been jailed for nine years for shooting a Detective Garda during a raid on his home almost four years ago.
Charles Moore, 48, from Barnwell Drive in Ballymun in Dublin shot Det Garda Paul McManus during the incident in December 2017.
Mr McManus said "not a day goes by" that he does not think of other gardaí who have been shot in the line of duty and their families.
The detective, who is leaving the gardaí because of the attack, said he had been rocked to the core and feels lucky to be alive after Moore's gun jammed.
Mr McManus was part of a team of 12 gardaí sent in to search Moore's home in Ballymun for drugs.
There had been two previous shooting incidents there at Barnwell Drive and an Emergency Response Unit was deployed.
Some of them were at the front of the house where the front door had been reinforced, while Mr McManus and another officer went around the back.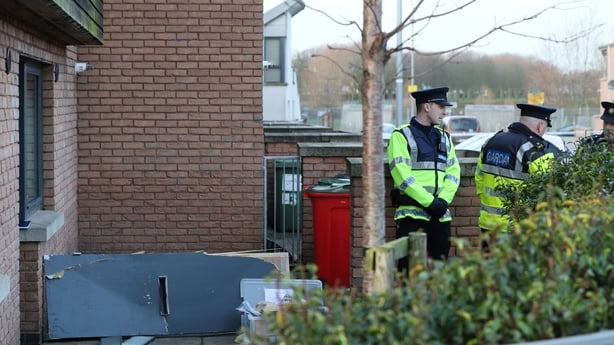 There was a lot of rubbish in the yard, they had flashlights on their helmets and used a ladder to drop down into it.
Mr McManus was the first one there. He noticed a pit bull dog in the yard and sparked his taser to scare the dog away.
They noticed the lights and television were on inside, they shouted "armed gardaí".
Mr Manus went around to the corner and positioned himself with his back to a fence.
He saw the door handle moving and sent a message to the others there was activity before shouting "armed gardaí".
Mr McManus said the door opened and Moore, whom the detective knew from a photo he had seen during the earlier briefing, crouched low.
The detective then found himself recoiling and was thrown backwards. He realised he had been shot.
He felt excruciating pain in his left upper arm and called out to his colleague that he had been shot.
The other garda came and moved him back while the team at the front breached the front door.
Det Gda McManus was pale and in a lot of pain and had to be given morphine intravenously at the scene, before being taken to hospital where he underwent surgery on his arm.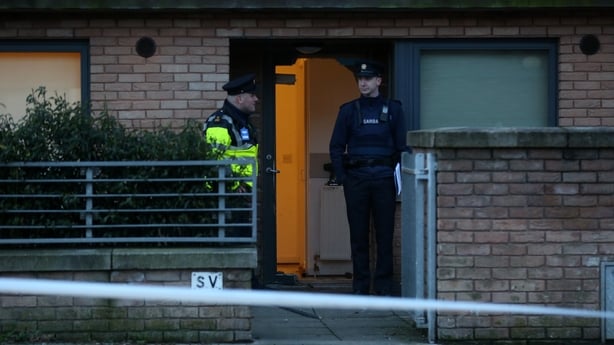 In his victim impact statement today, he said the shooting caused complete disruption to his family life and career.
Moore pleaded not guilty, but was convicted by a jury and Mr McManus said he was under severe stress during the trial because of "replaying the incident".
Mr McManus was diagnosed with post traumatic stress disorder, suffered severe headaches, bouts of guilt and extreme rage. He was medically discharged from the force.
He said: "When I left my house that day, I had no idea what was to transpire. My career in An Garda Síochána would effectively be over."
He said while he had been shot once, he "relived it a thousand times".
"[The] sickening thud of hitting the bone, the smell of flesh burn. I will never forget the bravery of my colleagues or the fear in my wife's voice."
He said he honestly does not know why Moore's gun jammed and feels lucky to be alive, "some divine intervention".
"It physically rocked me to the very core and sent me to a very dark place. Huge relief, brings huge guilt," he said."Not a day goes by when I think of the families of colleagues [who have been shot and killed]".
Mr McManus also described the impact of the shooting on his home and family life.
"I was not present while I was at home … my mind was back in the garden [in Ballymun]".
He said it was like a "video on loop of what ifs to infinity" and he apologised to his family for bringing this to the door. He also said his two young children were deeply affected.
"In the weeks after, they were uneasy in their own home because they thought the bad man would come to their own house," he said, there was a "toy gun by the child's bed".
Moore had spent the evening before the shooting taking drink and drugs and was so intoxicated he could not be interviewed for two days after he was arrested.
The court heard there had been previous attacks by criminals on the house, Moore had got a gun for his own defence and did not intend to shoot a garda.
His defence Counsel Patrick Mc Grath told the court that in spite of the jury verdict he still maintains he is not guilty.
The 48-year-old father of four has 18 previous convictions, including for drugs offences and violent assault.
His brother died of a drugs overdose, he has a history of drug abuse, he left school at 14 and never sat a State exam.
His counsel said he comes from a part of Ballymun with some of the poorest housing and "the consequences that stem from that".
Judge Martin Nolan said the gardaí were wearing "the appropriate apparel … if he had looked he would have seen the gardaí", but he was in no fit condition to assess the situation.
He jailed Moore for nine years.