A 39-year-old man is alleged to have told a friend that he killed his wife at their home four years ago and was going to kill himself, the Central Criminal Court heard today.
Brazilian man Renato Gehlen, formerly of Dorset Square, Gardiner Street Upper, Dublin, has pleaded not guilty to murdering Anne Colomines in Dublin on 25 October 2017.
The 37-year-old French woman was found stabbed to death in Dorset Square on Gardiner Street Upper in the city.
The court also heard today that Mr Gehlen subsequently told gardaí that his wife had killed herself.
Anne Colomines was a French woman who came to Ireland and worked in Paypal. She met Mr Gehlen here and they married in October 2012. He also worked in Paypal.
The court heard that in the months and weeks leading up to Ms Colomines' death, the marriage was in very serious difficulty and that she had told her husband she wanted a divorce and that he became very upset and wanted to "revive and repair" the relationship.
In his opening statement this afternoon, Senior Counsel Shane Costelloe told the jury that Ms Colomines arrived back in Ireland on 23 October 2017 after a short holiday in France and that Mr Gehlen collected her at the airport and brought her home.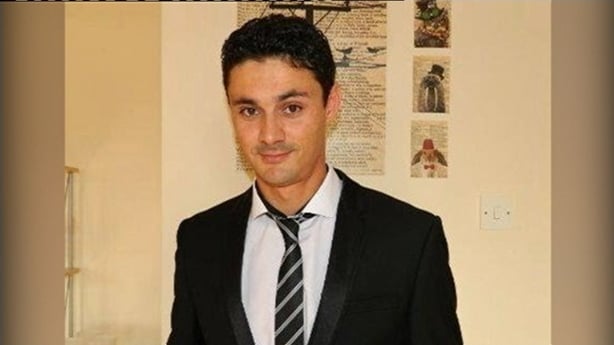 He became "very upset" and told a friend he was "distraught" the marriage was ending.
The next day, the court heard, he met his friend Ralph and they went to a bar where he was again "very upset" and "very emotional".
Afterwards, he went back to the apartment that he shared with his wife and the court was told that in a subsequent exchange with Ralph on Facebook "he expressed a desire to stab".
The prosecuting counsel said that Ralph then became concerned and when he made contact with Mr Gehlen again at 11.12am, Mr Gehlen stated: "I have just killed Anne, I am now going to kill myself."
Emergency services and the gardaí were alerted and forced their way into the apartment.
Anne Colomines was found dead while Renato Gehlen had a knife protruding from him.
Mr Gehlen required extensive treatment in hospital. When he was released a few weeks later, he was arrested and questioned by gardaí.
The court was also told today that Mr Gehlen told gardaí that Ms Colomines had "stabbed herself" and that he was "so distraught, he tried to kill himself".
Mr Costelloe told the jury that they would hear evidence from the State Pathologist Dr Linda Mulligan that, amongst a number of injuries Ms Colomines sustained, were four significant wounds to the torso, one of which breached the muscular sack around her heart.
She also sustained wounds to her hands, which he said the State Pathologist would give the court an opinion on and an opinion on Mr Gehlen's statement.
The trial is expected to last up to three weeks.