A woman who returned to Ireland from Dubai, and who has been fully vaccinated against Covid-19, has been released from hotel quarantine this evening.
Earlier the High Court has directed that an inquiry should take place into the detention of the 30-year-old woman.
It is one of five legal challenges to hotel quarantine that have now come before the court since last Friday.
The High Court judge who is hearing the cases has warned that people could be liable for "very significant" costs if they do not qualify for legal aid and if their applications fail.
Emma Kelly arrived from Dubai in the United Arab Emirates on 3 April to support her mother as her father undergoes a serious operation for cancer.
She is fully vaccinated and tested negative for Covid-19 before she left Dubai and after she arrived.
Ms Kelly was released from quarantine this evening after a Covid-19 test this morning came back negative.
Her lawyers sought a special sitting of the High Court last night.
They said she had been told she would not be allowed to leave quarantine until 24 hours after receiving a negative test result on day ten and they said her status as a fully vaccinated person who had tested negative had not been taken into account by the appeals officers who rejected her appeals.
The court heard she suffers from anxiety and was under severe stress because of her father's diagnosis.
Mr Justice Brian O'Moore had said he would direct an inquiry into her detention in the unusual circumstances of the case, including Ms Kelly's need to be with her family, but he said he would adjourn it until tomorrow morning.
We need your consent to load this rte-player contentWe use rte-player to manage extra content that can set cookies on your device and collect data about your activity. Please review their details and accept them to load the content.Manage Preferences
Two further applications challenging the legality of detention in hotel quarantine were brought before the court this afternoon.
In the first case, 52-year-old Charlene Heyns is challenging her detention after arriving back to Ireland from South Africa on 9 April.
She is currently in quarantine in the Holiday Inn Express in Santry, but wants to go home she says to have medical care.
In an affidavit, her solicitor Mary Trayers, said Ms Heyns is a South African national who ordinarily lives in Ireland and had travelled to South Africa a month ago for medical assessment.
The court heard she had Covid-19 in December last year and has been attending doctors in relation to cardiac issues since then. She is a healthcare worker and has received the first dose of the AstraZeneca vaccine.
The court heard she had a strong family history of sudden death.
Ms Heyns said during the past week she had been waking up with a feeling that her heart is shaking in her chest. The court heard she was alone with a heart rate monitor in her room and was finding this very stressful.
Senior Counsel Conor Power said there needed to be more clarity about the legislation under which she was detained.
He said she should have been told she could have a solicitor in the review process and the exemptions from quarantine for medical or humanitarian reasons were too restrictive.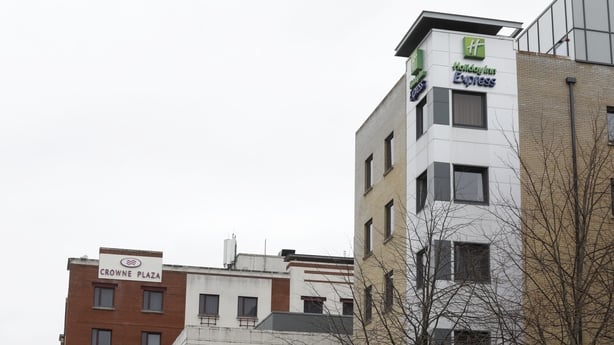 The second new case today, involves a health care assistant from Ballyfermot in Dublin who was in Dubai to visit her daughter who was ill and arrived back on 10 April.
Philomena Meredith is fully vaccinated and argues this is a matter that should be taken into account.
In an affidavit, her solicitor Dónall Johnston said Ms Meredith was aware of the requirement to quarantine at home, but did not believe she would have to quarantine in a hotel because she was a fully vaccinated healthcare worker.
She suffers from underlying conditions, including diabetes.
The judge adjourned the new cases until tomorrow to allow the State to set out if they are actually detained under the law.
Mr Justice O'Moore said that he wanted to warn people about their possible exposure to costs in these cases.
He said that even if he makes a recommendation for them to receive legal aid, that does not automatically mean they will receive such assistance.
They need to submit statements of means to the legal aid board. He said if they did not qualify for legal aid, and if they failed in their applications there could be very significant cost consequences.
He said it was important that message got out there.