The Special Criminal Court has heard that one of the men accused of falsely imprisoning and assaulting Quinn Industrial Holdings director Kevin Lunney has complained to the Garda Síochána Ombudsman Commission that DNA was "planted" on a van that he says was deliberately destroyed.
However, lawyers for the State told the court that the vehicle caught fire because of an electrical fault.
The man, who cannot be named for legal reasons, claims the van was burned so it would not be available to the defence and has applied to have the trial adjourned.
Three other men - 66-year-old Luke O'Reilly from Mullahoran Lower, Kilcogy, Co Cavan, Darren Redmond, who is 25 and from Caledon Road, East Wall in Dublin and 39-year-old Alan O'Brien, from Shelmalier Road, also in East Wall - are also charged with false imprisonment and assault causing serious harm to Mr Lunney at Drumbrade, Ballinagh in Co Cavan on 17 September 2019.
The 50-year-old father-of-six was abducted close to his home in Co Fermanagh. His leg was broken, he was doused in bleach and the letters QIH were carved into his chest during the two-and-a-half hour ordeal before he was dumped on a roadside in Co Cavan.
The four men are due to go on trial on 11 January next.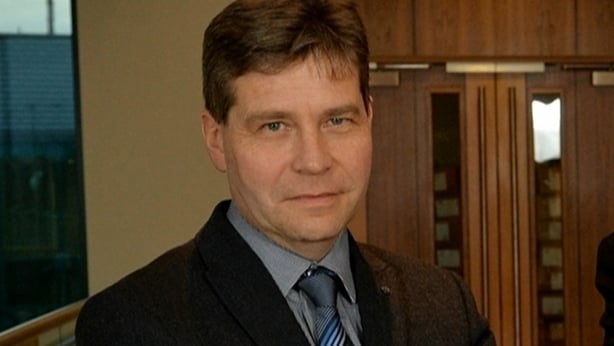 Defence counsel Michael O'Higgins, for the unnamed man, applied today to adjourn the trial because of the volume of material, questions over mobile phone data and because High Court challenges were being brought against the jurisdiction of the Special Criminal Court.
He also said important DNA evidence was found on a Renault Kangoo van allegedly used in the abduction which was subsequently destroyed in a fire. GSOC is now carrying out an investigation.
However, prosecuting counsel Sean Guerin said the trial should proceed.
He said the van had Mr Lunney's DNA and that of one of the accused and a complaint had been made that DNA evidence had been planted before the van was destroyed so it would not be available to the defence.
He said CCTV footage showed the fire was accidental after a "bank of sockets" overloaded with phone chargers inside the van sparked the fire.
Presiding judge, Mr Justice Tony Hunt, said there was a "fair bit to think about and weigh up" and the court would rule next month on the proposed adjournment of the trial.