The daughter of a man shot and killed in Macroom, Co Cork, two years ago has said she feels she and her family did not get justice, after the man charged with her father's murder died before his trial could get under way.
Agriculture and plant hire contractor Derry Coakley was shot once in the arm at close range after he had gone to land at Raleigh North in Macroom on 23 October 2018 to dump a trailer-load of building waste.
After he was shot, Mr Coakley (below) drover his tractor around 200 metres in a bid to escape.
He rang a friend to raise the alarm but is thought to have lost control of his tractor and crashed.
He was later pronounced dead at the scene.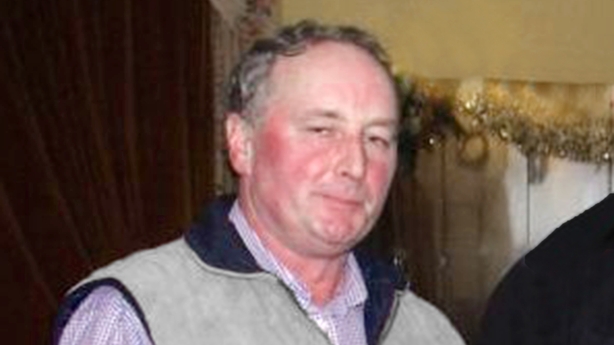 Gerard Lynch of Curaheen, Raleigh North, Macroom, was charged with Mr Coakley's murder four days later.
His trial was scheduled to begin at the Central Criminal Court in Cork this morning.
However, prosecuting Senior Counsel Siobhán Lankford told the court the State was entering a nolle prosequi, or no prosecution, because Mr Lynch had passed away on 21 August.
She said she wanted to bring it to the court's attention that Mr Lynch had indicated before he died that he wanted to plead guilty to manslaughter.
Defence Senior Council Tim O'Leary explained that Mr Lynch had become ill and had offered a plea to manslaughter in May.
He said an application was made to allow Mr Lynch enter the plea at home on 10 August last but that could not be organised and Mr Lynch died 11 days later.
We need your consent to load this rte-player contentWe use rte-player to manage extra content that can set cookies on your device and collect data about your activity. Please review their details and accept them to load the content.Manage Preferences
Speaking after the court hearing, Deirdre Coakley, who was accompanied by her mother Siobhán, said she felt heartbroken. She said she and her family did not feel today's hearing brought any closure.
"There's a black veil thrown over it. It's just like that - gone. It's so hard," she told RTÉ News.
In tributes to him following his death, Derry Coakley was described as a "go-to" man for people in Macroom, someone who was synonymous with hard work and was very obliging.
"He was the most decent man I ever knew and he spoilt me," Deirdre Coakley said. "He gave me anything I wanted and he would do anything for anybody."
She thanked people in Macroom who had supported her after her father's death. She said the last two years had been horiffic: "the worst two years of my life".
"I feel I didn't get justice for my father - justice wasn't served. It's like my worst nightmare, really.
"I was always counting that there would be justice for Dad and the fact that we didn't get any - this didn't bring any closure to me. Nothing will bring Dad back, but a bit of justice would have been nice," Deirdre Coakley said.
A 22-year-old business information studies student at Cork Institute of Technology, Deirdre Coakley said her father would never see her graduate, would never get to walk her up the aisle or see any children she might have.
"Today was supposed to be the day we started trial for my dad's case, but instead they are closing the case," she said.