The daughter of a 92-year-old man, who died at Beaumont hospital in Dublin five years ago, has said no old age pensioner should be treated the way her father was.
The High Court heard the hospital admitted a breach of duty by a delay in diagnosing Patrick Dillon from Swords in Co Dublin accurately, and by transferring him to a step down facility when he was very seriously ill.
Patrick Dillon was 92 but his family said he was a fit and healthy father, grandfather and great grandfather.
He was also the main carer for his son Peter, who has special needs.
Mr Dillon was brought to Beaumont hospital on 13 July 2015 after falling and hurting his back the previous day.
He spent 13 hours on a chair in the emergency department before being diagnosed with a possible fracture and sent home.
His family brought him back to hospital because he was in severe pain.
His inquest heard he then spent another 20 hours on an emergency department chair in the emergency department.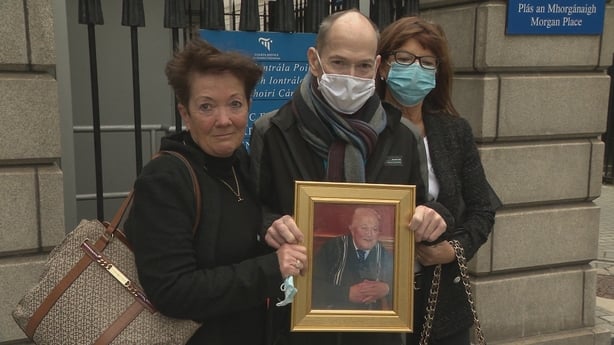 He was discharged to a step down facility in Clontarf, where it was discovered that he had severe pressure sores, something the family's lawyer, Doireann O'Mahony, told the court should have no place in modern medicine.
She said he was in kidney failure and his family claim he was also suffering from sepsis and should have been treated in hospital.
Beaumont has admitted a breach of duty in relation to the transfer and in relation to a delay in diagnosing him accurately.
Mr Dillon died in Beaumont almost three weeks after his fall.
His daughter, Ann Walsh, told Mr Justice Garrett Simons that no old age pensioner should be treated in hospital the way her father was treated.
She said it shouldn't happen to anyone's parents. She also thanked her legal team from Damien Tansey Solicitors LLP who she said had worked hard to get this case concluded.
The legal action was settled for just over €165,000.
Mr Justice Simons said it was a very tragic case and said while a settlement was never a satisfactory outcome for a case like this, the best possible result had been achieved.
He praised Ms Walsh for her eloquent words on behalf of her father.