Sentencing of a garda who struck an RTÉ cameraman with a baton during a rally in Dublin three years ago has been adjourned until Friday 6 March.
On 12 December a jury found Sean Lucey, 42, with an address in south Dublin and a member of the Public Order Unit, guilty of assault causing harm to cameraman Colm Hand. He had pleaded not guilty.
Counsel for Lucey requested that Judge Melanie Greally consider applying Section 100 of the Criminal Justice Act 2006 under which the court may impose a fine and defer a sentence under conditions. If these are not met the sentence applies.
As Mr Hand was not seeking financial compensation, Counsel for Lucey suggested to the court that Lucey could pay a fine to a charity which involved a family friend of his whose child had developmental issues.
Judge Melanie Greally described the request as "quite a big ask" which required consideration.
The incident occurred as Mr Hand and a colleague were working at a demonstration and counter rally in Dublin by the far-right group Pegida and anti-racism groups.
Mr Hand's camera was struck and he was then hit in the groin by Lucey.
In December, the jury found Lucey not guilty on a second charge of damaging a camera at Cathedral Street on 6 February 2016.
Today, Mr Hand read out a victim impact statement in Dublin Circuit Criminal Court.
He said that on 6 February 2016 he had left his wife and three-week-old baby at home and went to work.
"What happened that day shattered my confidence and if I'm honest I've never really recovered from it," Mr Hand told the court.
He spoke of how he had covered other public order incidents without issue in the past.
"I believed we'd be safe, given the number of gardaí present that day," Mr Hand said.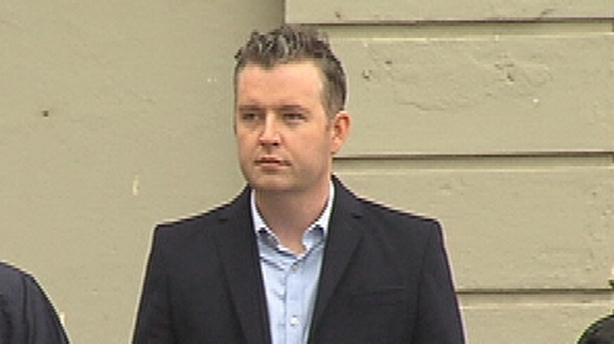 He said he did not see the incident coming. He spoke of how the camera sat on his shoulder "just inches" from his head and "to this day" he thinks about what could have happened had the baton made contact with his head.
"I now worry about everything, which makes it hard to concentrate and it has been difficult to work in the same way since," Mr Hand told the court.
He said in the aftermath he struggled to sleep and was prescribed sleeping pills.
"There are no winners here today and I just wish the whole thing had never happened," Mr Hand said.
"The bruises are quick to heal, the psychological damage is much slower."
He said a number of "cruel and intrusive" requests had been made of him in the run up to the trial, citing by way of example a request by counsel for the defence for notes from his private counselling sessions.
Counsel for Lucey said it was with "great regret" that he learned that the injured party felt that those disclosure requests were hurtful, and he said that in the end those notes were not disclosed.
A letter from Garda Lucey was read out in court. In it Lucey said that he respected and accepted the court's ruling and expressed his "deepest regret".
Lucey said that he understood that his action was "deemed excessive".
He said that this had been a long and stressful road for all parties concerned.
Lucey went on to say that the full deployment of the Public Order Unit in a "riot situation" was an "ever changing dynamic".
"However, I take full responsibility for my action and truly hope that all parties involved can put this matter behind them and move on with our lives," his letter read.
The court also heard from Detective Chief Superintendent Brian Sutton who said he knew and had worked with Garda Lucey since 2004, and described him as approachable and a hard worker who was popular with his colleagues and who got on well with members of the public.