Lawyers for a Garda who struck an RTÉ cameraman in the groin with a baton have said he acted precisely in accordance with his training and used reasonable force.
The jury has heard closing arguments in the trial of Garda Sean Lucey, a member of the Public Order Unit, who denies assaulting cameraman Colm Hand.
42-year-old Garda Lucey, with an address in south Dublin, also pleaded not guilty to damaging a camera at Cathedral Street on the 6 February 2016.
The incident occurred as Mr Hand and a colleague were working at a demonstration and counter rally in Dublin by the far right group Pegida and anti-racism groups.
Mr Hand's camera was struck and he was then hit in the groin by Garda Lucey.
In his closing argument, defence counsel James Dwyer told the jury the key element in the case was the lawful use of force.
He said the law required them to take a subjective view and put themselves in Garda Lucey's position.
He said gardaí had given clear instructions to all those present to move back and Mr Hand had not moved back, and he had not complied with the instruction of a Garda. He said he moved a foot and then pivoted around to face gardaí after his camera had been struck.
It was then Garda Lucey deployed his baton again in an "entirely appropriate" manner.
He said the evidence was clear that the use of force was entirely lawful.
He told the jury if they believed the account of the Garda side of things which suggests the defence of lawful force was available then it must return a not guilty verdict.
Two of the circumstances where reasonable use of force is lawful is to protect yourself or to prevent a breach of the peace or a criminal act, he said.
He said it was immaterial whether Garda Lucey's belief was justified or not if it was an honestly held belief.
He said the evidence from another Garda was that he thought Mr Hand and his colleague were part of the protest group. There was a violent fringe group looking for trouble and all Garda Lucey knew was the "deafening roar" of the crowds chanting and thousands of people amassing.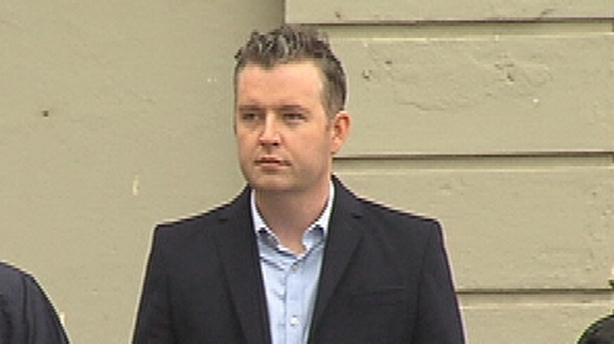 He said Mr Hand had no RTÉ logo, just ordinary clothes.
He said the jury would have to ask themselves if Mr Hand's evidence was credible and if it could be relied upon.
He said Mr Hand said he had moved back a number of metres where his colleague had said it was about a foot, and that there was insufficient evidence to show the camera had been damaged in that incident or if it had happened earlier.
The camera had not been examined until weeks after the incident, he said.
In her closing argument prosecuting counsel Fiona McGowan told the jury it was hard not to have sympathy for the gardaí that day and for Mr Hand. But she urged the jury to approach the case in a cold, clinical way.
She urged the jury to view the footage from different sources that day from which she said the prosecution evidence would be borne out.
She said Mr Hand was on the quieter side of the street which was also occupied by people with shopping and prams who were not part of the protest. Hostilities had already started when he got there.
Unlike others with small cameras who were there to film or to protest, Mr Hand and his colleague were working on the day as part of their jobs. She said the footage will show that Mr Hand was retreating when he was hit.
A suggestion that gardaí may have thought Mr Hand was part of the protest group was not borne out by the evidence, she said, adding that all those attacking gardaí had their faces covered and were not complying with Garda instructions.
She told the jury it would have to focus on whether or not there was lawful excuse for Garda Lucey's actions.
She said the footage would show Garda Lucey stepping out of the Garda line and assaulting Mr Hand with his baton in the groin as Mr Hand was retreating.
Judge Melanie Greally will continue to address the jury members on the law tomorrow after which they will begin deliberating on a verdict.
Earlier the court heard from a doctor who examined Mr Hand two days after he was truck, who said Mr Hand suffered 5cm x 3cm bruising to his inner thigh.
Dr Ciara O'Carroll, a GP who examined Mr Hand two days after the incident, said she found bruising to his inner thigh.
Mr Hand's heart rate was somewhat elevated which could have been a sign of stress or anxiety. She prescribed sleeping tablets and gave him the name of a counsellor. She followed up with him some weeks later and he was back to work.