The trial of a 20-year-old man for the murder of a Japanese national in Dundalk nearly two years ago has opened before a jury at the Central Criminal Court.
Mohamed Morei is accused of murdering 24-year-old Yosuke Sasaki at Long Avenue in the town on 3 January 2018.
Mr Morei, who is an Egyptian national, has pleaded not guilty by reason of insanity.
He is also facing four other charges, including two counts of assault causing harm to two other men, Dylan Grehan and Cian Murphy, at two other locations in Dundalk on the same date.
Mr Morei has also pleaded not guilty by reason of insanity to these charges.
Opening the case before the jury this afternoon, prosecution counsel Seán Gillane SC said this was a "particularly tragic case".
He said that Yosuke Sasaki was a "very fine young man" and a "hard worker" who was dedicated to trying to improve himself.
Mr Gillane said that Mr Sasaki had wanted to learn English.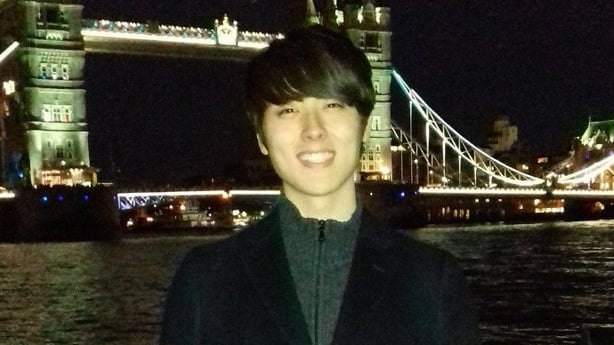 He was in a relationship with a woman in the United Kingdom at the time, but the prosecution told the jury that due to complexities in securing a visa, Mr Sasaki came to Ireland instead in 2017.
Yosuke Sasaki was working in the National Pen factory in Dundalk and on the morning of 3 January last year, he finished a night shift and was on his way to a post office to collect a package.
The prosecution said that at the same time, some members of public in Dundalk had noticed a man who appeared to be acting erratically.
Mr Gillane told the jury that shortly before 9am, the accused man, Mohamed Morei, struck Mr Sasaki from behind, stabbing him in the back, before Mr Sasaki fell to the ground.
The court heard that there were two other victims in this case, Mr Grehan and Mr Murphy, who had also encountered Mr Morei that morning.
Mr Gillane said that Mr Morei came to Ireland via the United Kingdom after applying for asylum there.
He came to Dublin first before travelling to Dundalk, where he appeared to have been squatting in an empty building in the town, Mr Gillane told the jury.
The prosecution said that after his arrest, Mr Morei exhibited "what appeared to be seriously disordered thoughts" and that he was agitated.
The jury was told that they would hear evidence from two consultant psychologists and that that evidence would satisfy them that Mr Morei was, at the time, a "very unwell person, whose thought processes were disordered".
He said they would also hear evidence about a diagnosis of paranoid schizophrenia.
The case will continue tomorrow.