An RTÉ cameraman has told a court he suffered bruising to his groin and his phone was broken in his pocket after being hit by a garda baton while filming a protest in Dublin city centre.
Cameraman Colm Hand said he believed he had taken up the safest position on the street by staying close to gardaí, having been shoved by a protester at a separate incident earlier.
He was giving evidence in the trial of Garda Sean Lucey, who has pleaded not guilty to assaulting him at Cathedral Street, Dublin city centre on 6 February 2016.
Mr Lucey, with an address in south Dublin, also pleaded not guilty to damaging a camera on the same date.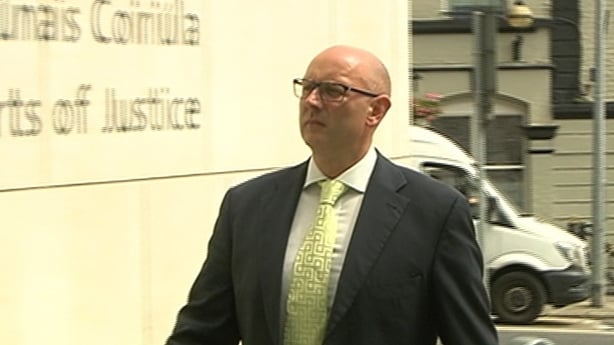 On the day there was a rally by an organisation called Pegida and a counter rally by an anti-racism network.
Mr Hand told the jury he was working with reporter Colman O'Sullivan on 6 February when he was alerted to a disturbance on North Earl Street.
People had entered a shop and gardaí were trying to clear it. He remained at the door and was shoved and heard someone shout "get the camera out".
Mr Hand said he moved close to a line of public order gardaí after that incident as he felt he would be safer with gardaí.
He then moved back to O'Connell Street where he saw another altercation and some people ran towards Cathedral Street.
He said he followed them and stayed close to the line of public order gardaí and when batons were drawn he shouted to his colleague "back, back, back" and was withdrawing.
As he was reversing, his camera was hit violently from behind and he twice turned and told gardaí that they "shouldn't hit cameras".
He was then struck in the groin area with a baton and was only able to film for another minute before having to get on the ground.
He later noticed his phone screen had been smashed in his pocket. He was taken to hospital by his boss and was told to attend another hospital to see a urologist.
He suffered a large bruise to the groin area. He later noticed damage to his camera.
During cross-examination Mr Hand confirmed he had attended a hostile environment course provided by RTÉ and was an experienced cameraman who often covered protests. He was trained to identify a risk and respond.
However, he said he was not aware on the day that Pegida would be holding a counter demonstration or that it could turn violent. He believed he was going to film an anti-racism rally at the GPO.
He said he did not need to wear any special clothing or equipment, which were normally only used in war zones.
Asked if he had ever taken a "riot kit" to a protest, Mr Hand asked: "Do you mean a stab vest? If I thought I needed a stab vest for a job I would not be going to that assignment."
He was asked if he thought it appropriate that news crews be assigned extra security when necessary.
He agreed in certain circumstances, it would be appropriate.
He said he was trained to assess situations and withdraw if necessary but because there were so many gardaí around he felt he would be safe.
"It would have been different if it was protester clashing with protester but I felt safe because of the presence of gardaí and I stayed close to them...I felt it was the safest position on the street."
It was put to him that he had the option to pull back to a safer vantage point and use a zoom lens to film.
Mr Hand said in some instances you can make yourself more vulnerable by moving to another vantage point.
Because of the earlier incident when he was pushed and shoved by a protester who pushed his camera, he felt safer staying closer to gardaí.
He denied under cross-examination that he had been told to move back by gardaí and had not complied with that order. Mr Hand said he had moved back and was moving back when he was hit in the groin.
He agreed that he shouted : "You f*** hit the camera, you can't hit cameras," and then "you f**** animal", which he said he shouted after he had been hit "full force" in the groin.
Asked if he was aware that the number of protesters at the mouth of Cathedral Street was growing, he said he could not have been aware of that at the time.
Asked if he could hear chanting from the crowd, he said after he had been hit he was in excruciating pain and he cannot remember hearing what the crowd was chanting.
It was put to him that the footage from the day showed he was being given clear instructions by gardaí to move back and he was not complying with it.
Mr Hand replied: "I disagree." He said the footage showed that he was moving back and gardaí were advancing.
It was put to him that the distance between him and gardaí was insufficient and Mr Hand said he disagreed.
He also denied failing to comply with the direction of a garda.
Reporter Colman O'Sullivan told the court he was positioned behind Mr Hand at the time of the incident. He explained to the jury that while filming, a cameraman is "quite vulnerable" as their field of vision is restricted and they are carrying a very heavy camera.
He was holding on to his colleague's back to steer him and "be his eyes and ears and make sure there no hazards or risks he is not aware of", he said.
He said the situation on the street that day was quite tense and gardaí were advancing and indicating they wanted people to move back. Mr O'Sullivan said he told gardaí "we are press and we are getting out of your way".
He said he would have said this in a loud voice or possibly shouted it. He said it would have been obvious that they were a news crew due to the size of the camera, which is only used by broadcast professionals.
He said a baton hit the camera at the back with a forceful blow. It was quite close to his head as he was behind his colleague, holding his jacket.
He said he immediately pulled Mr Hand back towards the O'Connell Street end and he turned to face the line of gardaí. The garda who had hit the camera struck Mr Hand in the groin and Mr Hand was hurt and cursed at him, he said.
Mr O'Sullivan said the garda had advanced ahead of his colleagues and had "come forward" to strike Mr Hand. Mr O'Sullivan then withdrew from the scene and helped his colleague to return to his car by carrying his camera for him. He said Mr Hand was in pain and in shock.
During cross-examination by defence counsel James Dwyer, Mr O'Sullivan said he was aware before going to the city centre that day that Pegida, a far-right group, were to hold a rally and that there was to be a counter-rally against them.
It became clear to him there was going to be a confrontation but he was not aware of what exactly was going to happen.
He said before working for RTÉ he was trained at the BBC in London and was given training about reporting on public order situations.
Mr Dwyer asked if he believed it was appropriate for news crews to be assigned their own security in such situations.
Mr O'Sullivan said that can happen if there is a risk assessment that trouble is going to be likely. He agreed that if faced with direct aggression it is appropriate to withdraw.
He said it would have to be a situation of "major unrest" to make a decision to get off the street. He said he did not think he had ever had to do that in any other assignment to a public order incident.
He said it was not clear to him as he approached the street that gardaí were dealing with a growing crowd. He agreed with Mr Dwyer that it was possible he was not heard when he said "we are press we are getting out of your way".
He agreed it was not audible on the RTÉ footage. He also agreed they were not wearing RTÉ logos or visible press badges on the day.
Mark Malone who attended the anti-racism protest as a steward for the European Network Against Racism said he saw the camera being struck and there was a "bit of reaction and people were like 'what was that about?'.
He said it seemed to be "slightly out of keeping with what was happening at the time". He then saw the baton hit the lower part of the camera person's body. He withdrew from the area and later provided his footage from a small camera he was using on the day to RTÉ. That footage was later passed on to GSOC.
During cross-examination he agreed that a number of different groups had attended the counter rally and not all were part of the organising umbrella group.
Another witness, Gerard Kavanagh from Cork who attended the anti-racism rally had also filmed at the scene and had posted the footage on Youtube. He said he saw a tall man with a camera on his shoulder who "like myself found himself in the middle and started backing off".
Mr Kavanagh heard a loud sound like a baton hitting something. He could see a Garda had stepped forward and used his baton to hit the camera. The jury was shown his footage which showed Mr Hand being hit with a baton.
The jury was told it would be able to view all the footage when it came to deliberate on the case. During cross-examination Mr Kavanagh agreed with defence counsel that using his experience of attending protests, when things began to heat up he moved to a safe, retreated space and continued filming.
He also agreed that while he was in favour of non-violent resistance to white supremacist groups like Pegida, other groups attending the counter rally were more of "a direct action type".
Garda Michael Dibley who was stationed in Tallaght was also part of the public order unit that day. He told the court he was extremely concerned for the safety of himself and colleagues.
He said the situation was getting extremely hostile and gardaí were under extreme pressure as the crowd got bigger. In his ten years in the public order unit he had never encountered as hostile a situation, he said.
He agreed that those attacking gardaí had their faces covered. He said gardaí were entitled to keep people at a distance of six feet away and could use their discretion to employ the baton if they felt someone was coming into that area, was a threat or was trying to force through their barrier.
They were entitled to strike the upper arms or legs. He agreed that this was an unusual situation for gardaí because there were two different groups demonstrating with gardaí in the middle. He had earlier witnessed a very violent incident when the two groups came together in the shop and that incident had taken them "by shock", he said, adding they were not expecting it.
During re-examination by prosecuting counsel he agreed that a baton is only used where all other means of advice or persuasion have failed.
Another member of the public order unit Garda David Laird said gardaí were outnumbered on the day and some of the protesters began assaulting them. They were given the command to draw batons. Some protesters were attempting to take the batons off them and he had to use his baton twice.
He was asked if using the baton got one man to stop behaving aggressively and retreat, he said the man had retreated back towards the crowd but with 200 people behind him "you can't get too far".
He said gardaí managed to create a safe separation zone and held a line across the street for 20 minutes during which there were no further incidents apart from verbal abuse. At one stage it was feared they would be attacked with missiles, he said.
Earlier, RTÉ's facilities manager Johnny Culloty said that he was not on duty on the day of the incident but got a call to say Mr Hand had been struck while on an assignment. He offered to drive in to collect Mr Hand but instead agreed to meet him at RTÉ and later drove him home.
He told the court he later examined a camera used by Mr Hand on the day and noticed damage to the plate which holds the battery and to the radio microphone receiver.
The trial continues tomorrow.