Beaumont Hospital has apologised to the family of a 68-year-old woman who died after what was described as a litany of errors in her care.
Kathleen Conroy, who was living in England and was visiting her daughter in Dublin in 2014, was twice sent home from the Emergency Department, despite presenting with symptoms of deep vein thrombosis.
After a third visit, she was admitted to hospital and died during surgery that had been delayed because of a shortage of beds.
Her lawyers said there was also a failure to communicate results of an echo cardiogram, which may have warned of potential complications with her surgery.
During her surgery there was a power failure to a piece of monitoring equipment, which her lawyers said would have caused a significant disturbance during the procedure.
Ms Conroy died from a cardiac arrest during the procedure on 28 March 2014.
An inquest two years later returned a verdict of medical misadventure.

At the High Court this morning, her family settled its case against the hospital on terms, including the statutory sum of €35,000 for wrongful death.
The money will be divided between her two sons and her daughter.
In court, lawyers for Beaumont Hospital read an apology on behalf of its Chief Executive Ian Carter.
It said: "I wish to apologise for the deficiencies in care that led to the untimely death of your mother Mrs Kathleen Conroy.
"I wish to further apologise for the distress experienced by your family as a result of the loss of your mother and the miscommunications that occurred at this difficult time for your family.
"I wish to extend my deepest condolences on behalf of the staff of Beaumont Hospital to each of you."
Afterwards, Mrs Conroy's son, George Kleanthous, said they loved their mother very much and her untimely death was caused by a catalogue of errors.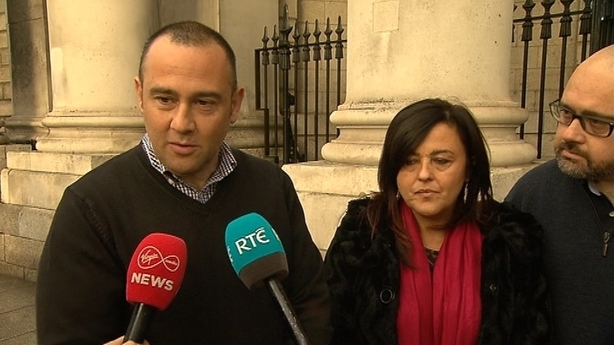 He said they were pleased that after almost six years they had received an apology and could begin to move on.
The family's solicitor, Raymond Bradley, said Mrs Conroy's death was caused by a litany of errors that ought not to have occurred.
Approving the settlement, Mr Justice Kevin Cross said he hoped the apology received today offered her family some consolation.