A 24-year-old man with cerebral palsy has received a settlement of €17.5m over the circumstances of his birth at a Cork hospital.
The settlement approved by the High Court brings the total amount awarded to Connor Corroon from Mallow, to €21.5m, since 2010.
Mr Corroon received a number of interim payments but the court heard he and his family had found the repeated litigation, every few years, intolerable and horribly intrusive and wanted it to come to an end.
The case in relation to the amount of damages he was to receive was heard in court last week before a settlement was reached.
Mr Corroon's Senior Counsel, David Holland, said he believed his client had made legal history in this jurisdiction by testifying to the court via eye-gaze technology.
Mr Holland said his client's understanding of the difference between interim payments and a one off lump sum, exceeded the understanding of about half the members of the law library.
Mr Corroon was deprived of oxygen and suffered catastrophic injuries at his birth at City General Hospital in Cork in February 1995.
He has cerebral palsy affecting all four limbs, is permanently disabled and cannot speak.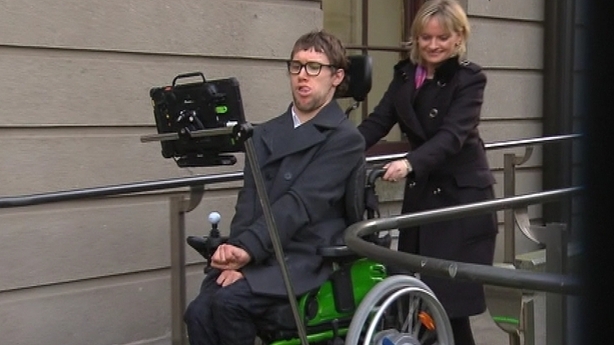 Asked by Mr Justice Kevin Cross if he was happy with his settlement, Mr Corroon used his eye gaze computer to say "Yes, I'm happy with that".
The court heard Mr Corroon had obtained two third level qualifications and wanted to get a degree in Cork Institute of Technology.
He was currently living with his parents, but wanted to move into Cork.
The court heard he had pushed himself to achievements that might not have seemed open to him earlier in life.
The judge said Mr Corroon was a wonderful young man who was overcoming his difficulties and bettering himself.
However, the judge said he would require continuous care into the future.
He said this settlement was not a "gravy train" but was about Mr Corroon being provided for for the rest of his life, to put him in a similar situation, in so far as money could, to someone to whom these events had not happened.
Mr Justice Cross said he had received a very good settlement and wished him the best of luck in the future.
He said he and his parents were a credit to the country.
Speaking outside court, Mr Corroon said the settlement represented the end of 17 long years. "I feel free and today, my life begins," he said.
His mother Jude said there had been 17 long and difficult years of hostile litigation and continuous assessment for the family.
She said she and Mr Corroon's father, Tommy were eternally grateful to their legal team for enabling closure of the award which would secure their son's care costs for the rest of his life.
She said they could now concentrate on assisting Mr Corroon to continue his studies and fulfil his aspirations.
Ms Corroon said despite immense physical and communication limitations, her son had demonstrated his determination to achieve since his early years in primary school.
She said they were proud of his academic and sporting successes such as passing Leaving Certificate maths and representing Ireland in the sport of Boccia. But she said having his voice heard in a public forum for the first time this week was very emotional for them.
Through the use of the eye gaze platform, she said Mr Corroon's court testimony and ability to respond under cross-examination displayed his intellectual capabilities without their intervention.
She said the road ahead would continue to be difficult but today's settlement made a future possible.