Six men including two hit teams and a drug dealer linked to the Kinahan crime cartel have been jailed at the Special Criminal Court for terms of between six and 12 and a half years.
Three of them were planning to kill a Hutch family member, two others were caught conspiring to murder a Hutch gang member while the other man was caught with €1.25m worth of heroin.
Alan Wilson and Joseph Kelly plotted to murder Hutch gangster Gary Hanley but gardaí bugged their conversations.
Wilson told Kelly to "go and do what you have to do" to kill Hanley, while Joseph Kelly was recorded saying "hit him in the chest or something first" and "if this fella survives we get no pay".
When he got the gun referred to as "the toy" or "the yoke", Kelly said: "Lovely, we can bleedin' crack him 100 times."
Wilson was jailed today for six years, Kelly for 12.
Brothers Gary and Glen Thomspon along with Robert Browne were a "hit for hire team", planning to kill Patrick "Patsy" Hutch.
The brothers were jailed for 12 and a half years while Browne, a former British soldier who served in Afghanistan, was jailed for 11 and a half.
The three were also secretly recorded talking about "the cartel" and "money all over the world" before they were arrested with numerous loaded firearms in an underground car park changing cars just 250 metres from Hutch's home.
54-year-old Michael Brady was jailed for seven years after he was caught with €1.25m worth of heroin.
He is the brother of the Kinahan's logistics operative in Ireland, Declan Brady - jailed earlier this month for ten and a half years.
All six were targets of the Garda Drugs and Organised Crime Bureau and arrested following complex surveillance operations.
Mr Justice Tony Hunt congratulated the gardaí for their "difficult and dangerous work" which he said "this court and this city were very grateful".
The activities of the Kinahan organised crime gang, its involvement in gun and drugs crime, its hiring of gunmen to kill rival Hutch gang and family members and the sophisticated and intricate nature of the garda's response were all highlighted in the Special Criminal Court today.
Fight against organised crime is unrelenting, says senior garda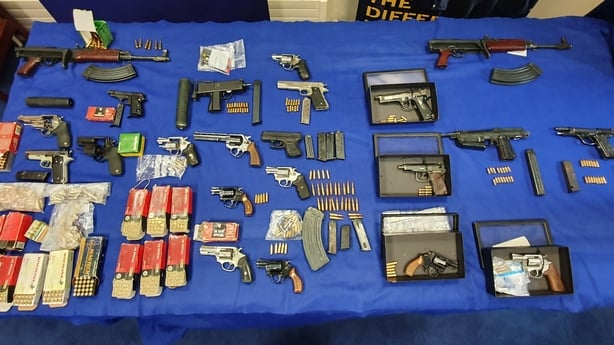 The officer in charge of Special Crime Operations has said the fight against organised crime is unrelenting and continuing and the aim of the gardaí is to dismantle the gangs.
Assistant Commissioner John O'Driscoll was speaking after the six men were jailed today.
He said in the last four years over 100 military grade firearms, 3,300 rounds of ammunition, €10m in cash and drugs to the value of €158m have been seized.
He also said 68 lives have been saved by gardaí intercepting and arresting gunmen.
Assistant Commissioner O'Driscoll said the jailing of nine people in the last two weeks - six today at the Special Criminal Court - was "unprecedented" and that while there may be some truth in the claim that the gardaí were under-resourced and "not prepared" at the time of the Regency Hotel murder three years ago, they are now gathering intelligence, maximising resources and targeting organised crime groups.
The modus operandi of organised crime he said was to make money but the Garda's objective was not only to catch and convict those involved but to discourage others from getting involved.
He also said gardaí were working with law enforcement in Australia, Puerto Rico, the UK, Northern Ireland and Spain and that "our targets have become their targets".
He said the nature of organised crime is "very fluid" and, in law, three people can comprise an organised crime gang.
"It is difficult to establish how many are involved at any time," he said "but what we do is target the significant players."
In relation to the Hutch, Kinahan organised crime gangs and the people convicted today he said: "Our aim is to dismantle the criminal organisations they represent."